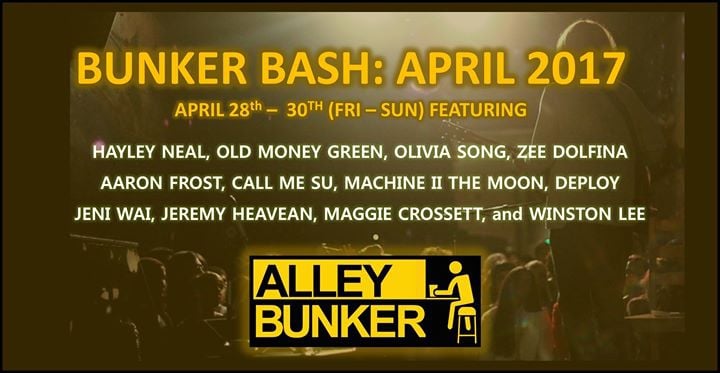 Event Details
LINEUP:

Friday (28th)
8pm: Hayley Neal
9pm: Old Money Green
10pm: Olivia EJ Song
11pm: Zee Dolfina

Saturday (29th)
8pm: Aaron Frost
9pm: call me su
10pm: Machine II the Moon
11pm: Deploy

Sunday (30th)
7:30pm: Jeni Wai
8:30pm: Jeremy Heaven
9pm: Maggie Crossett
10pm: Winston Lee


Bunker Bash is a 3 day festival of music at the Alley Bunker!

If you would like to perform, please send Jack Ahn a message or leave a comment on the event page stating which day you would like to perform :-)

There is no cover for the event and performers receive 2 free drinks as a thank you for sharing your music with us.

See you at Bunker Bash!