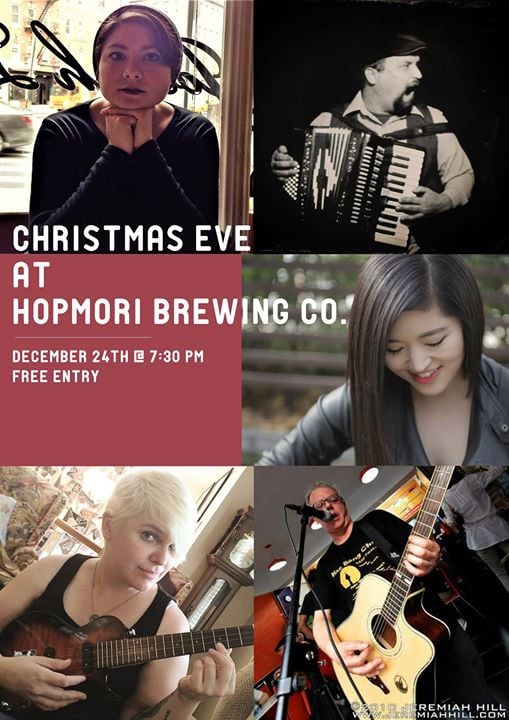 Event Details
노미미 / Mimi Roh and HopMori Brewing Co. are very excited to launch live music at HopMori!

Join emerging ROK country singer Mimi Roh and her special guests John Redmond, T.C. Costello 티 시 코스텔로, The Pirate Queen, and Julia Nyunt for an evening of live music, great beer, and tasty food starting at 8:00 p.m.!

About the artists:

Mimi Roh: Mimi Roh is a Korean-American country singer and guitarist based in Seoul, South Korea. She brings whimsical and starry-eyed tunes with a true roots flavor to venues all over Seoul and its surrounding areas. She was raised in Chicago and grew up performing and training in musical theatre technique. Now residing in Seoul for six years, Mimi has been pursuing a career as a country music singer songwriter.

In 2015, Mimi released a music video of her rendition of the song 'Dreaming of You' under the direction of Sonny Side to positive reception in Seoul and all over Korea. The release of this video lead to subsequence appearances in The Korea Times, The Steve Hatherly Show on tbs efm,Hello Kpop, Von Nola TV, and My Memoirs. In the summer of 2016, Mimi was chosen as an official artistic representative of the Nakwon Music Arcade. She is currently recording her debut solo album, which is due for release in the latter part of 2016.


Julia Nyunt: a singer songwriter from Richmond Virginia. Her style combines lyrically-driven Folk with Indie Rock hooks. Influences include Joni Mitchell, Fleetwood Mac, and the Shins.

TC Costello: For nearly a decade, T.C. Costello has been bringing accordion-powered, alcohol-friendly cabaret punk to the dive bars, squats and festivals of Europe, Asia and the U.S.
Listeners can expect to hear old-world melodies, foot-stomping rhythms and tales of people on their worst behavior throughout Costello's sets of both original and traditional songs.

The Pirate Queen: The Pirate Queen is not your mom's favorite ukulele player. She prefers rowdy strumming, nerdy lyrics, and unexpected covers. Expect songs about Star Trek, Die Hard, jackalopes, and submarines.

Jon Redmond: John Redmond, currently based in Seoul, is a punk/folk singer/songwriter/story teller who performs a variety of original and popular songs based on personal experience.
Seen by some as a highly individual performer, Redmond's material is not for the faint hearted as he is inclined to occasionally use strong language.
As a multi instrumentalist, his choice of songs covered on the guitar reach a broad spectrum of music and guitar styles.