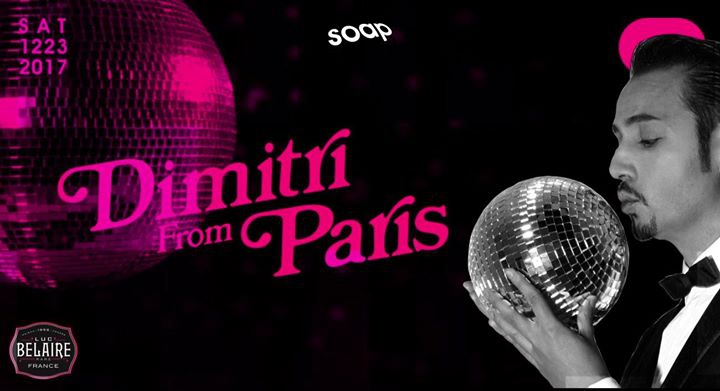 Event Details
DIMITRI FROM PARIS AT SOAP

As the French Ambassador of stylish club sounds, Dimitri from Paris is everything his nation could be proud of: a DJ, producer, and remixer of the highest standard, and a stylish snake-hipped pin-up with French reserve.

His musical influences are deeply rooted in 70s Funk and Disco sounds that spawned todays House music but also original soundtracks from 50's and 60's cult movies.

Dimitri's DJing career started in the late 80's on the Parisian pirate radio scene. Moving to an official and nationwide radio he became the very first DJ to pioneer house music all over France. His mix show was first of its kind and ran over 10 years til 1998 making him a cult figure with dance music connoisseurs...

Dimitri remixed hundreds of artists as diverse Björk, the Cardigans, James Brown, New Order and Quincy Jones.

In the late 90's Dimitri followed the album's success with several compilations including the cult 'Deluxe House of Funk' and the infamous 'A Night At The Playboy Mansion' (Virgin) lately charted again in Mixmag's top 100 of best compilations ever...

Over the course of his 30 years career our man from Paris has sold more than a million copies of his eclectic outings. Without any marketing budgets, and mostly on indie labels...

Never ask Dimitri From Paris what his going to play prior to a set, he doesn't know, and always let's the crowd inspire the moment.


LINE UP

DIMITRI FROM PARIS (FR)
CONAN (DISCO EXPERIENCE / DEADEND)
JINWOOK (DISCO SURF)
FFAN (DUBPLATE / DISCO EXPREINCE)
STOPLAIN


►TIME : SAT 12.23 10PM-5AM
►VENUE : SOAP 132-3 Itaewon-dong, Yongsang-Gu, Seoul, Korea, B1
►NO MINORS ALLOWED
►ID NEEDED
►ENTRY FEE : 30,000 KRW + 1 FREE DRINK

*For safety issues we don't allow flip flops and slippers inside the venue.