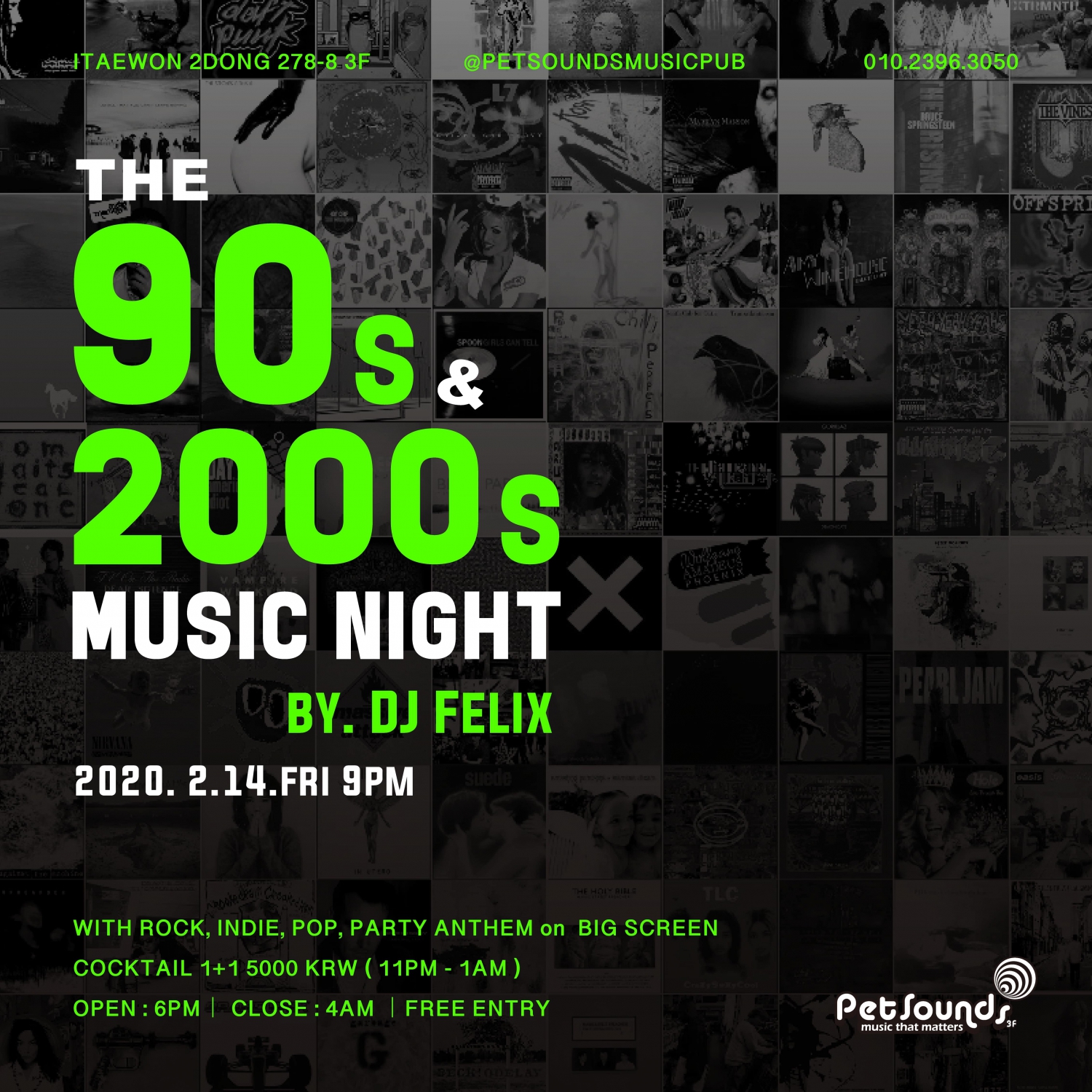 DJ Felix at Pet sounds rock bar
90s & 2000s Music Night
Fri Feb 14th 2020 to Sat Feb 15th 2020
---
Itaewon dong 278-8 3rd floor

,

Seoul

,

Gyeonggi-do
https://www.myguideseoul.com/events/dj-felix-at-pet-sounds-rock-bar
---
Pet Sounds
MAKE ENQUIRY
Event Details
금요일밤 90s~00s Sound by DJ Felix @felix_nam 를 진행합니다! (2/14 Fri)
- '90s & 2000s Music Night~'
_
2/14(금) 90,00년대 Rock,Pop,Indie 사운드를 원없이 즐길수 있는 최고의 시간!
_
🤟🏻무료입장 | 파티시작 오후9시
| 미성년자입장불가 | 오픈 오후6시 ~ 오전 4시 마감 |
-
🤟🏻칵테일 1+1 오후11시~오전1시 5,000원
_
이태원 경리단길 뮤직펍 펫사운즈 3층
_
[2/14 DJ Felix's Playlist Style] 🚩
Nirvana, Radiohead, Oasis, Blur, R.E.M., Beck, Björk, Massive Attack, Pavement, Pearl Jam, PJ Harvey, Pulp, Smashing Pumpkins, U2, The Chemical Brothers, Nick Cave & The Bad Seeds, Beastie Boys, Primal Scream, Red Hot Chili Peppers, Portishead, The Prodigy, Belle and Sebastian, Weezer, My Bloody Valentine, Elliott Smith, Rage Against the Machine, Suede, Manic Street Preachers, Soundgarden, The Verve, Nine Inch Nails, Madonna, The Flaming Lips, Sonic Youth, Foo Fighters, Green Day, Daft Punk, Hole, Moby, Metallica, Wilco, Guns N' Roses, Pet Shop Boys, Depeche Mode, TLC, Morrissey, Michael Jackson, The White Stripes, Arcade Fire, The Strokes, LCD Soundsystem, Coldplay, Animal Collective, Arctic Monkeys, M.I.A., Yeah Yeah Yeahs, TV on the Radio, Franz Ferdinand, Queens of the Stone Age, Amy Winehouse, The Libertines, Interpol, Phoenix, MGMT, Justin Timberlake, Kings of Leon, Muse, Gorillaz, Modest Mouse, The Killers, Hot Chip, The xx, Vampire Weekend, Beyoncé, M83, Lily Allen and more....