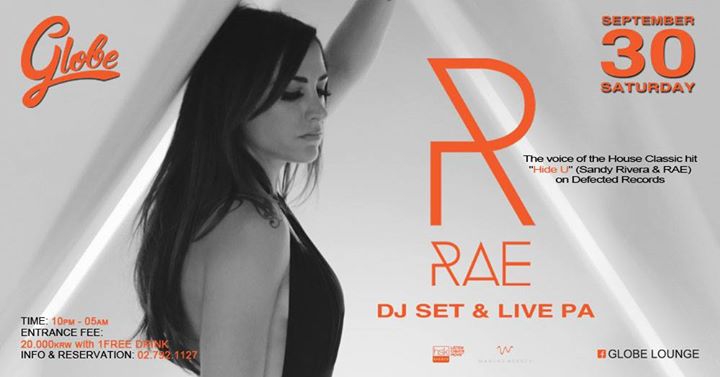 Event Details
UK // 'DJ RAE' @Globe Lounge, Seoul.

*venue : Globe Lounge, Itaewon (02 792 1127)
*Ticket: 20,000 won (+1 free drink) (sorry, no free guest)
*more info : 02.792.1127

Rae is one of the few artists in the industry who combines a successful career as singer songwriter, DJ, remixer and producer.

She has shared a great history with Defected records since her first self penned release 'Can't Stop' with Kings of Tomorrow, becoming an artist in demand and headlining tours as DJ & live act worldwide. Rae has gone on to drive a quality house agenda, with confident productions such as 'Hide U' with Sandy Rivera, 'Another Day', 'Deep In Your Love' and the massive Top 20 release 'Take Me Away' with DJ S.K.T. Recent releases include 'Yesterday', 'Groove On' alongside Siege, 'That Feeling' with Mandal & Forbes, and 'Harmony' with Kokiri and drum & bass legend Adam F.

Summer 2017 sees Rae collaborate with Lupe Fuentes on 'Reachin'' released on Lupe's In The Loop label; the 'Good Times' EP with Deepshakerz on Toolroom; 'Work on me' on Audio rehab, and the launch of Rae's own label, Rated, plus gigs in Europe, London and touring Asia. If that wasn't impressive enough, Rae is currently performing as guest vocalist for the hugely successful Hacienda Classical tour, which has already seen Rae unleash her incredible vocals on such iconic stages as The Royal Albert Hall and at Glastonbury Festival.

Rae is also an in-demand topline writer, constantly collaborating and penning songs for major artists across the genres. She recently featured on the single 'Lose Myself' from up and coming producer Kharfi, supported by DJ Snake and The Chainsmokers. Further vocal features are set to land this summer with UK talents Ryan Blyth & KC Lights.