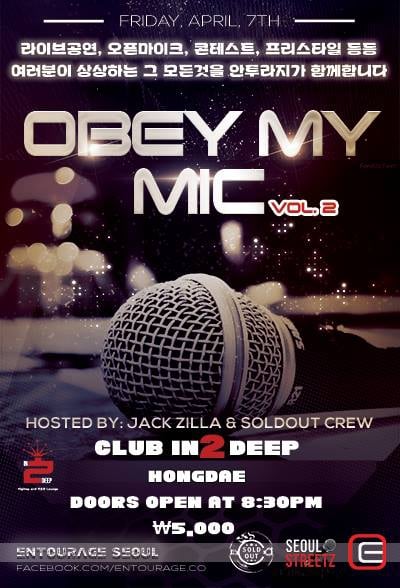 Event Details
Entourage, Seoul Souldout Crew, & Seoul Streetz Presents: "Obey My Mic"

Awakening a classic method of artist promotion EntourageSeoul brings you our 'Obey My Mic' concept!

Similar to a mini concert or talent show we offer a platform for artists to gather, network and showcase their talents.

Venue: Club In2Deep (Hongdae)
Date/Time: 7 April (Fri) 9PM-11PM

Performing artists/talents will have 10-15 mins per show.
While some talent will be pre-selected, WALK-INS are welcome to sign-up.

Your fifteen minutes of F.A.M.E starts here at "Obey My Mic"

In creating this atmosphere we unite with fellow creatives, feeding off each other's energy,
fumbling our way through the trials and tribulations, striving for greatness!

This is where you learn! This is where you make your mistakes!
This is your opportunity to build followers and shape your crowd!
This is where you pave your way to the major leagues!