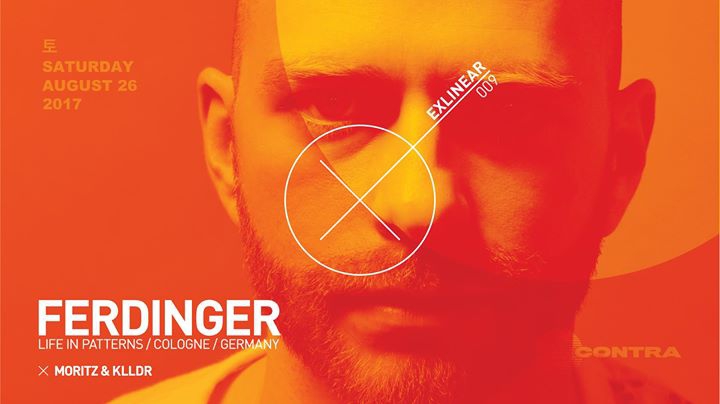 Event Details
EXLINEAR 009 w/
Ferdinger (Life in Patterns / Cologne, Germany), Moritz, KLLDR
FRI 2017.08.26 / DOORS 10PM
CONTRA ITAEWON

░▒▓█░▒▓█░▒▓█░▒▓█░▒▓█░▒▓█░▒▓█░▒▓█

Exlinear is a party format introduced by KLLDR, the Techno alter ego of Tobias Kalleder, resident DJ at Delta Sounds and music director at Platoon Seoul.

This time will be an entirely 'German Edition', we're getting together our friends, Ferdinger - techno wizard and labelhead of newly founded yet already critically acclaimed label Life in Patterns from Cologne on which he just released his LIP debut album ›Gelände‹ as well as munich born but long time seoul based techno veterans Moritz - resident DJ of Mystik and KLLDR of Exlinear and Delta Sounds.

Uncompromising & bold underground techno plus minimum set times of 2 hours to give each DJ enough time to take the audience on a journey into sound are the main focus of this event series.

░▒▓█░▒▓█░▒▓█░▒▓█░▒▓█░▒▓█░▒▓█░▒▓█

Ferdinger (Life In Patterns / Cologne, Germany)

Moritz (MYSTIK)

KLLDR (DELTA Sounds / Exlinear)

░▒▓█░▒▓█░▒▓█░▒▓█░▒▓█░▒▓█░▒▓█░▒▓█

Ferdinger (Life In Patterns / Cologne, Germany)

Ferdinger is a Cologne-based techno producer, DJ and live act.

Largely influenced by the Berlin and UK electronic music scenes of the last three decades, his span of interest and eclectic scope encompass hip-hop, krautrock and traditional African music, as well as compositions by the likes of Morton Feldman, Georges Aperghis and Bernhard Lang. Moreover Ferdinger's ongoing obsession with Spanish and oriental tile patterns informs and brings a further layer to his musical practice.

In his DJ sets and personal productions Ferdinger strives for a sphere of hypnotic, dynamic and minimalistic grooves. A key element is evolution and variety in repetition, with a focus on unique timbres, structural form and development of broad-based sound materials.

░▒▓█░▒▓█░▒▓█░▒▓█░▒▓█░▒▓█░▒▓█░▒▓█

LIFE IN PATTERNS

Operating between Cologne and Paris, Life In Patterns [LIP] is an
electronic music label run by Ferdinger.

The aim is an energetic, colorful and compelling sound, walking the
line between minimalism and dynamic versatility. LIP's releases focus on dancefloor oriented techno tracks that are subject to constant structural shape-shifts and extensive timbral variation. All LIP productions are composed with meticulous attention to detail, covering the moods and different hues one should expect from a truly soulful record collection.

Life In Patterns is more than a label - it is a state of mind.

░▒▓█░▒▓█░▒▓█░▒▓█░▒▓█░▒▓█░▒▓█░▒▓█

Admission: 20.000 KRW (incl. 1 Free Drink before midnight)

This weekend (Friday & Saturday) we are proud to announce the United Groove Alliance between Cakeshop and Contra.
For the price of one entry, you can access both venues - 4 floors in total - and come and go throughout the entire complex as you please. Please check @cakeshopseoul and @contraseoul for DJ lineups.