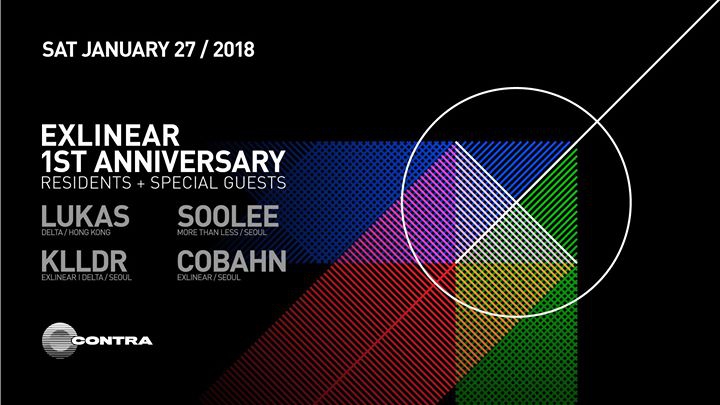 Event Details
Exlinear 015 / 1st Anniversary
Lukas (DELTA Sounds / Hong Kong), Soolee (more than less)
Residents: KLLDR, Cobahn
SAT 2018.01.27 / DOORS 23:59
Contra ITAEWON

Exlinear is a format introduced by KLLDR, the Techno alter ego of Tobias Kalleder, resident DJ at Delta Sounds and music director of Platoon Seoul. And this baby just turned 1 already :)

Resident DJs of exlinear, Klldr and his protégé Cobahn will be behind the decks as well as some special guests: Hong Kong based DELTA sounds founder and mastermind Lukas as well as Seoul based techno veteran Soolee from more than less.

See you on the dancefloor :)

● ● ● ● ● ● ● ● ● ● ● ● ● ● ● ● ● ●

Lukas (DELTA Sounds / Hong Kong)

Soolee (More Than Less)

KLLDR (DELTA Sounds / Exlinear)

Cobahn (Exlinear)

● ● ● ● ● ● ● ● ● ● ● ● ● ● ● ● ● ●

Lukas (DELTA / Hong Kong)

Lukas is the founder of DELTA Sounds and co-founder of Hong Kong events organization PUSH, having brought the highest quality techno events and international guests to the city since 2009. Having launched the events brand DELTA in Europe, played at Berlin's Griessmühle, warmed up for Âme and closed for Ben Klock all in 2014, played at YinYang Festival on the Great Wall of China, One Love Festival in Shenzhen and Midi Electronic Festival across China, it became time to get set for the next years is set to be like no other. In 2016 Lukas brought his brand DELTA back to it's original home of Hong Kong having hosted events with international artists' Truncate, Peter Van Hoesen, Scuba and Agoria in Hong Kong in Shanghai, Ø [Phase], hosted club nights at 'Celia' Shanghai and 'TAG.' Chengdu, and played at infamous underground institutions 'Korner' Taipei and 'Watergate' Berlin's 'Waterfloor' to kick off 2017. Lukas' over the past 7 years has also played supporting slots featuring international guests such as, Dixon, Molly, François X, Timo Maas, M.A.N.D.Y., Dave Clarke, Dirt Crew, Redshape, Recondite, Antigone, Ralf Kollmann, Anja Schneider, Re:You, Rodriguez Jr to name just a few and artists from top Berlin institutions Berghain with residents Marcel Fengler, Boris, Function, Answer Code Request and Tobias., and Watergate with Ruede Hagelstein, Matthias Meyer and Stassy and Wilck. Lukas' sets take a direction that follow from his grassroots influences, focusing on deep dark techno, taking the crowd through a set of rolling waves up and down through driving kick drums, Acid synths and melodic rhythms with always an unexpected surprise right down the middle, the floor won't be left disappointed. Don't forget your free hug down the front. X

● ● ● ● ● ● ● ● ● ● ● ● ● ● ● ● ● ●

Admission: 20.000 KRW
-
This weekend (Friday & Saturday) we are proud to announce the United Groove Alliance between Cakeshop and Contra.
For the price of one entry, you can access both venues - 4 floors in total - and come and go throughout the entire complex as you please. Please check @cakeshopseoul and @contraseoul for DJ lineups.