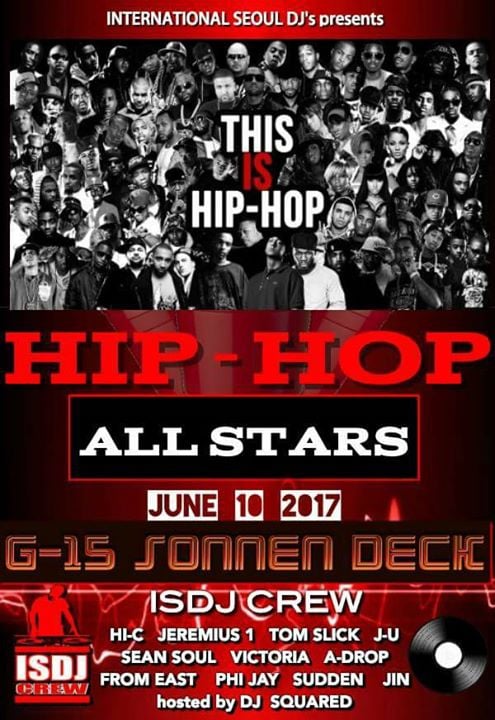 Event Details
International Seoul DJ Crew brings you Hip Hop All-Stars with the best Hip Hop DJs & MCs in Seoul!!

☆☆☆☆☆☆☆☆☆☆☆☆☆☆☆☆☆☆☆☆☆☆☆☆

ISDJ Crew DJ line up

Hi-C (Phillipines)
J U (Germany)
Victoria (Heaven)
Tom Slick (USA/Korea)
Jeremius-One (USA)
Squared (USA)
A-Drop (Mongolia)

Order of Events

1. Freestyle Cypher (ALL MCs)
2. Freestyle Competition (8 MCs Korean & English)
3. Live Performances

$$ Cash Prize and bottle for the Winner of the Freestyle Competition $$

MCs
The Godfada (MC, USA)
Dow 6 (MC, USA)
NPM (MC, Korea)
Skizzo (MC, USA)

Graffiti/Artists

Dancers

☆☆☆☆☆☆☆☆☆☆☆☆☆☆☆☆☆☆☆☆

Doors open at 9pm. 10k gets you in with a free drink.

Sponsored by
Seoul Streetz
International Seoul DJs
Pinoy Seoul Gigs

This event is open to all artists. Message us or post on the wall to get on the line up!