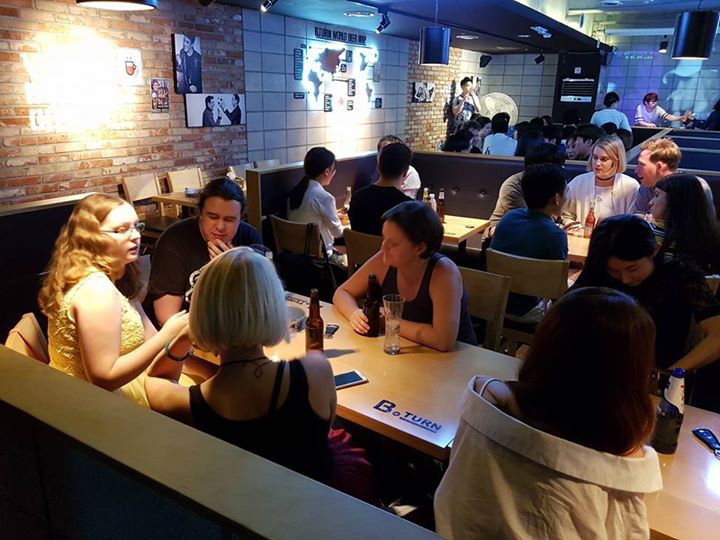 International Beer Party+ Club Free! in Gangnam
826-30 YEOKSAM-DONG GANGNAM-GU, SEOUL
Sat Sep 24th 2016 at 18:45 until 22:30
---
Seoul
,

Get out of exit 1 of Gangnam Station and go 1block and then you can see Cambridge Members store. Turn right towards the alley at the Cambridge Members store and keep going straight passing by BURGER KING, OLIVE YOUNG, MINI STOP, COFFEE BEAN. When you see COFFEE BEAN go straight 40meter from COFFEE BEAN and you will see the B-TURN Bar. Come to the basement. We have a party there.

Seoul
https://www.myguideseoul.com/events/international-beer-party-club-free-in-gangnam
Event Details
Over 60 people are coming to join us every Saturday and having fun talking with people in English.

Entrance fee :

Men 10,000won(Beer is not included),
Women 5,000won (Beer is not included)

Please give the fee to our staff at the entrance. Beer is not include in the entrance fee. Please buy your own beer.


Over 60 people come to join us and drink and party together!

North Americans, Europeans, Aisans, anyone can join our SPECIAL SATURDAY PARTY!

Please come to B-turn and grab a bottle of beer and go to the table and talk to the guy or girl naturally. B-turn is for us!

TIME: 6:30PM ~ 10:30PM (3HOURS) After the Party we will go to the Club in Kangnam. It is close to SEULUNG station and SINSA station!

LOCATION: B-TURN 5MINS AWAY FROM GANGNAM STATION EXIT1.

Get out of exit 1 of Gangnam Station and go 1block and then you can see Cambridge Members store. Turn right towards the alley at the Cambridge Members store and keep going straight passing by BURGER KING, OLIVE YOUNG, MINI STOP, COFFEE BEAN. When you see COFFEE BEAN go straight 40meter from COFFEE BEAN and you will see the B-TURN Bar. Come to the basement. We have a party there.