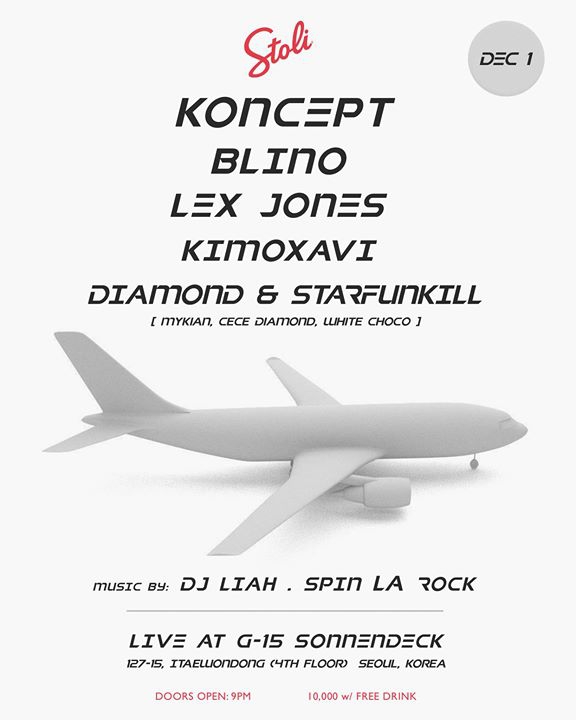 Event Details
FRIDAY, DECEMBER 1ST brought to you by Stoli & Sonnendeck, a night of Live Hip Hop, Funk & Soul that you do not want to miss!

KONCEPT,

Instagram: @champagnekonny
Twitter: @Koncept

Rapper from New York City, who just released new single, 'Trip' on Melon (go listen) - who came to Seoul for a 2 week tour, which turned into a partnering with Sony Music Asia for the release of his new album, '14 Hours Ahead' (links to listen below) will be performing an extra special set of never before performed songs for the first time in Seoul.


Koncept '14 Hours Ahead'

--------

BLINO

Instagram: @thisisblino

Up and coming Korean rapper is leading his team INTHECUT on the music scene. With his single 'All Of You' creating a buzz, and a bunch of new music on the way, he's going to bring that energy and excitement in his performance.


--------


LEX

Instagram: @lexsasianrapworld

A creative from the UK presently residing in Korea. After winning ' King Of The Mic' in his home country Lex was awarded a record deal with an independent label and received exposure on renowned platforms such as BBC Radio 1, Link Up TV, RWD Magazine and GRM Daily. Presently Lex focuses on covering Asian hip-hop culture via his platform Lex's Asian Rap World (LARW), working with pivotal artists such as Jay Park, Bill Stax, Kohh and many more. The multi-faceted founder of LARW is certainly a figure to watch in 2018.


--------


KIMOXAVI

Instagram: @kimoxavi_official


Rapper and producer Duo from both the US and Korea have been making incredible new music and their ready to share some of it with the public.


--------


DIAMOND & STARFUNKILL
(DJ Mykian, Cece Diamond, White Choco)

Instagram: @mykianfallaria

The duo of Dj / instrumentalist Mykian & vocalist Cece Diamond, together with guest members from their band, the 'JAZZyBEATS Collective,' branch away from their usual group ensemble roles to develop their newest side project, 'Diamond & StarFUNKill.' Live Jazz instruments & vocals, served over soul-funked beats, create a unique experience & vibe which will demonstrate a wide spectrum of musical tastes and talents.


--------


DJ LIAH & DJ SPIN LA ROCK with be holding down the 1's & 2's to get you dancing and partying all night.


--------


STOLI will be providing a free drink as you enter to get your night started!

Doors open at 9pm.
10,000 krw with a FREE DRINK!