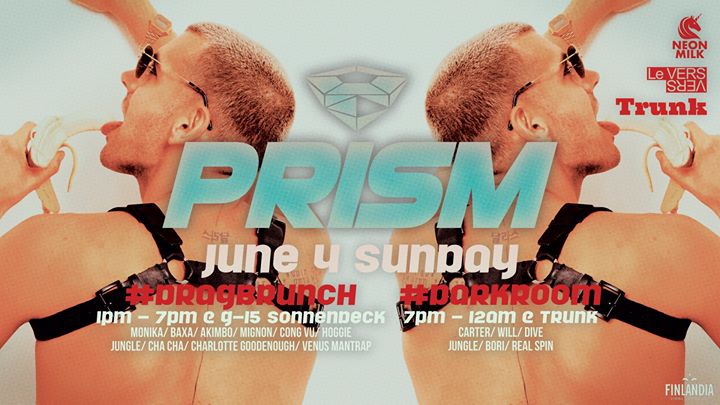 Event Details
PRISM will be serving you the sauciest party on June 4th, 2017: DRAG BRUNCH (1PM-7PM) AND DARKROOM(7PM-12AM)

DRAG BRUNCH: Come join us at Sonnendeck for DRAG BRUNCH in the heart of Seoul, Itaewon - the most ideal place to spend your Sunday afternoon, in and out of sun, at a two-story rooftop space and green grass. We will be serving queens that won't be afraid to twerk while you have brunch, Seoul's premier underground DJ's along with refreshing Finlandia cocktails and mimosas.
(15,000 KRW + 1 FREE DRINK)
- DJ: MONIKA/ BAXA/ AKIMBO/ MIGNON/ CONG VU/ HOGGIE
- QUEEN: JUNGLE/ CHA CHA/ CHARLOTTE GOODENOUGH/ VENUS MANTRAP

DARK ROOM: Who says you can ONLY dress up for Halloween?
PRISM DARKROOM will be held at TRUNK, just a 2 min. walk from SONNENDECK. Drag or no drag, man or woman, fashionable or unfashionable, sexy or cute, horror or comedy, performer or audience. We will be presenting you with some creative individuals, wild drag shows and premier underground DJs . Don't be afraid to express yourself in clothes, makeup, hair or whatever you want to be and come with no judgement or discrimination.
(FREE ENTRANCE)
- DJ: CARTER/ WILL/ DIVE
- QUEEN: JUNGLE/ BORI
- PERFORMANCE: REAL SPIN

* PRISM
New brand, 'Le VERS', created by three individuals involved in culture, music, fashion, nightlife and the entertainment scene from America and Europe collaborate with Seoul's BIGGEST drag queen party producer, "NEON MILK", and Itaewon's upcoming nightclub, "TRUNK" to present, PRISM.