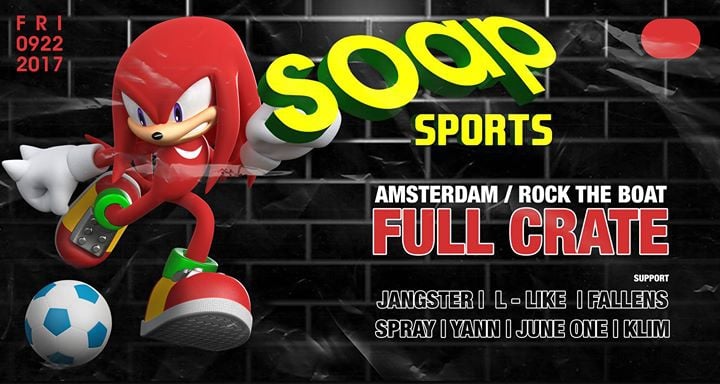 Event Details
Soap Sports #1 w/ Full Crate (AMS / Rock The Boat)

Welcome to Soap Sports ! A new party series where you can come dressed as your favourite sports. Wear your best badminton, scuba diving, curling, horseriding , represent any sport that you want. Those who come dressed up get an extra complementary drink. Straight from Amsterdam Full Crate will be playing the main event, big local support from extra time. See you on sporty friday at Soap.

LINE UP:
FULL CRATE (AMS / ROCK THE BOAT)
SPRAY (BACKnFORTH)
JUNEONE (ALTER EGO / BANA)
FALLENS (PUTE DELUXE)
YANN CAVAILLE (PUTE DELUXE)
KLIM
JANGSTER (VISLA MAGAZINE)
L-LIKE (KIDS WAVE)

• TIME : FRI 09.22 10PM-5AM
• VENUE : SOAP 132-3 Itaewon-dong, Yongsang-Gu, Seoul, Korea, B1
• NO MINORS ALLOWED // 98년생부터 입장 가능
• ENTRANCE FEE: 20,000KRW + 1 Free Drink

*For safety issues we don't allow flip flops and sandals inside our venue.