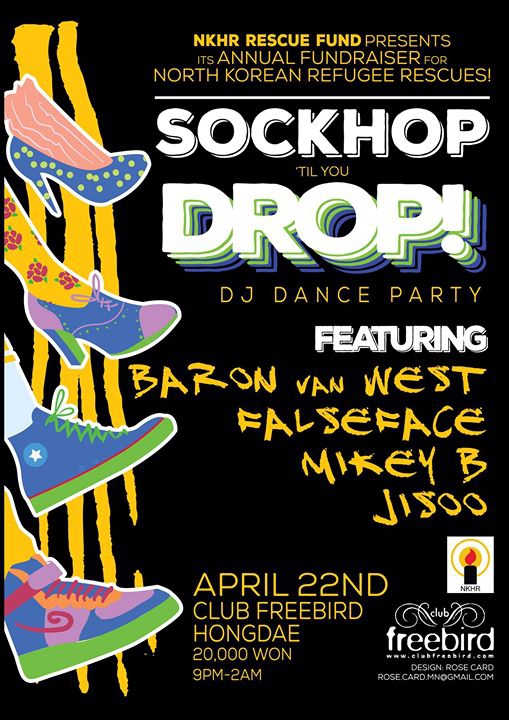 Event Details
The NKHR Rescue Fund is hosting its annual fundraiser for North Korean refugee rescues. And this year it is a crazy sock/dance party extravaganza!!!!!!!!

We've scored four of the most baller djs in town to provide the soundtrack for this dance dance REVOLUTION: Baron van West, FalseFace, Mikey B, and JISOO!!

Our goal is to raise $7,500 to help three North Korean refugees reach safety, and we need your help!

Entry is 20,000won, all of which goes to refugee rescues. Please pay at the door.

We will also be selling raffle tickets for some amazing local prizes - so bring extra cash!
------
Aside from joining us at the dance party of the CENTURY, we are asking our friends, family members, and everyone we know to donate money on our Global Giving page.

PS: If you or your company would like to donate a prize to our raffle prize bank, please let us know! We will give you and your prize a shoutout on the event page!

To donate via Korean bank transfer:
Kookmin Bank (국민은행)
Account Number: 533301-01-119295
Account Holder: Citizens' Alliance for North Korean Human Rights (북한인권시민연합)
​Raffle tickets will be 1 for 5,000won or 3 for 10,000won and you must be present to win!!
Thanks again to all of our prize-donors and see you Saturday!!
Prizes​~~​:
50,000won gift certificate to Magpie Brewing Co. (3)
Free one-day rental of Yogiga Expression Gallery for an event or party​​.
50,000won gift certificate for craft meats by 소금집 SALT HOUSE.
40,000won gift certificate to Gmarket, Lotte, emart and more.
Custom-made wah-pedal, previously ​loved.
​Autographed Dear Korea Volume One comic books by Jen Lee (3).
Nice Legs band hoodie, patches, and stickers set.