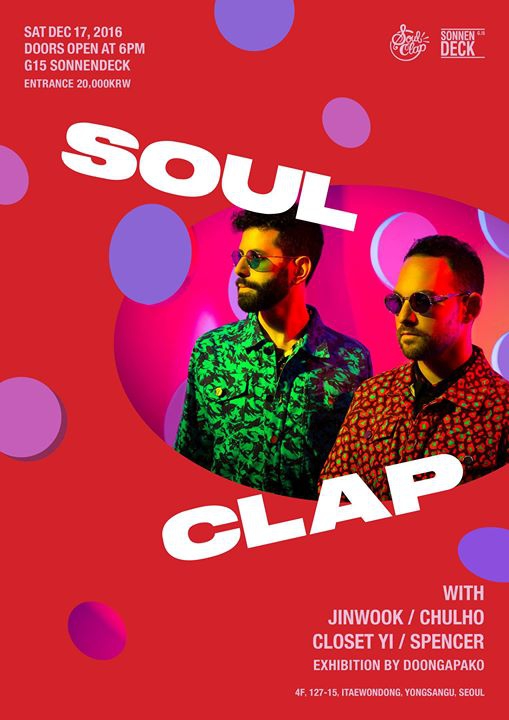 Event Details

Soul Clap is coming to Korea.
Soul Clap, the duo who plays the hottest funk house music in the dance music scene and played for Boiler Room 6 times for the past 4 years, is having their first show in Korea on Dec. 17th - nowhere else but: @ G-15 Sonnendeck, Itaewon.
Soul Clap was formed by Eli Goldstein and Charlie Levine in 2001, and they are definitely the best electronic duo from Boston. Currently based in New York, they have released numerous mixtapes, Singles and EPs, played at wonderful venues and festivals all over the world, and stepped up to an unrivaled position in funkily combining past and present dance music, with an unbeatable live performance at the spinning deck.
Soul Clap is one of the main artists representing Crew Love along with Wolf +Lamb, No Regular Play, Nick Monaco and Pillowtalk, and they have continuously collaborated with numerous artists such as Laid Back, Metronomy, Little Dragon, Robert Owens, DJ Harvey, Kim Ann Foxman, and Louie Vega. A few months ago, Soul Clap released their second regular album, Soul Clap, after collaborating with the funk legend George Clinton, and they are absolutely one of the busiest DJs touring all over the world promoting their fabulous new album.

Check out their 6 wonderful Boiler Room sets, and imagine how amazing they will be in Seoul, Korea, at an unique rooftop setting.

Supporting DJs
Jinwook (Midnight Seoul)
Chulho (Very Easy)
Spencer (Golmokgil)
Closet (Golmokgil)

Art exhibition hosted by:
Doongapako

Entrance 20,000 won
The door opens at 6pm.
No minors allowed.