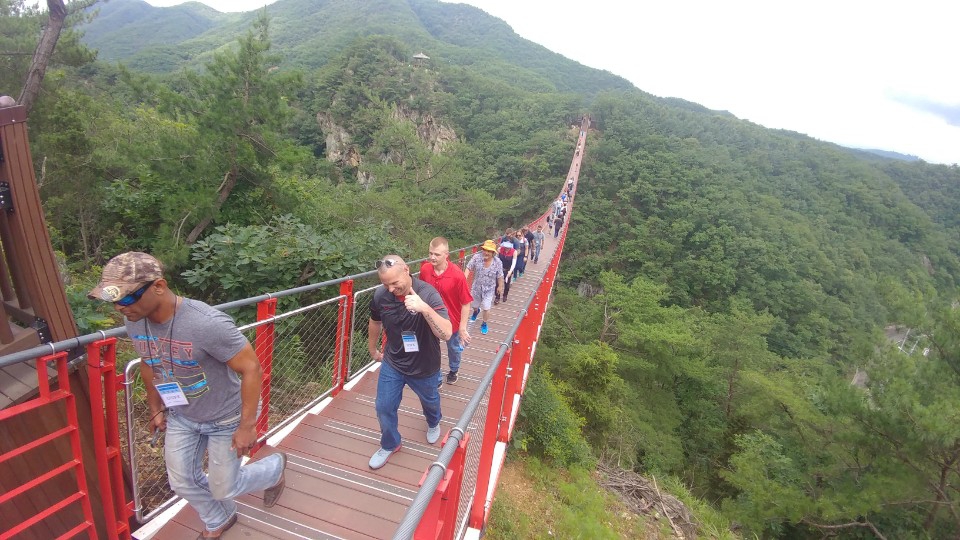 South & North Korea DMZ Peace Zone & Paju Tracking Tour
DMZ Tour South Korea
Mon Jan 21st 2019 to Mon Apr 1st 2019 at 07:30 until 18:30
---
President Hotel, Room 302, Euljiro 16Jung-gu

,

Seoul

,

Seoul Metropolitan City

,

City-Hall
https://www.myguideseoul.com/events/south-north-korea-dmz-peace-zone-paju-tracking-tour
---
Joongang Express Tour DMZ
MAKE ENQUIRY
BOOK NOW
Event Details
South & North Korea DMZ Peace Zone & Paju Tracking Tour.. as the name suggests, the newly developed package guarantees to bring out the explorer in you...

Below is the schedule for the day:

Hotel Pick up(7:30) → Tracking at Gamak Mt.→ Riding on Hangpo, Traditional Sail Boat → Lunch(Bulgogi) at Imjingak Park → DMZ Peace Zone(3rd Infiltaration Tunnel, Dora Observatory, Dorasan Station) → Hotel Drop off(18:30)

Please note that this tour requires at least 5 participants to go ahead and must be booked at least 3 days in advance.

Price: 150,000 per person

For specifics on the Tour - see below:

While riding the Hwangpo, a traditional boat, we are looking around the Imjingang River wall, which had been restricted to civilian access for 50 years, there are Imjin 8 Sight(Sandal Rock, Rabbit Rock, Horogoru Castle, Gorangpo the neck of the rapids, Laundry Earth Rock)

From the Southern Limit Line, you can see historical relics and places created by division of the country located 7.5 kilometers away from Southern boundry of DMZ, Imjingak Park. There are Freedom Bridge, Steam Locomotive and
Mangbaedan.

The 3th Infiltration Tunnel was made by North Korea in 1978. It is 2 meters wide, 2 meters high, 1,635 meters long, and 435 meters away from the southern limit.

It is located at the northernmost point of the Military Demarcation Line. From the Dora Observatory, you can see the Southern Limit Line, the Military Demarcation Line, the National Road No. 1, the Kaesong Industrial Complex, and Gaeseong City. Daeseong-dong located inside of the DMZ area and Kijeong-dong located inside of the DMZ. Also it is an observatory where you can see the Panmunjom at a glance.

Dorasan Station is also one of the northernmost stations of Gyeongui Line within the civilian control line in Dorasan-ri, Paju, Gyeonggi-do, and It is the first station to North Korea among the Gyeongui Line Railway Station, which connects Seoul and Sinuiju, North Korea.