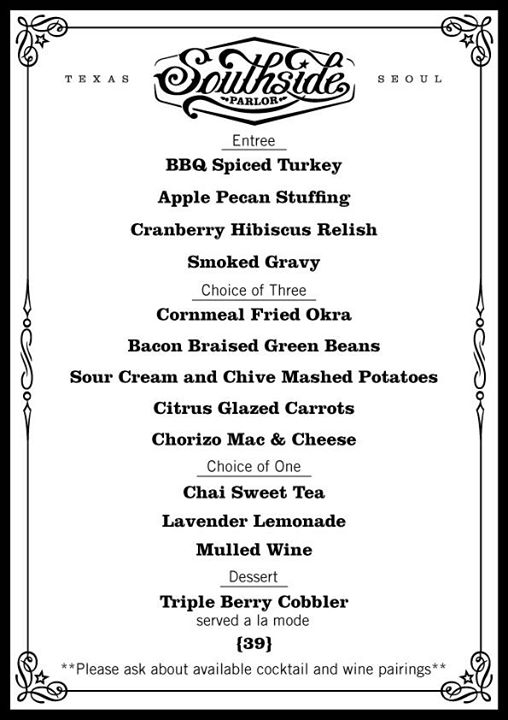 Event Details
It's that time again for our annual Southside meat and three Thanksgiving feast! We've got another awesome menu filled with made from scratch, finger lickin' goodness. Come join our family for a realxed evening of delicious Southern inspired delights.

Entree:
BBQ Spiced Turkey
Apple Pecan Stuffing
Cranberry Hibiscus Relish
Smoked Gravy

Choice of Three Sides:
Cornmeal Fried Okra
Chorizo Mac & Cheese
Bacon Braised Green Beans
Sour Cream and Chive Mashed Potates
Citrus Glazed Carrots

Choice of One Drink:
Chai Sweet Tea
Lavender Lemonade
House Mulled Wine

Dessert:
Triple Berry Cobbler served a la mode

Price: 39,000W

Time Slots:
6-8pm
8:30-10:30pm (fully booked)

If you'd like to join us please click JOIN on the event page and RSVP with your NAME, NUMBER, PARTY SIZE and TIME SLOT you'll be attending to SOUTHSIDEPARLOR@GMAIL.COM, WRITE on the event wall or PM our FB page.

Due to our limited kitchen size we'll only be serving 25 seats per time slot. Please let us know if we'll be seeing your smiling faces by Wed. the 23th:)

Looking forward to a good case of the itis afterwards!