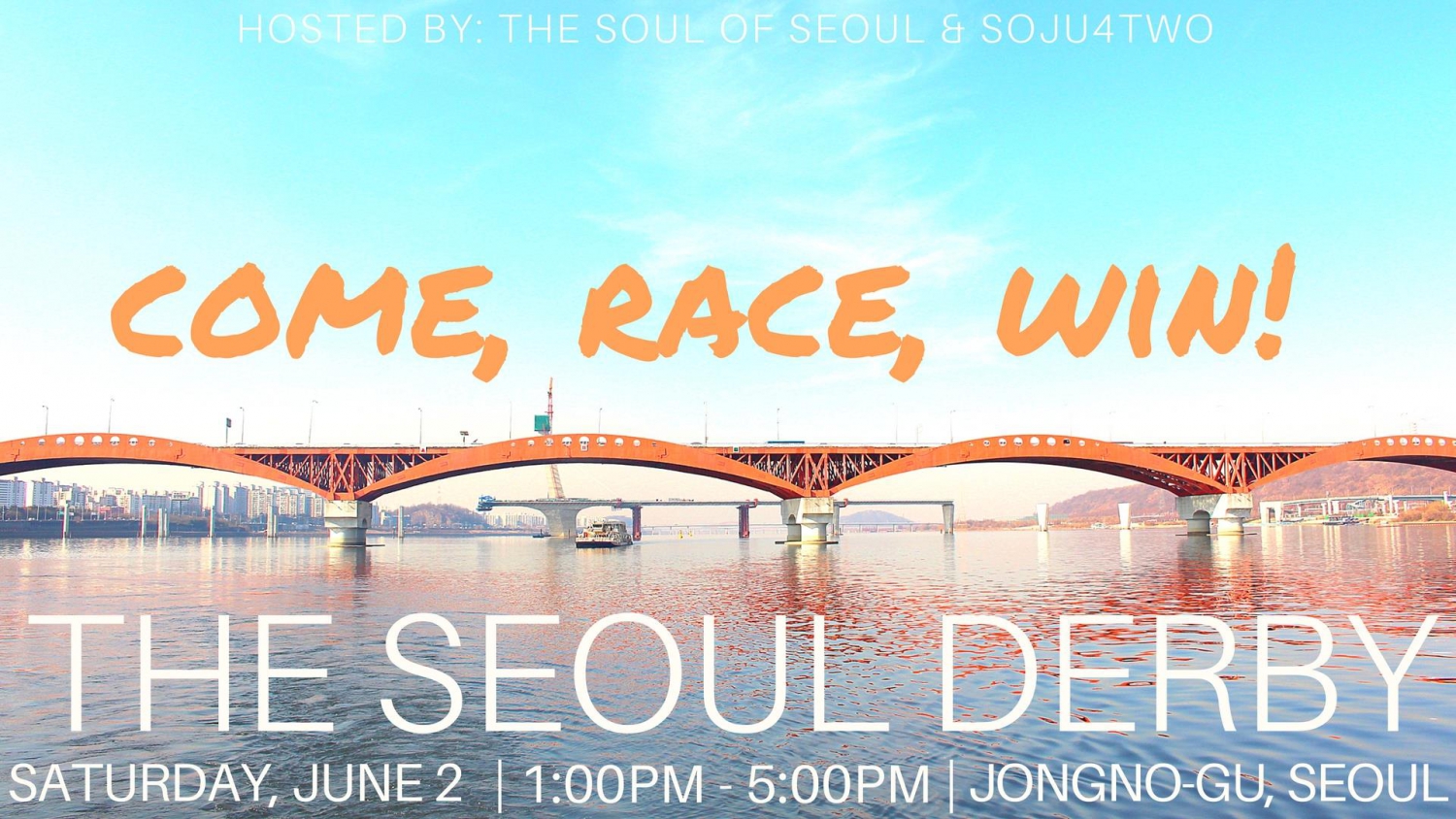 The Seoul Derby
Seoul Event
Sat Jun 2nd 2018 at 13:00 until 17:00
---
Seoul
Seoul
https://www.myguideseoul.com/events/the-seoul-derby
VISIT WEBSITE
Event Details
The Soul of Seoul has teamed up with Soju4two to host this FOURTH annual scavenger hunt/mission event and we are so excited to get the ball rolling!

Come for some fun. With clues in hand, teams will race to find as many locations as possible from off the beaten path rooftop views to traditional markets and even some friendly local eateries too. The event will be a cross between scavenger hunt searches and amazing race-esque missions. If you love the show Running Man, this is right up your alley. How much do you know about Seoul? Come test your knowledge with some great people and if you have the stuff, you can even win some fabulous prizes. (Check out the sponsors below.)

The event will kick-off in downtown Seoul and will culminate at Paper Street Seoul a local multicultural family owned venue near the Dongdaemun area where we will tally the points while you sit back and relax to chow down and await the announcement of winners.

At the end, Paper Street will be providing a selection of pot pies and veggies along with their very tasty signature drinks and beer available for purchase.

Sign up as a team of 4 or if you don't have a team, not to worry, sign up anyway and we'll find a team for you! The more the merrier is what we say. We highly recommend getting in the team spirit by dressing in matching colors, shirts or even preparing your own team motto. Hey, you may even get some extra points if you do! (Hint hint)

Sponsors:
CheeseMania
Hulahula
Korvia Consulting
미니 print
Team Mogo
Morococo Café
Nailcityseoul
Sprout-Natural Healthy Whole Food Service
Sutome Apothecary
The Bakers Table
Tour 08 - Foreigner Tours
Vineworks Korea
Puriface
Fatboy Sandwiches
... with more to be announced!

To register, please sign up at https://goo.gl/BY2iRR
After registering, you will receive an email to confirm with specific details for where the race will begin. Good luck out there!