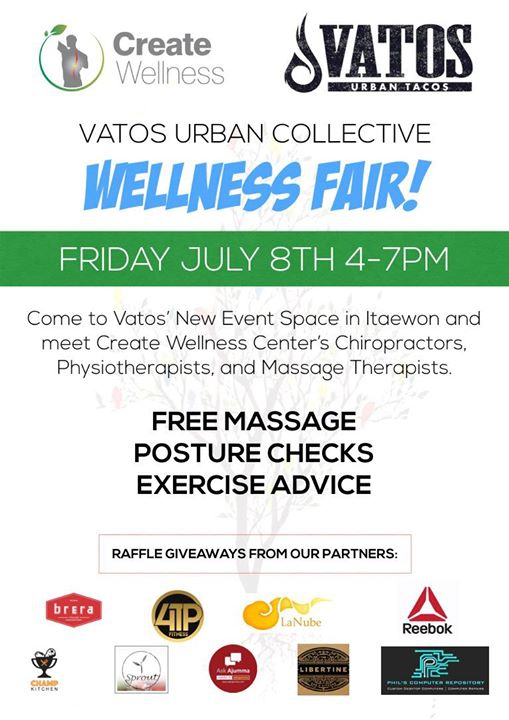 Event Details
On Friday July 8th, the specialists of Create Wellness Center will be providing free services to the public in Vatos' new event space Urban Collective: mini-massages, posture checks, exercise advice, and more. To participate you just need to share a post tagged with us on the social media platform of your choice!

Ever been curious about how good your posture is or have a neck ache that you've been ignoring? Now is your chance to ask a specialist! Create Wellness Center's team will include 2 US Chiropractors, 2 Physiotherapists, 2 Massage therapists.

Bring your business card and drop it in our raffle for a chance to win:

• A pair of new Zpump sneakers from Reebok Korea
• A set of high quality, locally produced vegan soap from LaNube
• 30,000won gift certificate to Ask Ajumma concierge service
• A personal training session from Nathan Atkins of 4TP Fitness
• A life coaching or energy therapy session with a certified CFT coach Kathryn Park
• 10 x 8gb USB flash drives from Phil's Korean Computer Repository
• 30,000won gift certificate to Sprout-Natural Healthy Whole Food Service
• 3 meals from 챔프키친 - Champ Kitchen
• 30,000won gift certificate to Brera Italian Restaurant
• 30,000won gift certificate to Libertine Bar and Kitchen
• 2 x 60 minute therapeutic massage gift certificate from Create Wellness Center
• 50,000won gift certificate to Vatos Urban Tacos

Additionally, the first 50 participants will receive a coupon for a free dessert at Vatos Urban Tacos, redeemable at the NEXT visit to Vatos!

RSVP not required; email info@createwellnesscenter.com for any questions!