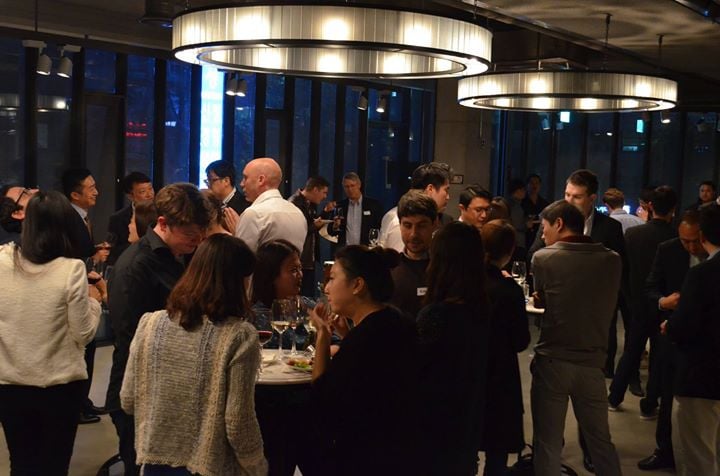 Event Details
The first Wine on Wednesday of 2017 will be held at the newly opened WeWork Euljiro on February 22. We've lowered the cost to attend and we're back north of the Han River, so come build your network with Seoul's international and Korean business community and the companies located within WeWork Euljiro, Asia's largest WeWork space, while enjoying wine, catered food, and beer!

Who comes to Wine on Wednesday?

International and Korean professionals working at local and global small, medium, large companies and start-ups, as well as representatives of foreign embassies and chambers of commerce, not to mention Korean and international public organizations. Wine on Wednesday is an open invitation event, so feel free to bring along your colleagues and friends who wish to expand their business network.

Entry fee:
40,000 won

*** Please Note! ***

With the change in venue from hotels to WeWork, we are now using off-site catering services. Therefore, in order to ensure there is enough food for everyone, we kindly ask that you pre-register by wiring your 40,000 won entry fee to the account below by Monday, February 20 at the latest. Thank you!

Entry fee: 40,000 won
Woori Bank(우리은행) 1005-202-810644 'Sample Jam'

Wine on Wednesday offers all who attend:
- Three glasses of wine
- Catered dinner menu
- Networking with Seoul's international business community
- A chance to win great prizes in the lucky draw

Lucky Draw
At the end of every Wine on Wednesday, there is a lucky draw in which you can win great prizes!

Date: Wednesday, February 22
Time: 7:00-10:00 pm
Venue: WeWork Euljiro (16th Fl. Daishin Finance Center)
Address: 중구 삼일대로 343 / Jung-gu, Samildaero 343 (See map below)

* Entry fee will not be refunded for no-shows/cancellations less than 24 hours prior to the event.

** Late arrivals at Wine on Wednesday pay the full entry fee.

Have a question or want to sponsor a raffle prize? Contact the organizers:

Todd Sample 010-4747-8606
Veronica Kang 010-4734-6161
wineonwednesdayseoul@gmail.com

See you on Wednesday, February 22, and please bring your business cards!