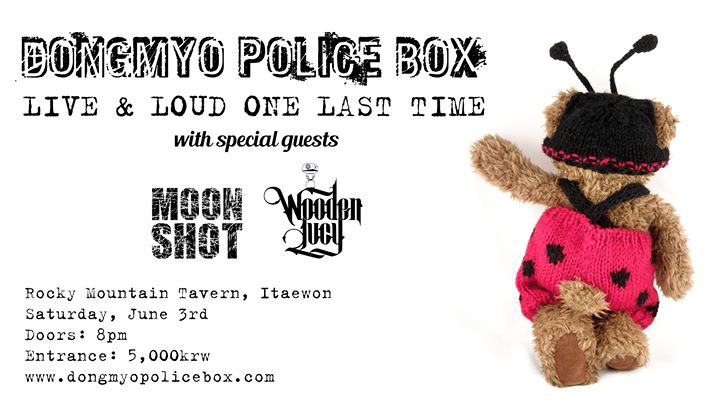 Event Details
Dear Friends,

Well, it is nearly the end of the road for our band. Due to members leaving Korea, we have finally decided to throw in the towel.

It's been an amazing 6 year run filled with so many incredible memories. Thanks to all of you who have supported us and allowed for us to pursue our passion for music. It's been a wonderful journey!

We plan on releasing one final E.P. entitled, HOSTAGES, this summer and are stoked for you to hear it!

Saturday night will be a nostalgic one filled with songs from all eras of the band. Moonshot and Wooden Lucy will also be performing as our special guests, and we are honoured to have them.

Come and join us on Saturday night as we grace the stage one last time. We hope that our music has connected with you in some positive way over the years. This will be our final swan song...

Much Love,
Steve, Jonghoon, Craig, and Chris
(Dongmyo Police Box)

Cover: 5,000 KRW (Includes a newly designed DPB sticker)
Time: 8 p.m.