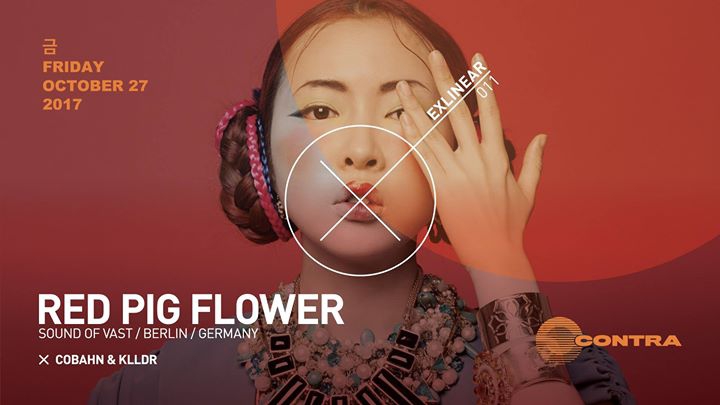 Event Details
Exlinear 011 w/ Red pig flower (Sound Of Vast / Berlin)
Local Support: KLLDR & Cobahn
FRI 2017.10.27 / DOORS 11:59PM
Contra Itaewon

Exlinear is a format introduced by KLLDR, the Techno alter ego of Tobias Kalleder, resident DJ at Delta Sounds and music director at Platoon Seoul.

This time we're proud to announce a woman in red - RED PIG FLOWER. London/Berlin based DJane and producer, co-founder of Sound of Vast and long time friend of ours she's returning to Seoul for another intimate and delicate set, crossing boundaries yet always driving and moving forward.

Joining her as a local support will be Seoul based new comer Cobahn from No!Mad! for a nice and easy warmup as well as techno veteran KLLDR of Exlinear and Delta Sounds.

Uncompromising & bold underground techno plus minimum set times of 2 hours to give each DJ enough time to take the audience on a journey into sound are the main focus of this event series.

● ● ● ● ● ● ● ● ● ● ● ● ● ● ● ● ● ●

RED PIG FLOWER – Bio

Red Pig Flower is a Berlin based DJ, live act, producer and visual artist. Half Korean and half Japanese, she started her musical journey back in Asia at the tender age of 17, first as a member of a live band but soon moving to electronic music in search of her true ethos and personal sound.

Red started her career as a professional DJ at club Rooty (Tokyo) and Air (Seoul) having graced venues all over Japan such as Womb, Solfa, Nest and many others. 2010 saw her move to London where she played everywhere from Corsica Studio, Egg, Basing House, East Village, Café 1001, Cargo, Cable and Crucifix Lane plus countless warehouses and intimate gatherings...Whilst living London, Red spends at least half her time at Berlin which holds a special place in her heart and where she really feels at home, living and breathing music and art scene whilst making numerous appearances at Tresor, Chalet, Renate, Brunne 70, Golden Gate, Arena, Milkz with many more to come...Apart from London and Berlin, last couple of years saw Red expand her horizons further to places like Paris, Naples, Ibiza, Malta, Istanbul ,Hamburg where she performed alongside artists such as Monika Kruse, Miro Pajic, Yapacc, Okain, Wbeeza, Dana Ruh, A guy called Gerald, Agent, Towa, Tei, Timid boy, to name a few.

DJing and producing goes hand in hand for Red Pig Flower, who uses Live for her performances, characterised by deep tribal groove and experimental sound. Highly creative and deeply personal, Red's music is full of intricate analogue sounds. She has released on labels such as Entail Records(London), Sound of vast(Ams, vinyl), Plus Records(Japan), Deep!(Miami) with more original productions and remixes in the pipeline.

side from her strong affiliation with music Red Pig Flower is also a dedicated visual artist and painter, working with themes such as life and death, eternality, dream, desire and reality. This is where her new project "Weird and Beautiful"comes into place-a mixture of dream, desire and reality which represents her own life and sound philosophy.

Lately her typical sounds getting recognized well in europe and getting featured on major media as RA, mixmag, RA japan, BBC radio, ​XLR8R​ magazines, ​And her tracks are played and supported by enormous producers such as ​John digweed, ​Max Cooper​,​DoubtingThomas​, ​Dan Curtin​, ​Len Faki ​, ​Ian Pooley​ , ​Baikal​.

At the moment Red is busy with new productions whilst performing all across Europe, Asia and beyond.

● ● ● ● ● ● ● ● ● ● ● ● ● ● ● ● ● ●
-
This weekend (Friday & Saturday) we are proud to announce the United Groove Alliance between Cakeshop and Contra.
For the price of one entry, you can access both venues - 4 floors in total - and come and go throughout the entire complex as you please. Please check @cakeshopseoul and @contraseoul for DJ lineups.