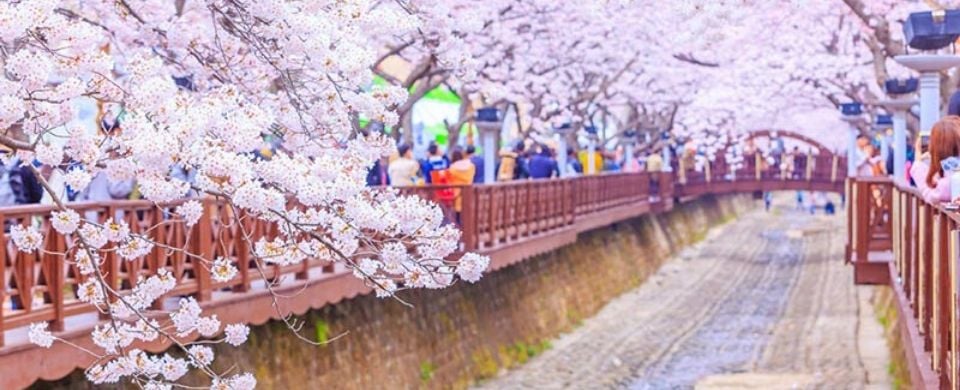 Jinhae Cherry Blossom Festival 2020 & Gyeongju Bike Tour
seoul
Fri Apr 3rd 2020 to Sun Apr 5th 2020 at 23:30 until 19:50
---
Seoul
,

839-1 Inwang-dong, Gyeongju-si, Gyeongsangbuk-do

,

Gyeongju-si

Seoul
https://www.myguideseoul.com/events/jinhae-cherry-blossom-festival-2020-gyeongju-bike-tour
BOOK NOW
Event Details
This trip we will take you to Jinhae and Gyeongju, also known as the Rome of Korea. There, you can experience the beauty of blossoming cherry blossoms. The cherry blossoms are planted all along the roads and paths here making for a great flower tunnel to go through. Gyeongju is one of the must-see places in Korea since it is full of history. Experience the breathtaking views of traditional Korean Temples and participate in walking and biking along paths lined with cherry blossom trees. Dig into a delicious Korean BBQ dinner once the sun goes down. Optional places and activities you can try on your own include the Teddy bear museum, hot air-balloon rides, noraebong, ATV riding, and an amusement park. You don't want to miss out on this adventure!
---
DURATION
ITINERARY
Day 1 (Friday, 03 April)
23:30pm - Meet at Hongik University Subway station (Subway line 2 Exit 1)
23:50pm - Pick up at Express bus terminal in front of exit number 8. (Sub line no.3,7 or 7)
Day 2 (Saturday, 04 April)
12:20am - Cheongmyeong (청명) subway stop (Exit 1) - 6 stops away from Jukjeon and 6 stops away from Suwon (수원) subway station
12:50am - Osan college station (Exit 2)
01:20am - Pick up at Daejeon Tollgate
05:00am - Arrive at Jinhae Cherry Blossom Festival

05:10-09:00am - Visit and walk around the best cherry blossom sites

Cherry Blossom Sites:

Yeojwacheon Romance Bridge
Cherry blossom Tunnel
Gyeonghwa Rail Station

09:10am - Leave for Gyeongju

10:30am - Arrive in Gyeongju and leave for Bike tour

Bike Tour Course (Gyeongju city tour map included):

Bunhwangsa Temple
Hwangryeongsa Temple Site
Daeneungwon (Cheonmacheong)
Cheomseongdae
Seokbinggo Ice Storage
Imhaejeonji (Anapji)
Bomun Lake area
Gyeongju National Museum
And much more

16:00pm - Return bikes at the rental shop

16:10pm - Move to Hotel
17:20pm - Arrive at accommodation and check in
18:20pm - Dinner together(Korean Pork BBQ,-included)
20:00pm - Noraebang & Social time
Day 3 (Sunday, 05 April)
08:00am - Wake up and have Breakfast at the hotel (Included)
09:00am - Experience Traditional Korean Rice Snack cooking
10:00am - Depart hotel
11:00am - Visit Bulguksa temple
12:30pm - Have lunch (not included)
14:00pm - Depart for Seoul
14:30pm - Gyeongju bus terminal
16:30pm - Daejeon Tollgate
18:00pm - Osan college station
18:40pm - Cheongmyeong subway stop
19:00pm - Arrive at Express Bus Terminal in Seoul.
19:40pm - Arrive at Hongik University stn (Line no.2)
---
SERVICES
What to expect:
Walk around Jinhae and see all of the cherry blossoms lining the streets
Bike and walk around Gyeongju where there are cherry blossoms everywhere. You will have five hours to ride around and explore (We will provide a city map)
Gyeongju has been described as the Rome of Korea because of all of the historical sites there. See Bunhwangsa Temple, Hwangnyongsa Temple, Seokguram Grotto, Bulguksa Temple, and more
Go to Bomun Lake and bike around the path around the lake. The trail is full of cherry blossoms
See Anapji Pond, built in 674, at night and see the amazing reflections of the buildings on the still water
Go to the Daereungwon and see huge burial mounds of the old kings from the Silla Dynasty. You can also go inside the Cheonmachong tomb and see how these mounds were built
See Cheomseongdae, an astronomical observatory built in the Silla Dynasty. It is the oldest observatory in East Asia and possibly the world
Visit the Gyeongju National Museum and see many artifacts from the Silla Dynasty
There are more activities and places that you may want to try out on your way like visiting the Teddy bear museum, hot air-balloon rides, ATV riding, and an Amusement park as well.
We will provide a delicious Korean BBQ dinner at night
Make traditional Korean rice snacks
---
MISC INFO
IMPORTANT
If you would like to book an adventure, please read the following information carefully.
Most adventure packages and events can be booked at short notice with a lead time of 2 days. If you want to avoid inconveniences, such as a cancellation, postponement or change of the travel plan of the organizer to 100%, then contact us in advance.
We want to give you a 100% guarantee that you will experience the travel adventures, trips, tours and activities as described in the product descriptions.
We do everything we can to ensure that you can experience a perfect adventure on request or according to your wishes.