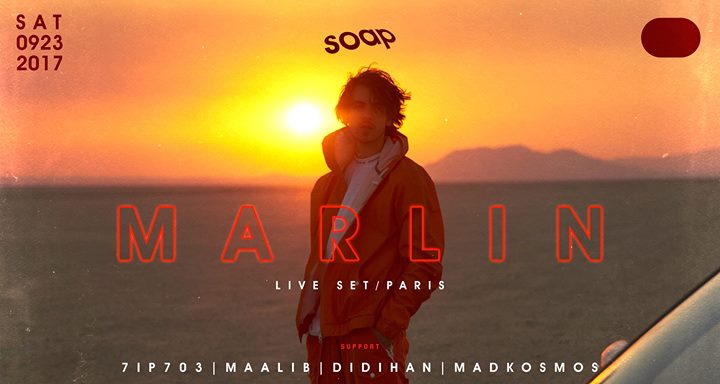 Event Details
MARLIN AT SOAP

Brand new edition to the "Elektra" Label, Marlin bring in influences from Club Music, Hip Hop and Pop. Very hard to categorize him in a particular genre. His new mini Album 'Nights" is a big milestone for his career, which will make him one of the producers to watch for in 2017 and 2018. Come check out his Hybrid Live Set at Soap this Saturday !

LINE UP:
MARLIN (PARIS) [LIVE]
MAD KOSMOS (VEYRON ARCHE / KYOTO)
MAALIB (360SOUNDS / PUPPY RADIO)
DIDI HAN (PUTE DELUXE)
7IP7OE

• TIME : SAT 09.23 10PM-5AM
• VENUE : SOAP 132-3 Itaewon-dong, Yongsang-Gu, Seoul, Korea, B1
• NO MINORS ALLOWED // 98년생부터 입장 가능
• ENTRANCE FEE: 20,000KRW + 1 Free Drink
*For safety issues we don't allow flip flops and sandals inside our venue.