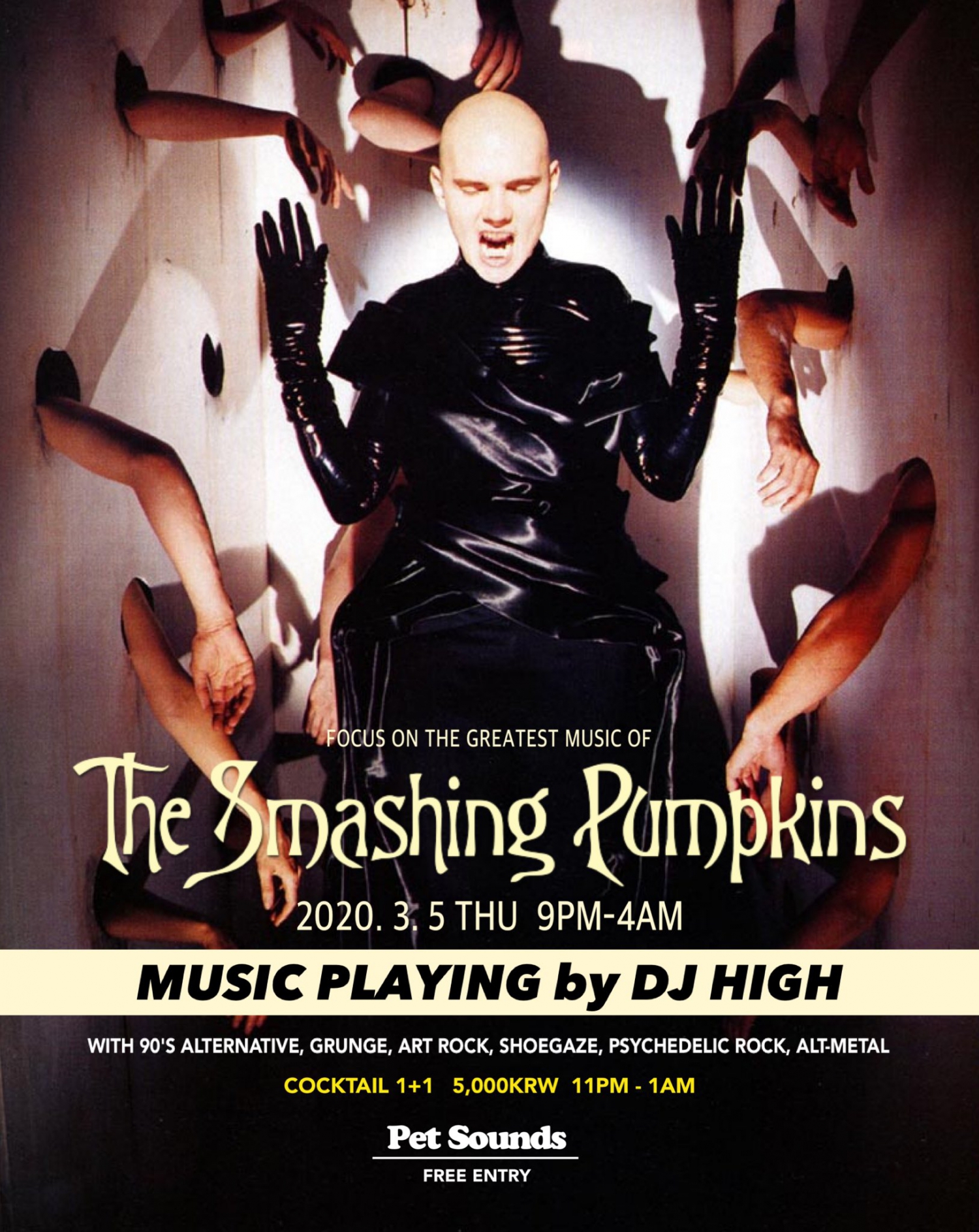 The smashing pumpkins @ Pet sounds
Greatest hits all night
Thu Mar 5th 2020 at 19:00 until 01:00
---
Itaewon dong 278-8 3rd floor

,

Seoul

,

Gyeonggi-do
https://www.myguideseoul.com/events/the-smashing-pumpkins-pet-sounds
---
Pet Sounds
MAKE ENQUIRY
Event Details
이번주 목요일밤! 얼터너티브 장르의 폭을 더욱 확장시키며 90년대 락음악계의 큰 부분을 차지했던 밴드, 천재적 음악성의 빌리코건이 이끄는 스매싱 펌킨스 음악을 중심으로 DJ High의 Focus on The Greatest Music of The Smashing Pumpkins를 진행합니다!
_
작년엔 Noel Gallagher's High Flying Birds와 함께 투어했고 올해는 Guns N' Roses와 함께 투어를 앞두고 있는 상태로 지금도 투어와 신곡발표를 하며 꾸준히 활동하고 있죠
_
이 날은 스매싱펌킨스 음악과 라이브영상 및 뮤직비디오를 빅스크린으로 감상하며 이 외에도 영향을 주고 받은 선후배 뮤지션들 그리고 90년대 얼터너티브 곡들로 플레이리스트를 채울 예정입니다
_

무료입장 | 오후9시-오전4시 | 미성년자입장불가
-
💥1+1 칵테일 5,000원 오후11시-오전1시
_

이태원 경리단길 뮤직펍 펫사운즈 3층
_

_
[3/5 DJ High's Playlist Style]🎃THE SMASHING PUMPKINS🎃+ Billy Corgan, Zwan, James Iha, A Perfect Circle, Hole, Garbage, Alice in Chains, Jerry Cantrell, Weezer, Pearl Jam, Nirvana, Soundgarden, Audioslave, Chris Cornell, Soul Coughing, Muse, Beck, Hüsker Dü, Stone Temple Pilots, No Doubt, Joydrop, Alanis Morrisstte, Live, Jane's Addiction, Elastica, Radiohead, Ash, Oasis, Stereophonics, Frank Black, Pixies, Bush, Primal Scream, Travis, Blur, Gorillaz, Placebo, Manic Street Preachers, Suede, Mercury Rev, The Jesus and Mary Chain, MBV, Red Hot Chili Peppers, Screaming Trees, Matchbox 20, Our Lady Peace, Semisonic, Cracker, Monster Magnet, R.E.M., Primus, Sonic Youth, PJ Harvey, L7, Violent Femmes, Dinosaur Jr., Eels, American Music Club, Mad Season, Seam, Liz Phair, Joan Osbourne, Spin Doctors, The Cardigans, Meredith Brooks, The Breeders, Fuel, Melvins, Counting Crows, The Cranberries, Goo Goo Dolls, Spacehog, The Flaming Lips, Coldplay, Black Lab, Brother Cane, Mighty Mighty Bosstones, Urge Overkill, Caramel, Porno for Pyros, The Dandy Warhols, The Presidents of The United States of America, Better Than Ezra, Harvey Danger, Dishwalla, Collective Soul, The Wallflowers, Tonic, New Radicals, Soul Asylum, Dave Matthews Band, Crash Test Dummies, Third Eye Blind, Cake, Helmet, Marcy Playground, Incubus, Everclear, Days of The New, Pavement, 311, Sugar Ray, Lit, Bloodhound Gang, Creed, Sublime, Nick Cave & The Bad Seeds, The Verve Pipe, Filter, Meat Puppets, Skunk Anansie, The Lemonheads, Blind Melon, U2, Local H, Faith No More, Butthole Surfers, Mudhoney, Fishbone, The Raconteurs, Queens of The Stone Age, MGMT, Arcade Fire, Silversun Pickups, Stabbing Westward, Nine Inch Nails and more..