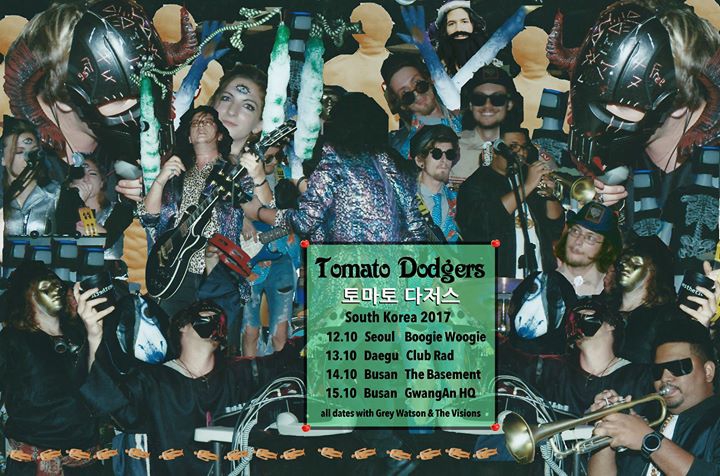 Event Details
All the way from the USA, the Tomato Dodgers are coming to Korea!

Oct. 12 - Seoul - Boogie Woogie

Here's a bit about Tomato Dodgers:

Spreading the gospel of Illuminati rock & roll across the galaxy since 2013.

Tomato Dodgers are an action-funk rock and roll band from College Park, Maryland, right outside the nation's capitol. They've steadily built up a fascinated following across the east coast, with dynamic and strange participatory performances that blur the line between stage show and immersive art piece. They dance - they feed each other toast - they rap - they build doomsday devices onstage - and mostly they shred festivals and house shows like you or I might mow a lawn: with vigor and fierce skill.

Some bands come to make people sway gently in place. Tomato Dodgers come to impart a musical covenant as twisted and funky as the great black hole at the center of our solar system.

Tomato Dodgers have shared the stage with Martin O'Malley, Harry And The Potters, The Godz, Chain And The Gang, LIONIZE, You Bred Raptors?, Hop Along, Pinegrove, The Delta Saints, and more.

They will not rest until they perform on the moon.