How to Beat the Heat in Seoul
Seoul
For most Seoulites, swimming should be enjoyed at one of the outdoor pools along the Han River
Summer has arrived in Seoul and temperatures are starting to soar. Although not a coastal city, plenty of people are finding sunbaked spots to top up their tans or take a refreshing dip. Ideally suited for doing so, Seoul is home to a handful of trendy outdoor pools, either on the banks of the Han River or discreetly tucked away in hotels around the city.
For most Seoulites, swimming and tanning should be enjoyed at one of the six outdoor pools along the Han River. This is mainly because the Han River pools are the closest thing to a real life beach experience in the city. With easy access, stores selling pool accessories and inexpensive admission fees (5,000 WON for adults), these poolside locations are particularly popular summer spots. Renowned for being one of the best pools in the city, we would recommend visiting the Yeouido Outdoor Pool. A family-friendly option, open from 9:00 - 20:00 (until the 26th of August), Yeouido is one of our personal favourites.
If you're searching for a pool-party atmosphere filled with young people, club music and cold drinks, however, you shouldn't miss sunbathing at Hamilton Hotel Rooftop Pool.  Perched above the Itaewon main street, the view alone is enough to warrant a visit. The admission fee here is 15,000 - 20,000 WON. Do remember to get there early if you want to reserve a lounge chair here. If not, just be patient, you can usually find one fairly quickly.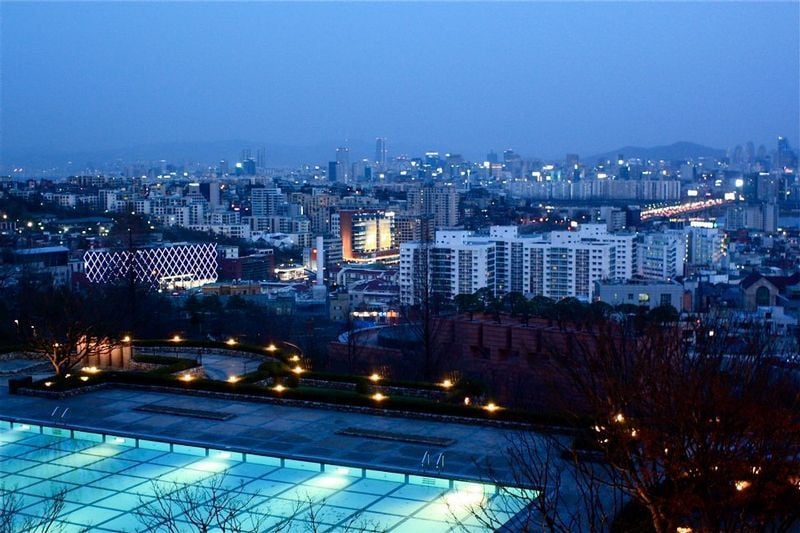 For high-end sunbathing, try The Riverpark Pool at W Hotel Seoul . It's open to hotel guests as well as the public and has a luxurious and exclusive air to it. Here you have the option of tanning on a poolside sunbed or a private cabana, both of which are reasonably priced. This is a great choice if you are willing to spend a little extra but, be warned, admission to the pool is anywhere from 35,000 - 85,000 WON, depending on the season.
Other hotels that include outdoor pools are the Shilla Hotel, Grand Hyatt and Banyan Tree Seoul, but unlike W Hotel, the pools at these hotels are only open to hotel guests.
If you have extra time to spare, we would recommend visiting Caribbean Bay, about an hour's drive outside of Seoul. Caribbean Bay is the largest water park in Korea with a capacity of up to 20,000 people. If you are searching for an action-packed day for all the family, this is your place. For more details on Caribbean Bay and how to get there, click here for information.