Ice Skating in Seoul
Family Fun
City Hall is a well-known area, also known as Seoul Plaza
It was our friend's birthday recently and for their birthday they wanted to go Ice Skating at the outdoor Ice Skating Rink at City Hall.
City Hall is a well-known area, also known as Seoul Plaza. Back in 2002, hundreds of thousands of soccer fans gathered to cheer on their country during the World Cup Soccer Game and since then, it has continued to be used to host a number of cultural festivals and events. Recently over 80,000 people gathered to watch the International Youtube Star from Korea named Psy perform a free concert to give thanks to the Korean public for their support. Psy's 'Gangnam Style' is now  the most viewed YouTube video of all time.
The new City Hall building itself is a contemporary structure that attracts a lot of attention.  Completed at the end of 2012, it boasts of being the most eco-friendly public facility in Korea, using less energy than any other. When you walk in, the first thing that will stand out is the wall's, which are covered in live plants. This was not designed purely for looks, but also to work as a natural air purifier and humidifier. There are computers available to use for free, exhibitions on the 8th floor, and a café on the 9th floor. The Mayor of Seoul is also situated in this building on the 5th floor.  Why not stop by to say Hi!
Our kids hadn't been ice-skating before either but they were up for the challenge and so off we went.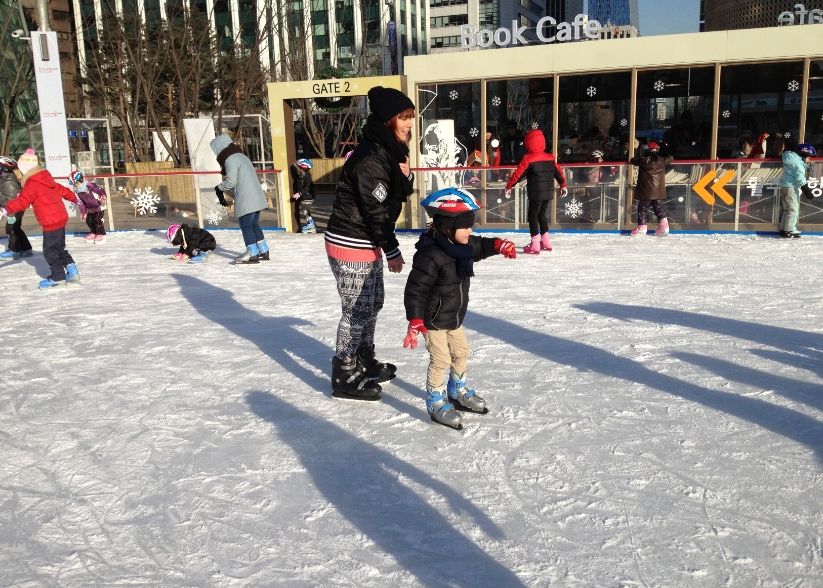 The Ice Skating Rink runs every day from 10am until 10pm, Sunday to Thursday and 10am – 11pm on Friday, Saturdays and Public Holidays. It costs 1,000 Korean Won per person for an hour session which includes skate hire.
It was all fairly easy getting the right skates and before we knew it, we had our skates on and were ready to hit the ice. You can hire gloves if needed for an additional 500 Won and there are lockers available to store your belongings in for the same price.
They have a smaller rink for the kids and beginners, which is where we went first. The kids did really well and there are helmets for the kids to wear if needed, which are free. These came in handy when they hit the solid ground several times. As long as you have your pass with you, you are able to go in and out or switch between the big and small rinks throughout the allocated time. With many different levels of skaters, everyone seemed to be thoroughly enjoying themselves.
If you are not as excited about hitting the ice with your kids, partner or friend, then there is a small library area where you can sit in the warmth and watch or read a book.
At the end of the hour session the kids had done really well and were edging for more action. It looks like we are going to have to try to get a few more sessions in before it closes. When it comes to finding something that involves having a good time for all ages, central, and being easy on the wallet, then this would have to be a highly recommended activity.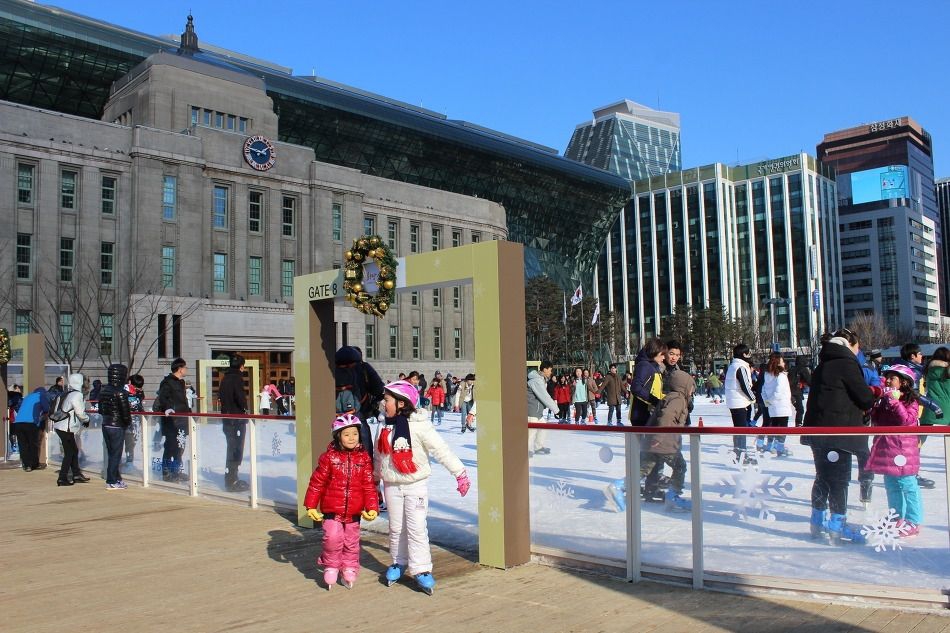 City Hall is not the only outdoor Ice Skating Rink in Seoul. There are a couple of others that run between December and February each year as well. One of which is located at Olympic Park, it runs on similar hours and prices, however the others are either more expensive or harder to get to. For example, the Grand Hyatt hotel in Itaewon turned their outdoor pool into an Ice Skating Rink in winter for all to use.  It is surrounded by beautifully lit trees and a great view to match.  Obviously children aren't as interested in things such as views or naturistic surroundings, hence why they run a number of specials for couples, which is perhaps the target audience. It is more expensive and the website doesn't list an exact figure but the 'Happy Hour' price between noon and 5pm is 23,100 KW when in groups of three, which gives you a rough estimate.
There are also a number of indoor Ice Skating Rinks that operate all year round. Lotte World has a large fully enclosed hockey sized rink, which is around 10,000 KW per adult, plus Skate hire.
In my opinion, City Hall wins for location, price and perhaps the fun of skating around in the middle of the city. Just around the corner is a great burger restaurant called 'Burger Hunter', that is always a good added incentive for me!
The Ice Skating rink closes on February the 12th, so there is still plenty of time remaining. It can get pretty crowded on weekends but you can reserve a spot in advance, and they take group bookings also. Groups of more than 20 get a 30% discount Monday to Thursday.
For more information, directions, bookings, times and more, check out the website. Here is the link to the English site. seoulskate.or.kr/eng.php.