The Living Kaleidoscope
Inspiration
Colour plays an important role in Korean culture
Colour plays an important role in Korean culture. The traditional Korean clothing, Hanbok, displays a creative combination of colours and patterns, and the traditional Korean table offers a rainbow of vibrant colours and flavours. The four seasons of Korea exhibit distinctive colors changes and, especially in the fall, you do not want to miss the awe-inspiring mountains in Korea.
In the northern part of Seoul lies Korea's highest mountain, Bukhansan (836.5 meters). Meaning the "big mountain in the north," the peaks of the mountain were marked as the extreme northern point of Seoul during the Joseon Dynasty. Around the mountain, the Bukhansanseong Fortress was built to protect the king from emergency situations. Spanning about 8500m, the structure boasts architectural beauty and blends in well with the granite peaks of the mountain. Extending all over northern Seoul, its easy accessibility attracts more than 5 million visitors every year. Come join us in the fascinating world of living color in the vicinity of Seoul.
The Color of Nature
Walk along the trails and you will encounter tress giving off its beautiful shades.  The scenic fall foliage puts on a colorful show and makes it a great fall destination.  Alongside, the stream flowing between the gorges and granite peaks creates harmony in nature.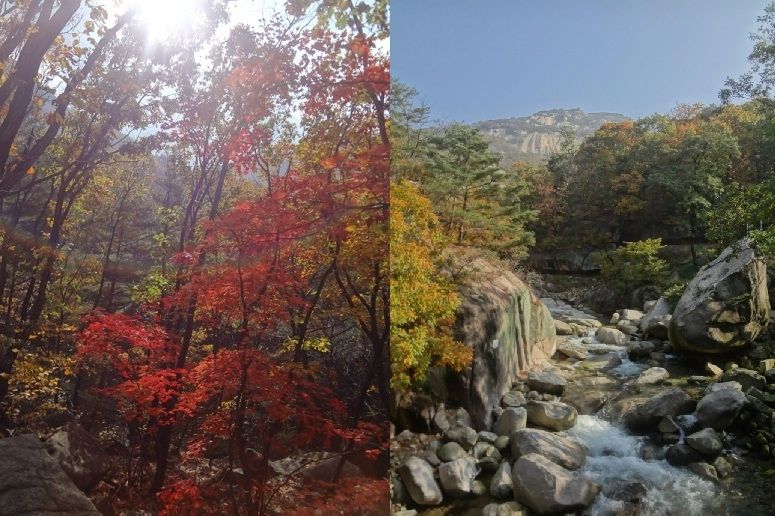 The Color of Energy
Find a perfect spot to enjoy a picnic near the mountain. As much as the locals enjoy the hike, they also love to get together and catch up on life. You'll be amazed by the amount of snacks they pack in their backpacks. Fruits, nuts, chicken, pig's feet, boiled eggs, Korean pancakes, ramen, gimbap, soju, and makgeolli. These snacks provide more than the fuel for hiking.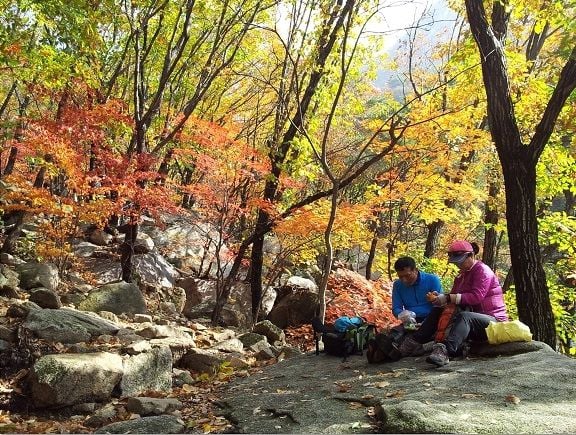 The Color of Protection
Don't forget to gear up! Having delicate and sensitive senses, it's important to dress to the nines. It is typical to find completely equipped hikers with their colorful clothing, visors, sunglasses, poles, gloves, boots, and backpacks.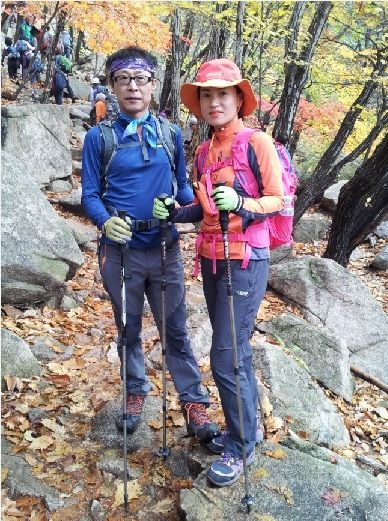 If you are up for some adventurous hiking, try to climb to the three main peaks.  Baekundae (836.5 meters), Insubong (810.5 meters), and Mangnyeongdae (799.5 meters). With their steep rocky cliffs, you will need help from steel cables to complete the hike. The round trip to Baekundae will take about 5 hours.
Directions:
Get out of Exit 1 from Gupabal Station (Line 3).  Take Bus 704 bound for Bukhansanseong Fortress and get off at the Bukhansan Mountain entrance bus stop.
Note: There are many ways to reach to the mountain. This route will get you to the highest peak of the mountain.
Check additional hiking courses and directions at http://engligh.knps.or.kr