Underground Shopping in Seoul
Adventure
Seoul is truly a city for the shopper
Seoul is a city catered for the shopper. You can find areas jam packed with locals and tourists alike, seeking out sales and the latest items.  When one thinks of 'shopping' in Seoul, places such as Dongdaemoon, Myeong-dong, and Gangnam immediately spring to mind.  True, you can find what you are looking for, renowned brand names and fantastic sales depending on the time of year, but hidden below the bustling streets is a gem waiting to be discovered.
Seoulites have known throughout the years that the real deals are found 'underground.' Underground Shopping is an amazing phenomenon in the city and exists in various locations. You will find yourself surrounded by miles of pocket-sized stores offering you all you will ever need.  Socks to selfie-sticks, artwork to designer lamps, handbags to the latest fashion, these labyrinths will leave you out of pocket with more items than you had ever planned to purchase!  Don't be surprised to see certain stores offering alarming prices of W5,000 – W10,000 for every item in store! A Bargain Paradise.
I will share the four main places you need to know to experience this phenomenon.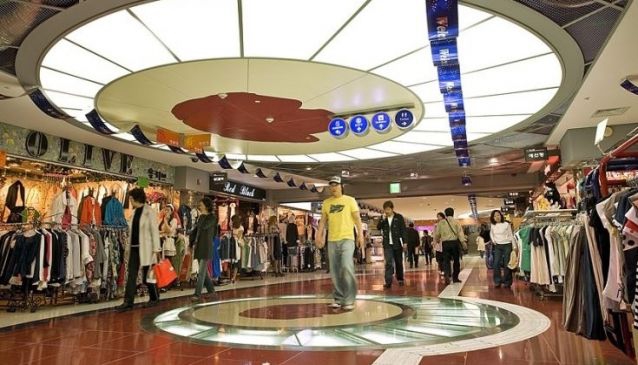 The most central of the arcades, Express Terminal Underground Center is literally miles of lanes with 1000s of stores in amongst 3 subways lines, a 5 star hotel, a huge department store and an entire shopping center above ground.  Do try to avoid this area in the weekends if possible as it is bumper to bumper with keen shoppers shoving their way around  for the latest bargain.  There is a huge array of cafes and restaurants to fulfill your taste senses as we all know that shopping builds up the appetite! In my case, I sat down at a delicious sushi bar offering fresh, delicious sushi at only W2,000 per plate! Sinsegae Department Store, which is located immediate above the underground center offers an entire food court with a huge assortment of international gourmet foods and local delicacies.
 It is highly recommended to have cash handy as many stores do not accept credit cards.  This will also work in your favor as you can haggle the prices to a certain degree or try 'bundling' several items together for a lower price! I personally prefer to enter the center using Exit 8 of Express Terminal as this leads directly to the center of the long stretch.  There are two main aisles to stroll down which will leave you in need of a foot massage at the end of your shopping experience!
You can travel to Express Terminal Underground Shopping Center on Subway Lines 3, 7 and 9.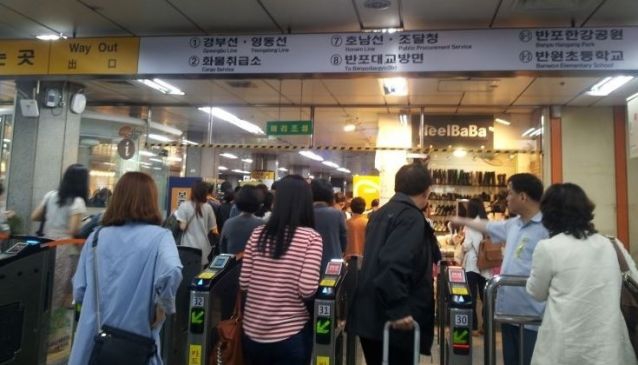 Psy's 'Oppa Gangnam Style' has officially put Gangnam on the international map. Even before this, Gangnam has always been a mecca for Seoul's youth as it contains most major brand names for shopping, an endless amount of both western and eastern restaurants, lounges, cafes, night clubs and so much more.  Gangnam Station is located on Subway Line Number 2 and as soon as you exit the subway car, you will find yourself engulfed in a maze of shops selling everything you could ever imagine. So before that big night out, stop by at Gangnam Underground Shopping Center to satisfy your shopping urges.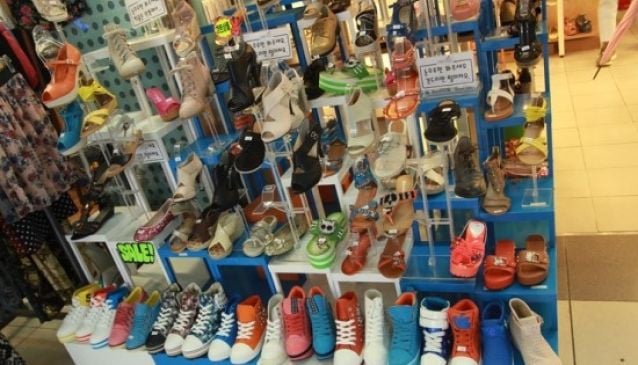 Jamsil is another major mecca for Seoulites as you are spoilt for choice from culinary delights, amusements parks, and above all, more shopping options than one should be allowed.  The Lotte World Tower is currently under construction and can already be seen from the opposite side of the city! This 555 meter high building is shadowed by the new Lotte World Mall which has over 1,000 local and international stores. Across the street you will find Lotte World Amusement Park which has thrilling rides, an abundance of entertainment, an ice-rink and is surrounded by another shopping center! Amongst all this located in the basement, you will find Jamsil Underground Shopping Center.  Much like the previously mentioned centers, you will find yourself spoilt for choice and bargains.  Jamsil isn't just another location on the map, this area could require several days sightseeing if you truly wanted to take in everything it has to offer.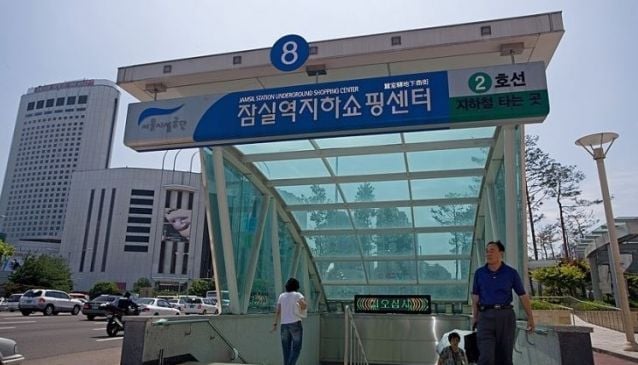 Myeongdong is perhaps Korea's most popular area for shopping.  These bustling streets are filled to the brim with excited tourists and wide-eyed locals.  You will find yourself lost in this confusing array of car-less  streets feeling like you've become part of an adventure game.  Throw that map away and just get lost! Tiny alley ways can often lead you to little gems where you'll find those special items you never knew you were looking for.  From Myeongdong Station on Line Number 4 to City Hall Station on Line Number 2, Myeongdong literally has a city below a city! Underground you'll find endless lanes of shopping, and more shopping. My experience left me completely lost having to exit up to ground level in order to figure out where I actually was!
If all this shopping gets too much for you, escape to the tranquility of the Cheonggyecheon Stream nearby which will leave you feeling like you've completely left the city.
Keep in mind that if you have too much to carry which can often be a problem, most subway stations have pay-per-use lockers available to store your good while you are taking a break (or possibly purchasing even more!)