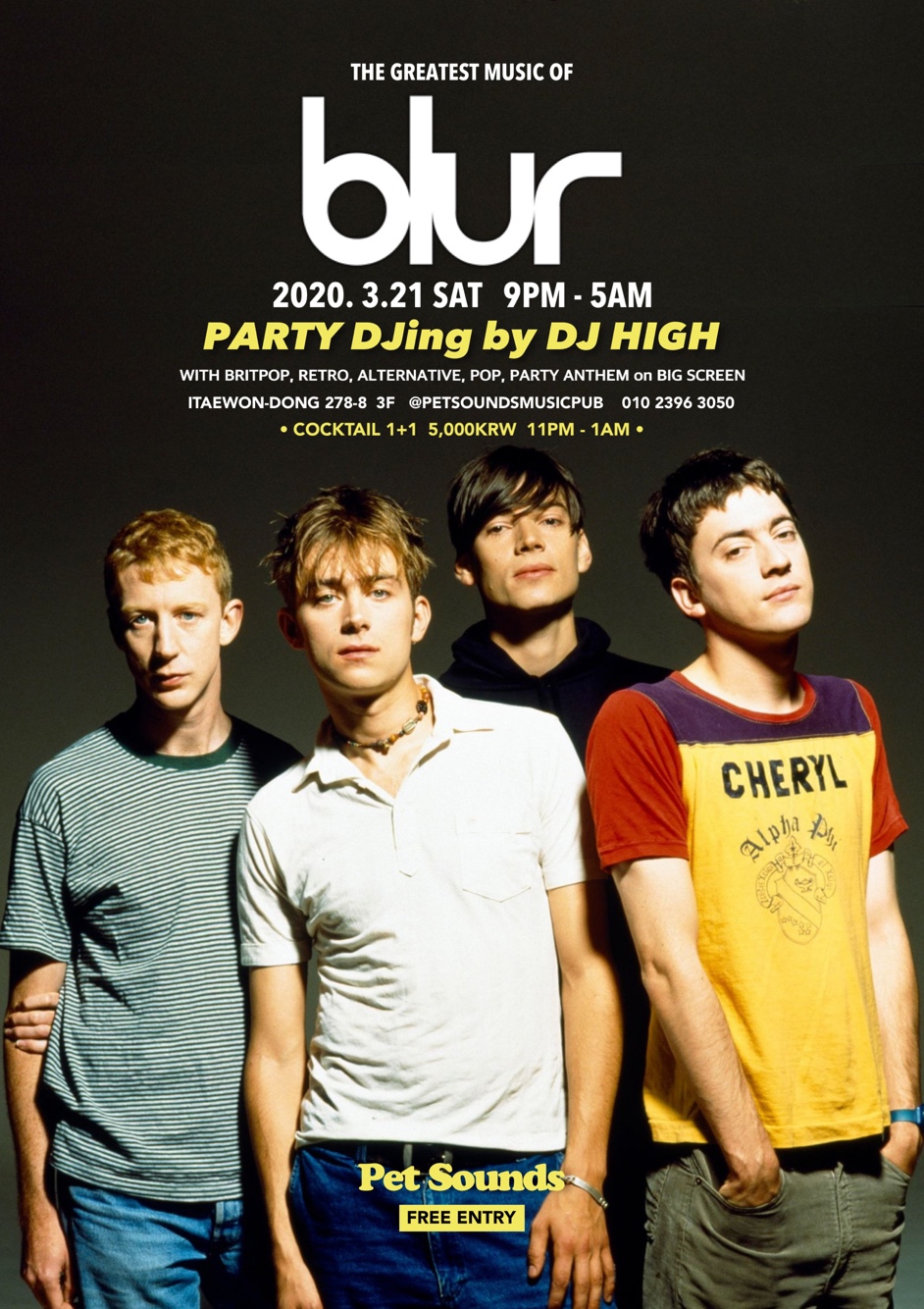 Blur: Greatest hits party
Sat Mar 21st 2020 to Sun Mar 22nd 2020
---
Itaewon dong 278-8 3rd floor

,

Seoul

,

Gyeonggi-do
https://www.myguideseoul.com/events/blur-greatest-hits-party
---
Pet Sounds
MAKE ENQUIRY
Event Details
브릿팝의 상징, 블러의 음악을 중심으로 DJ High의 The Greatest Music of Blur를 진행합니다!
블러 그리고 최근 컴백한 고릴라즈의 프론트맨이자 리더인 데이먼 알반은 마이클잭슨, 데이빗보위, 마돈나, 밥딜런, 커트코베인, 루리드, 닐영 등과 함께 Q 매거진 선정 수많은 뮤지션 중 음악사를 바꾼 인물 21명에도 당당히 선정된 바 있습니다.
_
블러의 많은 곡들은 물론, 고릴라즈를 비롯한 데이먼 알반의 프로젝트 그룹들의 음악 그리고 빅스크린으로 즐길 수 있는 라이브 영상과 MV를 플레이하며 관련된 뮤지션 및 유사장르 음악과 MV도 함께 합니다
_
데이먼 알반의 생일을 이틀 앞둔 3월21일(토) 펫사운즈에서 열릴 The Greatest Music of Blur에 여러분을 초대합니다!
_
무료입장 | 오후 9시 - 오전 5시 | 미성년자입장불가
-
칵테일 1+1 5,000원 (11pm~1am)
_
이태원 경리단길 뮤직펍 펫사운즈 3층 (녹사평역)
_
[3/21 DJ High's Playlist Style] 👏🏻BLUR👏🏻 + Gorillaz, Damon Albarn, Graham Coxon, The Good The Bad and The Queen, Rocket Juice and The Moon, Oasis, Suede, The Verve, The Smiths, Dexy's Midnight Runners, The Stone Roses, The La's, The Clash, Supergrass, Badly Drawn Boy, Daft Punk, The Chemical Brothers, Travis, Flaming Lips, Beck, Mansun, Ash, Kula Shaker, Ocean Colour Scene, The Libertines, New Order, Coldplay, Muse, Goldie, Fatboy Slim, Moby, The Replacements, The Jesus and Mary Chain, My Bloody Valentine, Underworld, Elastica, Snow Patrol, Kooks, XTC, David Bowie, Happy Mondays, Inspiral Carpets, Pulp, Ride, The Waitresses, The Vaccines, Echo and The Bunnymen, Pet Shop Boys, Tears For Fears, Electronic, Siouxsie and The Banshees, Cake, Jaguar, Empire of The Sun, Portishead, Joy Division, Tricky, Massive Attack, Justice, Pavement, The Specials, Phoenix, Tahiti 80, Kent, Depeche Mode, Cast, Air, Rex Orange County, DJ Shadow, Talking Heads, No Doubt, Paula Cole, Superorganism, Radiohead, Kate Bush, Stereophonics, The Coral, Keane, M83, Starsailor, The Tears, Manic Street Preachers, LCD Soundsystem, The Cribs, Lush, The Charlatans, Republica, Johnny Hates Jazz, Heaven 17, Edwyn Collins, Shame, Weezer, Babybird, Echobelly, Pale Waves, The Cranberries, The Human League, James, Franz Ferdinand, Kaiser Chiefs, The Boo Radleys, The Proclaimers, Junior Senior, The Cure, Sleeper, The Sugarcubes, Placebo, The Jam, The Style Council, The Primal Scream, Spandau Ballet, Thompson Twins, Nick Lowe, Teenage Fanclub, The Waterboys, The Sundays, The Undertones, Slaves, Foster The People, The 1975, Slowthai, Manic Street Preachers, Warpaint, Belle and sebastian and more..