A Local's Guide to Baseball Stadiums in Korea
Sports
The more interesting aspect is definitely the stadium experience
By Anthony Baber for My Guide Seoul
No matter what country you hail from, there is typically a deep affection for sports of the homeland.
The Brits have cricket, the Kiwis have rugby and, though some would disagree with its current status, America's greatest pastime has always been baseball.
But it's also worth nothing that the latter has grown into a global phenomenon that attracts spectators in droves on every continent. The World Baseball Classic is a hugely followed sports exhibition and even the Little League World Series gets major coverage on most sports channels.
So how does baseball fare in Korea?
Excluding soccer, there is no sport in the country that compares in excitement. Just like in any other country, fans pick their favorite team and don matching hats and jerseys to form a giant mass of screaming radicals hoping for a win under the bright lights.
The KBO (Korea Baseball Organization) oversees both the lower level Futures League and Korea Professional Baseball, consisting of 9 franchises (10 in 2015) and a crazy following among citizens.
You can catch baseball games on TV just like in any other place, but there are also some pretty interesting differences you'll find with Korean baseball compared to other countries.
For instance, in Korea, individual teams are owned by major Korean companies, like Samsung and Kia, and unlike sports teams in other nations, their names reflect ownership, instead of the city in which they're based.
Also, every Monday is an off day for the league and no game is allowed to go past 12 innings. There's also an All-Star game that takes place in mid-July and the season ends with a 4-team playoff to decide the championship. But the more interesting aspect is definitely the stadium experience.
There are eight stadiums (one of which is home to two teams) and they range in sizes and amenities. The upside is that compared to other countries, the Korean fields allow you to bring in your own food and drinks, but there are also vendors selling chicken, pizza and traditional Korean foods.
The price of beer at the stadium is the same price of beer at a convenience store so no need for multiple ATM trips. And you'll enjoy the spectacle of cheerleaders dancing right in the middle of your section while fans clap thundersticks and scream as loud as they possibly can.
Each stadium offers its own unique experience; so get familiar with all of them before you go buying a jersey.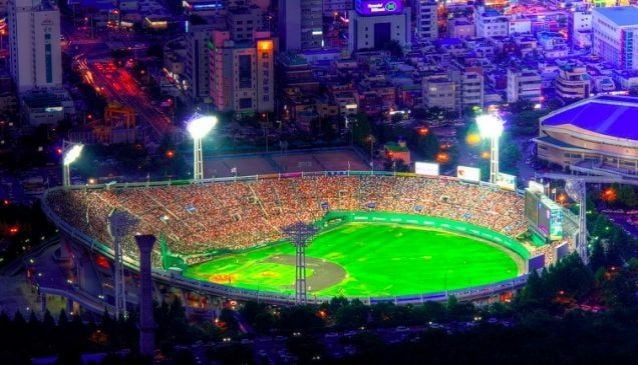 Set within the expansive Seoul Sports Complex in Songpa-gu, Jamsil Baseball Stadium is one of the biggest sports venues in the country and the only one called home by two KBO teams.
Though it can be a hassle to reach the stadium through the congested expressway, seeing the structure across the Hangang River is quite the view.
As a major sports arena in Korea's capital city, Jamsil Stadium has hosted multiple international events, such as the 1982 Baseball World Cup and baseball events during the 1988 Summer Olympics.
And if you've lost interest in the random Korean foods you find from vendors, this one comes equipped with western restaurants like Burger King and Kentucky Fried Chicken. And did I mention the Max beer vendors with keg backpacks? Keep a look out for them in the stands.
Best of all, if you want to buy tickets in advance, the Bears website features an English page for your convenience.
10, Jamsil-dong, Songpa-gu, Seoul, South Korea
Capacity: 26,000
Opened: 1982
Ticket Prices: 7,000-70,000
Teams: LG Twins & Doosan Bears
Championships: 1994, 1990 (Twins) 2001,1995,1982 (Bears)
Website: doosanbears.com & lgtwins.com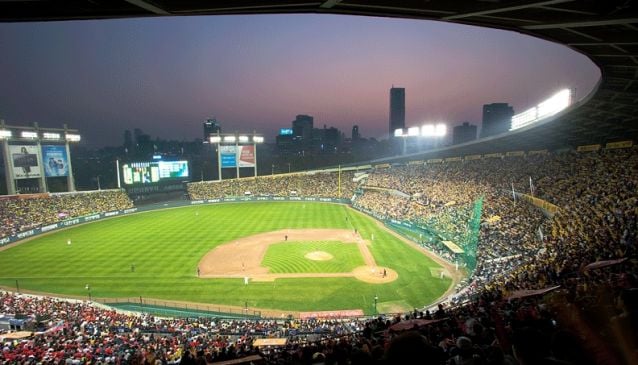 The second field that hosts pro baseball games in Seoul-proper, Mokdong Baseball Stadium may not have the same flash and keg backpacks of Jamsil Stadium, but the baseball is just as good.
Although the Nexen Heroes name has only existed since 2008, the team has been known by numerous monikers, including Sammi Superstars, Chongbo Pintos and most notably the Hyundai Unicorns, who won four national titles.
Though the Heroes have yet to win a title of their own, that hasn't made fans any less ecstatic about the team's existence and a current 4th place position in the KBO standings. Also, the stadium has been host to 3 of the 4 major national high school baseball tournaments in Korea, including the Blue Dragon Flag Tournament.
914 Mok-dong. Yangcheon-gu, Seoul, South Korea
Capacity: 18,000
Opened: 1989
Ticket Prices: 10,000-55,000
Team: Nexen Heroes
Championships: 2004, 2003, 2000, 1998
Website: heroes-baseball.co.kr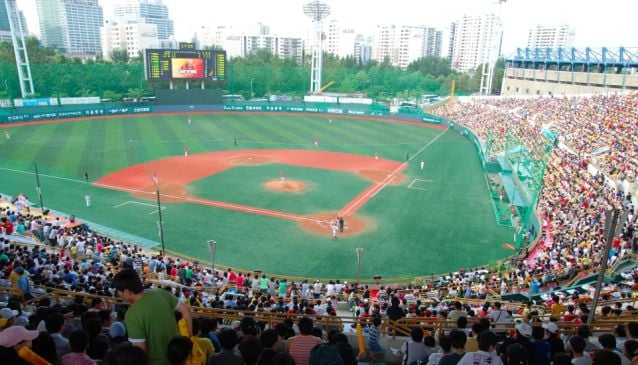 As part of the Hanbat Sports Complex, which opened in 1964, Hanbat Baseball Stadium in Daejeon is one of the oldest arenas in Korea.
Even though the stadium itself is fairly small, it's also one of the few that offers skybox seats for those seeking the VIP treatment.
For visiting teams, Hanbat Stadium's field is surrounded by a fence that, at 1.5 meters high, is a homerun hitters dream. And although the home team Hanwha Eagles have seen better days (currently last place in the standings), the team is also known as the KBO home of Los Angeles Dodgers pitcher Hyu-jin Ryu.
177, Busa-dong, Jung-gu, Daejeon, South Korea
Capacity: 14,133
Opened: 1964
Ticket Prices: 7,000-120,000 (Skybox 240,000-500,000)
Team: Hanwha Eagles
Championships: 1999
Website: hanwhaeagles.co.kr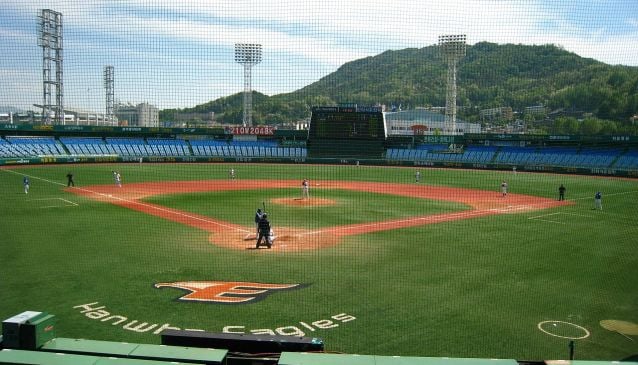 Sharing a spacious sports complex with a soccer field, a horse racing track and more, Gwangju Mudeung Baseball Stadium is another old, but electric stadium.
The main attraction is undoubtedly the Kia Tigers, known as the KBO's winningest team, holding ten national championships. For fans eager to catch the Tigers, tickets are among the cheapest for any stadium, including sections for a family of four priced at only 144,000 won.
620, Im-dong, Buk-gu, Gwangju, South Korea
Capacity: 13,000
Opened: 1965
Ticket Prices: 7,000-36,000
Team: Kia Tigers
Championships: 2009, 1997, 1996, 1993, 1991, 1989, 1988,1987, 1986, 1983
Website: tigers.co.kr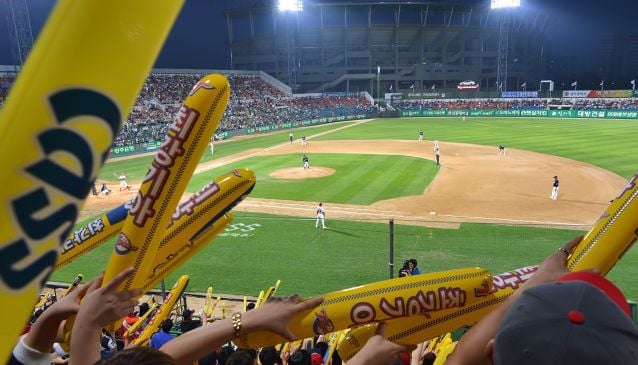 If you're looking for a baseball game closer to the beach, Sajik Stadium sits in the southern metropolitan area of Busan.
Seating up to 28,500 screaming fans, Sajik ranks as one of the biggest stadiums in South Korea and serves as home to the Lotte Giants.
Though the Busan Sports Complex may be most noted for hosting events during the 2002 FIFA World Cup, the baseball grounds were in the foreground during the 2012 Asia Series, an international baseball tournament featuring East Asian and Australian baseball teams.
A great addition to the stadium is the Giants museum, which includes interactive exhibits, past uniforms and purchasable memorabilia that will remind you of your experience for years to come.
930, Sajik-dong, Dongnae-gu, Busan, South Korea
Capacity: 28,500
Opened: 1985
Ticket Prices: 7,000-40,000
Team: Lotte Giants
Championships: 1992, 1984
Website: giantsclub.com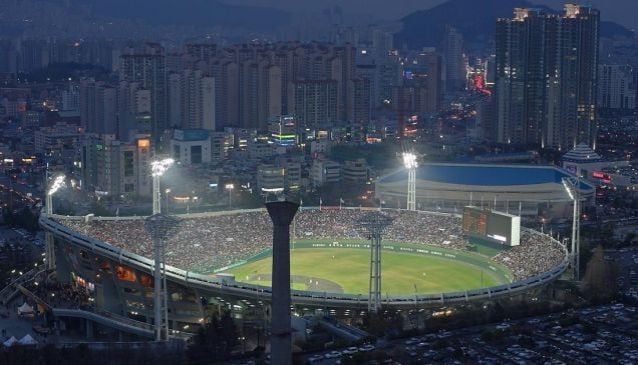 Masan Baseball Stadium is home to the KBO's newest team, the NC Dinos, based in the city of Changwon.
So far, the team is low in the standings, but that hasn't made fans any less interested in the newly renovated stadium, which also serves as a secondary home to the Lotte Giants.
Like any other arena, Masan offers cheap food and drinks, but not much else sets it apart from the rest of the pack. However, if you do decide to journey out to Changwon for some baseball, make sure you also check out the Changwon Science center and numerous natural landscapes in the area.
477, Yangdeok-dong, Masanhoewon-gu, Gyeongsangnam-do, South Korea
Capacity: 14,164
Opened: 1982
Ticket Prices: 5,000-40,000 (20 seat Skybox 700,000-800,000)
Team: NC Dinos
Championships: N/A
Website: ncdinos.com
Newest team to join the KBO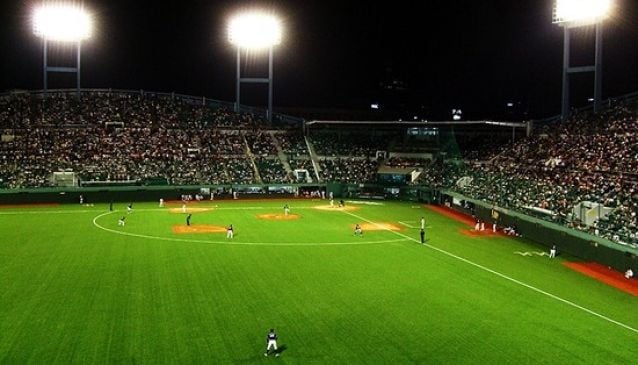 If you've ever wondered where all that money you spent on a galaxy phone went, you might wanna check out the defending champion Samsung Lions, who are currently at the top of the standings and looking for a third consecutive national title.
The Daegu Citizen Stadium, established in 1948, is the oldest facility in the country and flaunts six national championship banners, the second most in league history.
If you're interested in keeping up with the returning champs, the Samsung Lions website includes an English page where you can view the roster, season stats and upcoming schedule for the team.
2, Goseong 3(sam)-ga, Buk-gu, Daegu, South Korea
Capacity: 13,000
Opened: 1981 (Daegu Citizen Stadium 1948)
Ticket Prices: 7,000-30,000
Samsung Lions
Championships: 2012, 2011, 2006, 2005, 2002, 1985
Website: samsunglions.com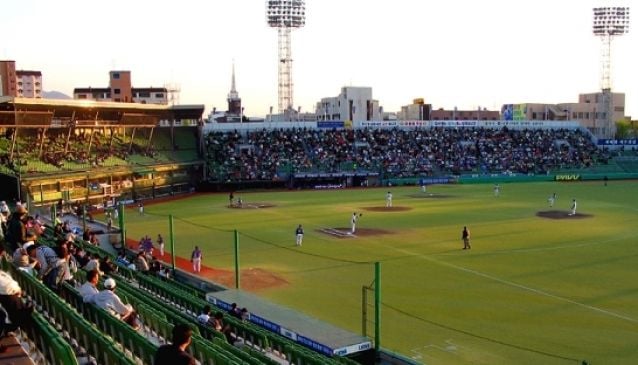 Another massive stadium with an exciting team in its midst, Munhak Baseball Stadium rests in the Northwestern coastal city of Incheon.
With the SK Wyverns only being created in 2000, Munhak is the newest stadium, being built in 2002, and offers skybox seats for VIPs and mini skybox seats as well.
With its profuse seating, it has also been chosen to host multiple international events, such as the 2012 Under 18 Baseball World Championship and the upcoming 2014 Asian Games. Still, the main draw to the stadium remains the Wyverns, who are the only team, other than the Samsung Lions, to win a national title in the last 3 years.
And if that's not enough, the stadium also offers reserve seating for the Barbecue Zone, which sets up a group of fans with their own barbecue grill, creating a tailgating experience while watching the game.
618, Maesohol-ro, Nam-gu, Incheon, South Korea
Capacity: 28,000
Opened: 2002
Ticket Prices: 9,000-30,000 (Mini Skybox 4-6 seats 200,000-300,000/Skybox 8-24 seats 500,000-1,350,000)
SK Wyverns
Championships: 2010, 2008, 2007
Website: sksports.net