The Korean 'fat dissolving injection' revolutionizing liposuction 
Seoul
Liposuction. The name may not be very attractive, but it does exactly what it says on the tin: lipids (fat) + suction. 1 + 1 = 2. How about body contouring? Now that's more glamorous! Think smooth lines and sexy curves. And how about Local Anaesthetic Minimal-invasive Liposuction?
OK, so the name is a bit of a mouthful, but you can just call it LAMS for short. Never heard of it? Not a lot of people outside of South Korea will have, but you may have heard of the term 'fat dissolving injections', a procedure which has gained immense popularity across the world in recent years.
LAMS shares many similarities with fat dissolving injections, but with a few crucial—and beneficial—differences, and this unique treatment has taken the elective body contouring industry by storm over the past decade or so. So, what exactly is LAMS, and how does it differ from conventional liposuction or fat dissolving injections? Let's take a look.
Contents
What is LAMS?
LAMS is a new technique disrupting the liposuction market as a non-invasive alternative to traditional liposuction. It can be administered around the entire body and requires absolutely no incisions or general anesthesia.
It was first introduced in South Korea in 2014 by mega plastic surgery clinic 365mc, one of the largest, most successful, and innovative liposuction clinics in the country. It has since gone on to take the industry by storm and prompted numerous spin-offs and reproductions.

How does LAMS work in Korea?
The reason why you could call it a fat dissolving injection—although this moniker is in fact only partly true, as we'll see why—is to do with the way the procedure works.
Instead of physically sucking out excess fat using invasive cannulas (like in traditional liposuction) a LAMS procedure starts by injecting a peripheral dissolution and special fat decomposition solution to dissolve the fat layer.
This creates a 'tunnel' which allows for fat discharge which can then be extracted using a liposuction syringe (this is why LAMS is only partially a 'fat dissolving injection').
Following the procedure, any additionally dissolved fat can be further discharged and removed with follow-up treatments.
In short, LAMS is fast, affordable, and non-invasive.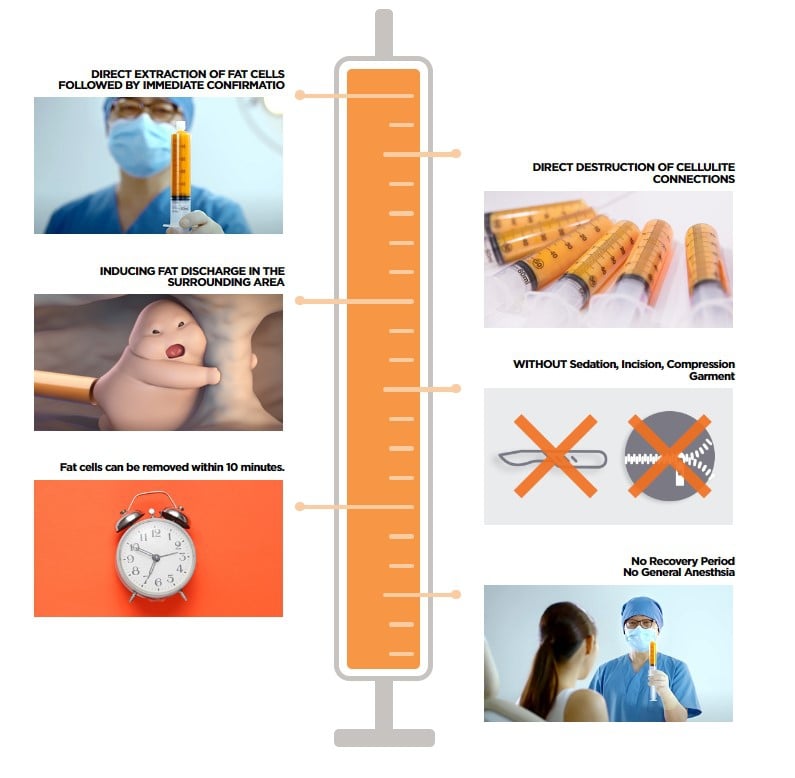 The benefits of LAMS in Korea
This may all sound a little too good to be true, but we assure you it's not. LAMS comes with enormous advantages over its counterpart treatments. Here's just a few reasons why.

1. It's non-invasive
This should be at the top of your priority list, especially if you are one of the innumerable people around the world who are understandably uncomfortable with going under the knife. Because of its fat dissolving injection properties, the entire process can be done through hypodermic injection alone—zero incisions are made with LAMS.
Furthermore, and because of its non-invasive nature, LAMS does not require a heavy general anesthetic, only a simple local anesthesia around the entry point.

2. Fast recovery
The entry point during LAMS is so small that there are no stitches required and little to no swelling or bruising following the procedure. In fact, there is virtually no recovery time after LAMS at all, with little to no pain or discomfort, allowing you to go back to your daily life almost immediately.
For comparison, one can take several weeks to recover from traditional liposuction, and sacrifices must be made to your daily life, including driving, desk work, and showering.
Learn more at this blog "I got a liposuction in Korea"

3. Precision engineering
We all know that South Korea is consistently on the cutting edge of technology, and this is no different. LAMS uses a delicate and precise measurement system to target the problem area, as well as before-and-after computer generated projections.


Before and After LAMS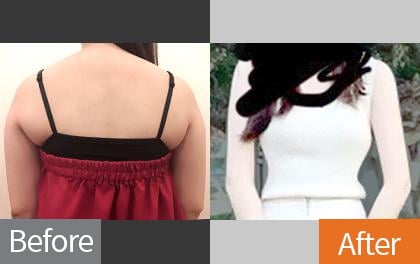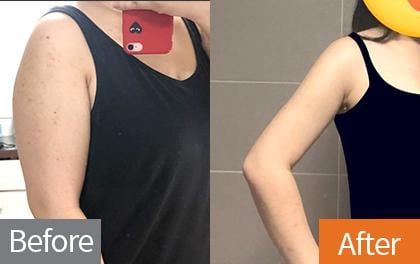 As you can see, this part-liposuction, part-fat dissolving injection can have dramatic results.
The procedure starts with the doctor marking up the area designated for treatment.
At a clinic like 365mc
, this is aided by their implementation of AI and deep-learning algorithms to provide computer-generated before and after models.
Once the procedure is completed as outlined above, results should be fairly instantaneous, although some follow-up treatments to remove any excess dissolved fat may be required.

LAMS in Korea vs. Fat Dissolving Injections
As previously mentioned, LAMS treatment is not quite the same as a fat dissolving injection. Although part of the procedure does involve injecting a fat dissolving solution, this is followed up by physically sucking out the displaced fat—similar to liposuction—using a syringe.

Efficacy and cost-effectiveness
The main benefit of this is that a greater volume of fat can be removed during a single procedure.
One of the main drawbacks of fat dissolving injections is that it can only dissolve so much fat in one go, meaning multiple follow-up treatments must be made, in some cases up to five or six times. Just one or two shots is not enough.
Conversely, with LAMS, one single treatment will be enough.
Overall it is a win win: less repeat treatments means less money spent getting the desired results!

Safety
Korean liposuction clinics—and healthcare systems in general—are incredibly well funded, impeccably clean, and, most crucially, heavily regulated.
In the US, for example, fat dissolving injections have come under heavy scrutiny in recent years due to complications during and after procedures, unknown safety data, and low regulation of substances.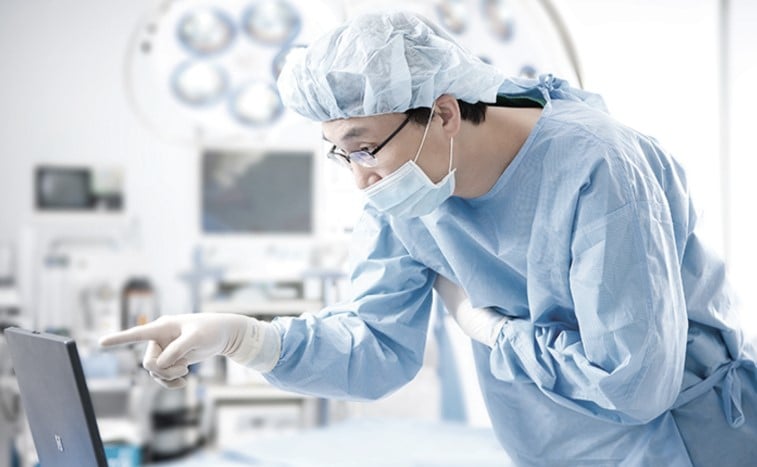 Seeing as they were the first clinic to invent and implement this revolutionary treatment, let's take a look at this clinic a little further.
365mc is one of the most well known liposuction clinics in Korea and has been around for more than 19 years, and their numbers speak for themselves: They have 18 branches, 22 doctors, more than 3000 liposuction surgery cases completed, a youtube brand channel with 320,000 subscribers and over 280 million views, and over 5 million obesity treatment cases under its belt.
Furthermore, as of 2022, 365mc had administered well over one million cumulative bottles of the LAMS fat dissolving injections.
It's no wonder then, that, on average, 24,200 searches per month are made for this clinic on Naver, the biggest search engine in Korea. 365mc also holds the extraordinary record for having performed the most liposuction procedures in the world.
Let's take a look at what else they have to offer.

1. Liposuction
Aside from the aforementioned, 365mc also offers traditional liposuction, although even that is given an innovative twist in this clinic's mission to seemingly revolutionize the entire industry.
365mc, in
collaboration with Microsoft
, is also pioneering the use of AI in liposuction, creating the Motion capture and Artificial Intelligence-assisted Liposuction System (M.A.I.L System). This system records the movements of the doctor's hand as they perform the surgery, recording the data for posterity.
This data, which is analyzed in real time to provide feedback to the surgeon, in turn allows the surgeon to make more accurate movements time and time again. And when you've completed as many lipo treatments as these guys, that's a lot of data!

2. Special Liposuction
If that wasn't special enough, 365mc also offers a range of special liposuction procedures.
These include 'Herpagori' fat graft to hip to create a beautiful glamorous 'hourglass' shape, accentuating the body's natural curves; face liposuction, delivering a minimally-invasive V Line procedure; and 're-liposuction', elective repeat treatments that, although delivering less dramatic results than the first, ensure the best result is achieved and kept.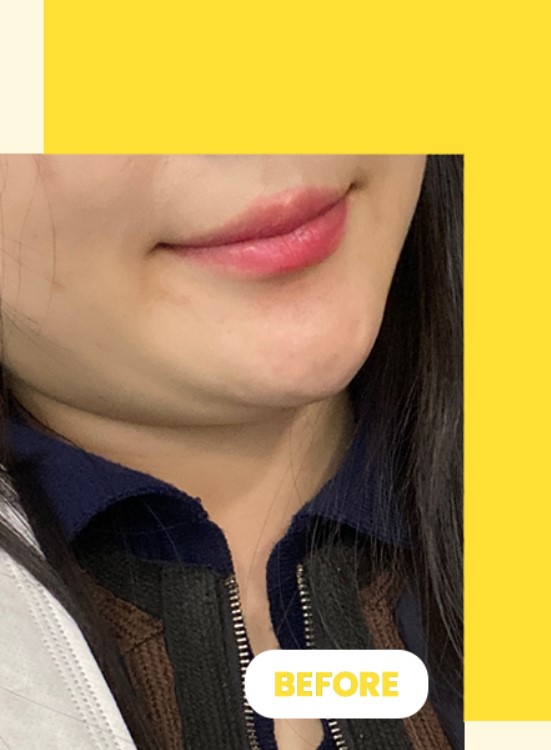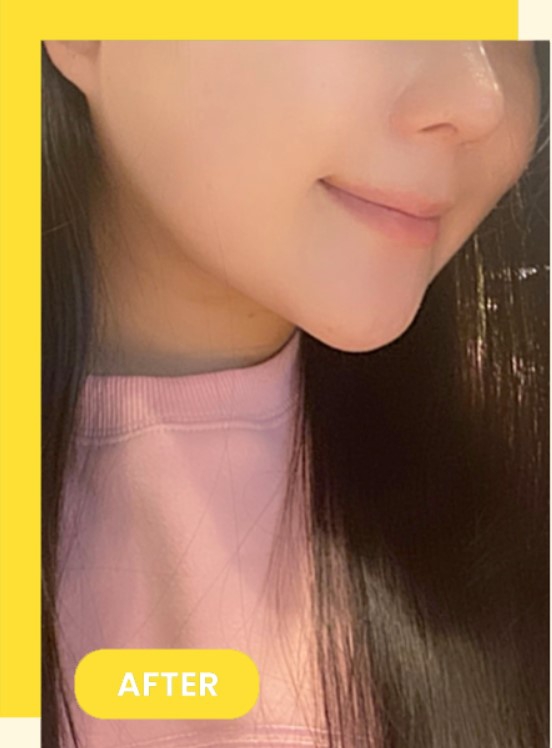 Continuing in the vein of their minimally-invasive techniques, 365mc have also applied the LAMS technique to the face, allowing people to achieve a contoured look without having to undergo major surgery.
Infinite LAMS, on the other hand, allows the patient to use an unlimited amount of bottles to achieve the result they desire with a no holds barred approach.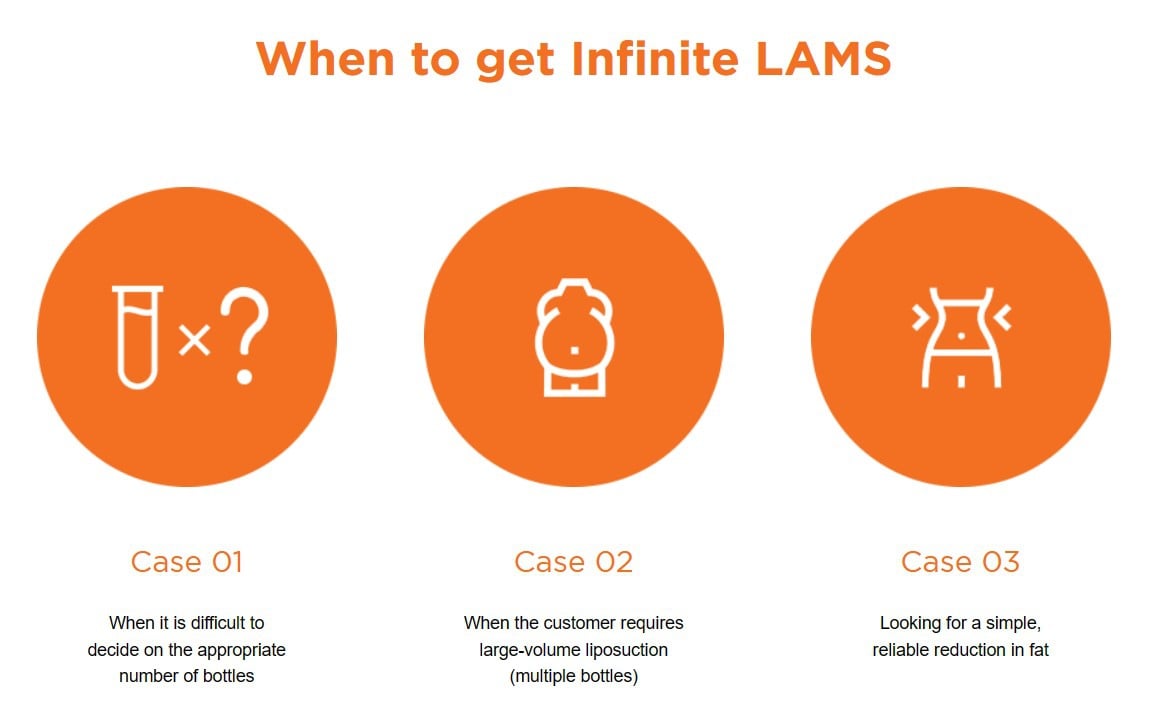 Takeaway
Since its introduction in 2014, LAMS has been growing in popularity in Korea and has garnered international attention, notably by the American Academy of Cosmetic Surgery and the American Academy of Aesthetic Medicine.
It has many benefits over fat dissolving injections and even traditional liposuction. It is a fast and safe alternative for those looking to lose excess fat but don't want to undergo invasive surgery, and with a just one-go. LAMS is at the cutting edge of elective weight loss surgery and has multiple applications around the body.
Frequently Asked Questions?
Is LAMS the same as a fat dissolving injection?
No. Although LAMS does involve injecting a solution which breaks down excess fat, it is then removed with a syringe.

Is LAMS available in other countries?
No. Right now LAMS is only available in South Korea. 365mc, for example, has many branches across South Korea, but their LAMS treatment is only available in Seoul, Daejeon, and Busan.

How can I get LAMS?
Easily. If you are interested in LAMS treatment after reading this article, you can
make an inquiry through My Guide Seoul HERE.
Alternatively, if you are coming from abroad and would like to take advantage of Korea's advanced health care system as well as enjoying everything else the country has to offer, then there are numerous
medical tourism
companies which can facilitate your journey.