Gangnam Station Area
Editorial
This place is hard to describe, it's technology, food, nightlife, people and neonlight all on one!
Gangnam Station Area
is big. In fact it is not just one street in one direction. From the station intersection you can walk in all four directions and still be walking in Gangnam Station Area. On top of that, every main street has parallel streets and alleys sometimes several on both sides, making it a huge network of big streets and small alleys. Most people though, consider Gangnam Station Area to be the 750 meter stretch from
Gangnam Station
to ShinNonhyeon Station (not to be mistaken with Gangnam Government District, which is a much larger area). On the picture you can see that 750 meter stretch, which is often referred to as 'ubiquitous street'.
Gangnam Government District or the correct name, Gangnam-gu, is harder to describe. It's technically 1 of 25  districts making up Seoul City. It's south of the Han river in Seoul with a population of over half a million people.
Then there's Greater Gangnam Area, which also counts in 2 other districts, Songpa and Seocho. The Greater Gangnam Area is huge, making up roughly 20% of the area of Seoul. It is this area that Seoulites most often refer to as 'Gangnam'. The name in itself means south of the river, referrring to its location which is, yes, south of the Han river, and this area is a symbol of modern Seoul with all its expensive real estate, high rise buildings and commercial power and nouveau riche. This Gangnam is Psy's Gangnam in Gangnam Style by the way. Confusing right?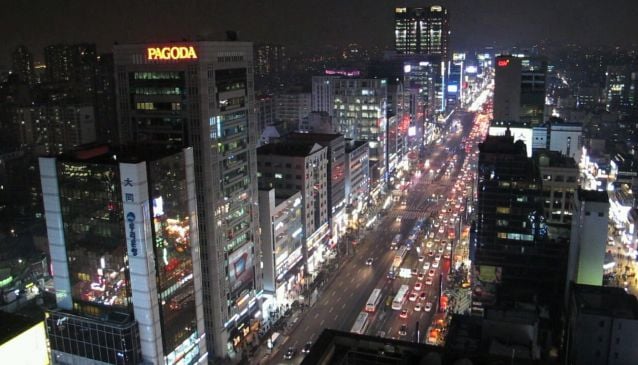 One of the most recognizeable buildings is Samsung Electronics's Headquarter right by the station. The complex is very big with three buildings and shopping and showrooms in the basement. Check this link for a video tour of Samsung Electronics' flagship store and showroom;
Samsung d-light
.
Another landmark and perhaps even more recognizeable is the red bricked Kyobo Tower at the end of the stretch by ShinNonhyeon Station. Go to the basement for, in our opinion, the best book store in Seoul. Access the book store from the side of the building.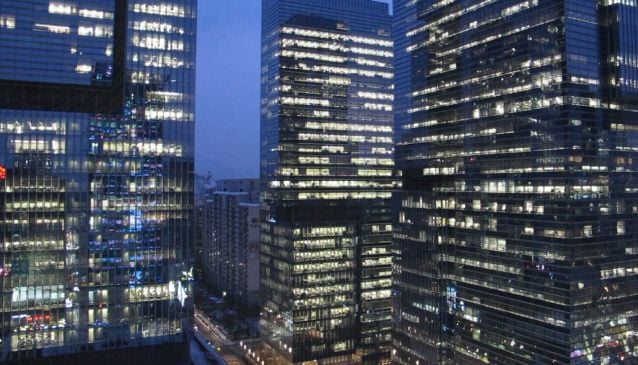 The retail space along the main street is some of the most expensive
shopping in Seoul
- if not, in the world. It's obvious that only large household brand names can afford the rent here. And many companies view their presence along this stretch as a must because of the high profile this area has, in other words a marketing cost more so than actual sales.
8 seconds
, a new Samsung Fashion owned brand operates several floors right in the middle of the street.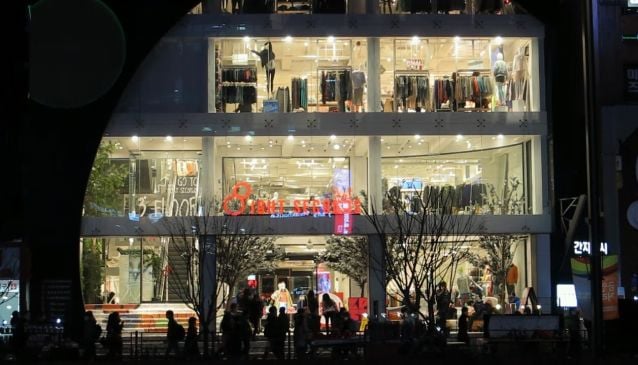 On the side streets you'll typically find smaller businesses such as individually owned stores,
specialty shops
and smaller chain stores in all shapes and sizes, mostly Korean and
Japanese style restaurants
,
bars
,
beer pubs
,
night clubs
, little shops,
cafes
and karaokes. One thing most westerners are not used to is that there is something to do on every floor in each building. And all the neon from top to bottom certainly catches your eye making it harder to choose where to eat and drink. In our opinion the side streets is where the fun begins, and this is shared with the majority of Seoulites. Most people walk on the main street until they venture up into an alley and find what they're looking for.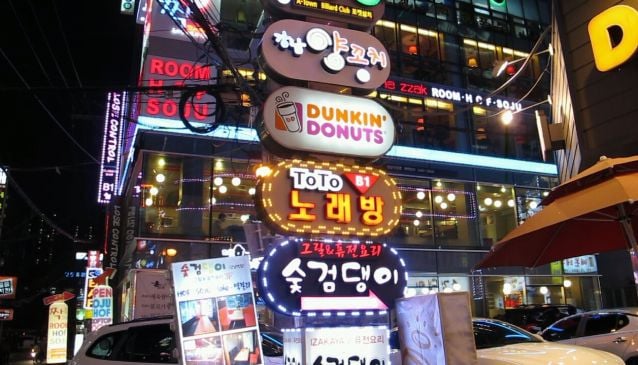 So what and where do people go to eat? Well, pork is certainly a favorite judging by the sheer number of
restaurants in Seoul
. Some alleys are dedicated entirely to pork. This is one such place located in a pork alley. This restaurant is packed on a Tuesday February evening and specializes in pork from Jeju Island raised black pigs, a type of pig Koreans are proud of and regard as premium. A must-try when here, best consumed with a bottle of the much beloved local firewater - Soju.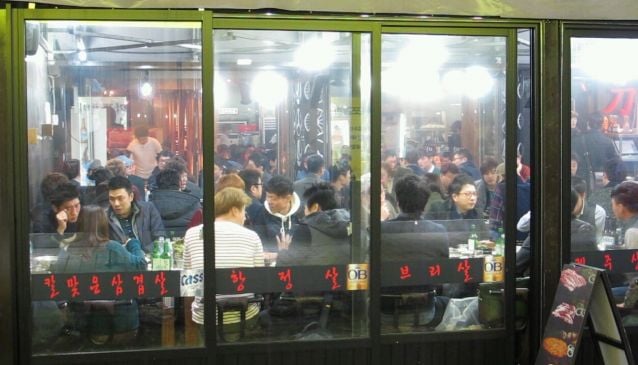 Relieving stress is something Seoulites often talk about. People tend to be socially competitive and many Seoulites work long hours. It therefore shouldn't come as a surprise that people need something to 'take it out on'. In this case a punching bag machine, which you'll see on most busy side streets where there's a lot of people. We've tried it and it's good fun but that also quickly becomes competitive. With the highest score comes bragging rights of course. Another fun game to watch is fake tiles piled up neatly into a uniform stack before someone karate chops it and counts how many tiles they broke.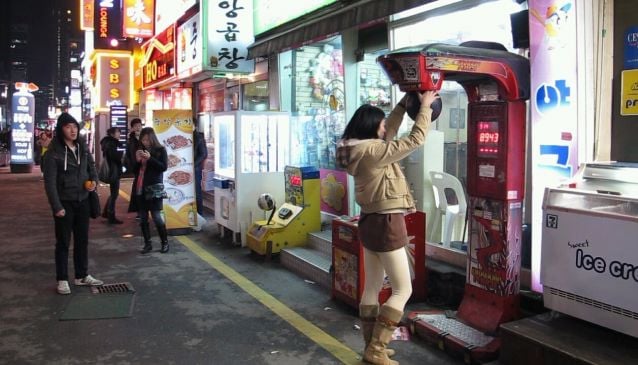 Unlike many Western countries, Seoulites don't move out of their parents house and live alone at an early age. This is simply because it is expensive to rent or buy your own place and culturally people have stayed at home until marriage. But it is becoming more of the norm now, single households.
Home living, staying in, spending time together at your place, whatever you call it - privacy with your partner, is not a common way of socializing. You'll therefore see couples everywhere, doing couple stuff from eating together to going to the movies etc. Romantic privacy is usually found in love motels, or theme-design motels as the newer ones are called, which by the way is a much recommended thing to try here, stay in one for one night just for the sheer novelty of the rooms.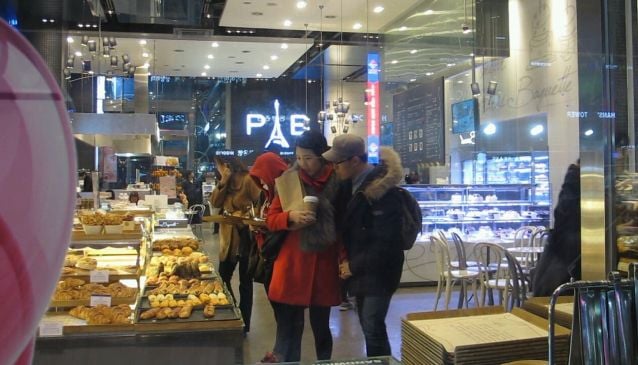 Street tented restaurants is pure nostalgia for Seoulites. The tents are almost always orange colored and the menu is usually street food favorites along with Soju the Korean produced alcohol. In movies these tents serve as a symbolic place where the protagonist is coming to terms with who he/she is or the situation, being confronted with reality or something similar. It never fails. Seoulites have an attachment to these tents and we can understand why. They are humble, and bring all sorts of people together. Often people go there as a last stop on the way home from a night of partying. But it can also be for a quick bite, or starting your evening as well with some small dishes. These tents on the picture are along the main street of Gangnam Station and are always packed  with people. You'll see these tents all over Seoul. Walk into one and give it a try. You never know who you'll meet!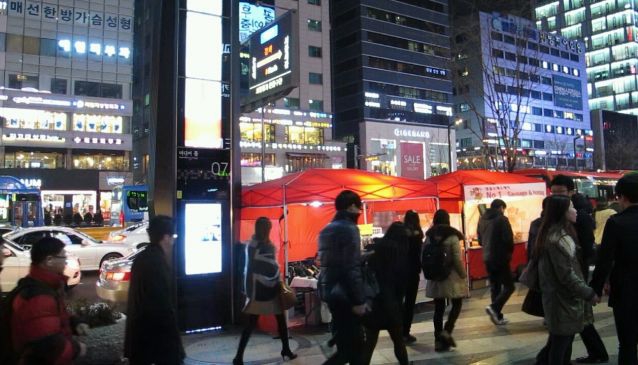 If there is one thing Seoulites cannot live without, it's their smartphone. This man is sporting 3 on his scooter. From large billboard tv's to media poles with internet, camera and map guidance and modern public transportation payment systems, Gangnam Station Area is where the future is. Just open your eyes! Equipped with the latest smartphone there's nothing you cannot find or do in Seoul!