SPA-tacular!
Retreats & Relaxation
More than just a pampering experience, it is the healing oasis for mind, body, and soul!
"Solus Per Aqua."  The acronym of SPA comes from this Latin phrase meaning "Health Via Water."  Throughout centuries, many spas across the world offered therapeutic health benefits to people with unique water treatments.  Korea is no exception.  Historically, cleaning played an important role serving the purposes of ritual purification and social gathering.  Therefore, it is no surprise to find hundreds of various types of spas and saunas in Seoul.  More than just a pampering experience, it is the healing oasis for mind, body, and soul!
Type 1. Jjimjilbang (Korean Style Sauna)
Yongsan Dragon Hill Spa – 40-713 Hangangno 3-ga, Yongsan-gu, Seoul / 02-792-0001, www.dragonhillspa.co.kr
One of the biggest Jjimjilbangs in Korea, it is a popular weekend getaway for Korean families, couples, and friends.  Open 24 hours, this place is pure 'paradise.'  Imagine a theme park with a variety of entertainment:  It's exactly the same, but everything packed in one building!  Snack bar, hot and cold pools, Jacuzzis, computer room, TV room, theater, children's playground, arcade games room, sauna and ice caves, fitness center, sleeping quarters, singing room, massage chairs, hot tubs, and even an outdoor swimming pool. 
Fee: 10,000 KRW (05:00–20:00), 12,000 KRW (20:00–05:00, weekends)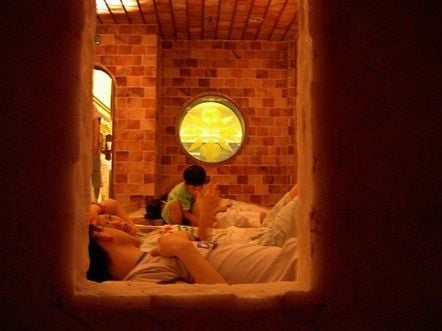 Type 2. Public Bathhouses
Spa Lei – Leimong Town 8-22 Cresyn Building, Jamwon-dong, Seocho-gu, Seoul, 02-545-4113, www.spalei.co.kr
A spacious traditional Korean sweating bath, this place offers the best treatment only to females.  This 3-storey bathhouse is equipped with a variety of herbal hot pools (from green tea to rose petals).  Its outdoor spa tub is a great place to reduce all your tension and anxiety.  Don't forget the unique Korean style body scrub.  As the locals say, "You are not fully clean until you get rid of all those dead skin cells."
Fee: 12,000 KRW (for 12 hours)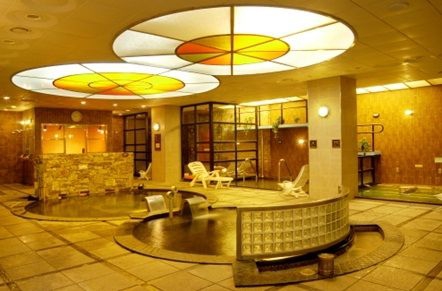 Type 3. Spa Treatments
Healing Hands – 124-7 Itaewon 1-Dong, Yongsan-gu, Seoul, 070-7504-8090, www.healinghands.co.kr
Located in the heart of Itaewon, this small place (only two massage rooms!) offers a wide range of exquisite massage services.  Combined with Thai massage and Korean acupressure treatment, this customised experience will elevate your spirit, relax your body and invigorate your mind.
Fee: 70,000 KRW (one hour full body massage), 20,000 KRW (foot care package), 130,000 KRW (couple massage)