Visit the Parasite movie landmarks in Seoul
Arts & Culture Editorial
Lovers of the Oscar winning movie 'Parasite' can now find all the cool places where the film was shot.
Parasite is the first non-English film to win best picture at the Oscars! As if that wasn't enough it also scooped up 4 more Oscars much to the joy of South Korean citizens everywhere. Parasite became an instant classic after its release in the summer of 2019, picking up the prestigious Palme d'Or at the Cannes film festival, the first time for a Korean film.
The film is an absolute masterful display by director Bong Joon Ho, using symbolism and satire to uncover the deep levels of social and financial inequality between Korea's elite and the poor. The film takes you on a seemingly innocent emotional journey until you realize the darkness at its core.
Parasite was filmed in
Seoul
, South Korea, a country that has become synonymous with
plastic surgery
and K-pop music. Seoul is a beautiful mix of east and west, coming together to form a truly global city. Seoul is famous for its many unique districts, each with its own little ecosystem filled with
cafes
,
bars
,
shopping
and activities.
It is in these districts of Seoul where Parasite was filmed.
Super Mart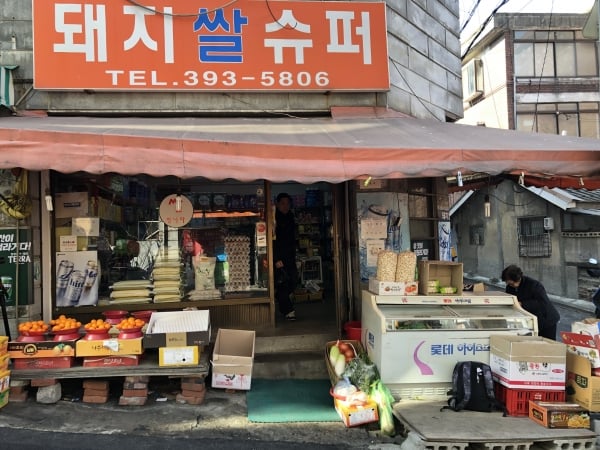 Address:
Address: 32, Songijeong-ro, Mapo-gu, Seoul
Directions
: Subway Line 2 and Line 5 Exit 6 of Chungjeongno Station, walk 10 min
This is the place where the insidious plan of Ki-Woo comes to life after being asked by his friend to take over his tutoring responsibilities, while he goes abroad to study. In the film the can be seen sitting outside having a few drinks of the popular Korean drink 'soju'. In the film the name of the market is just Woori super, woori means 'us' in Korean. In real life the little shop is called 'Du-wae-ji-ssal super' which translates directly to pork and rice. In Korea it is very common to buy soju or beer and then drink it at a table outside of the convenient store or shop.
Stairs of peach scene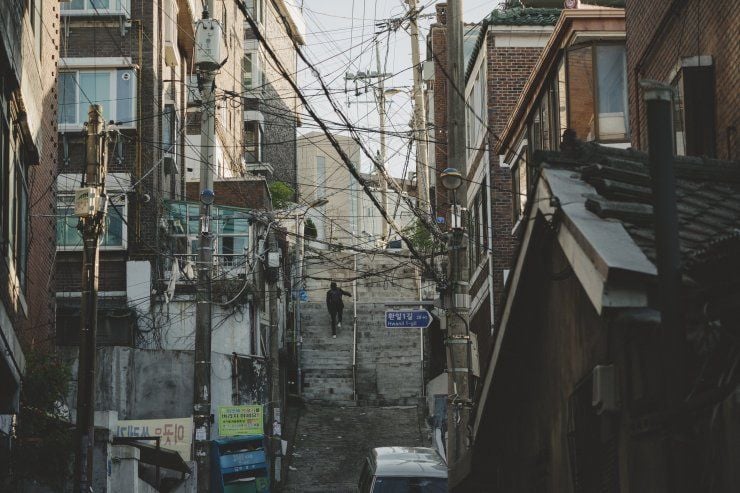 Address
: 3, Songijeong-ro 6-gil, Mapo-gu, Seoul
Directions
: Subway Line 2 and Line 5 at Exit 6 of Chungjeongno Station, walk 10 min., 1 minute from the above supermarket.
Forget about the stairs in the Joker film, Seoul has its own set of super famous stairs. Nestled in the same neighborhood as the woori super mart, these are steps that you can see after Ki-Jeong buys the peach that she will eventually use to cause the house maid to have an allergic reaction. Very sinister indeed! In recent days locals have flocked here to get a picture of the stairs.
Stairs and hill in the rain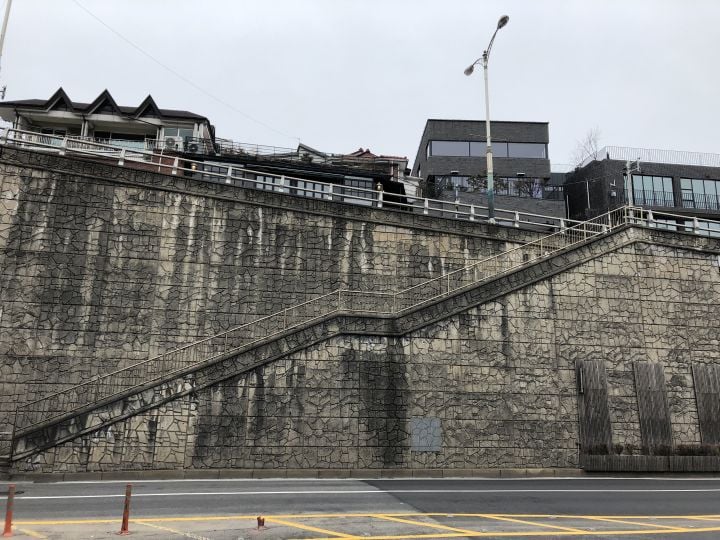 Address
: 219, Jahamun-ro, Jongno-gu, Seoul
Directions
: Subway Line 3 Exit 2 of Gyeongbokgung Station, walk 10 min
In one of the most gripping scenes of the movie, the Kim family is running back home in the rain after the surprise return of the Park family from their camping trip. You can see the Kim families running downhill, as if to symbolize things are going downhill. They then take another flight of stairs to return to their poor neighborhood. This scene poignantly points out the class difference between the rich and poor. This neighborhood is actually located on the northern part of Seoul as opposed to the super mart. It's still only a 20 minute bus, so bring your drone and take the same shots as director Bong did.
Sky Pizza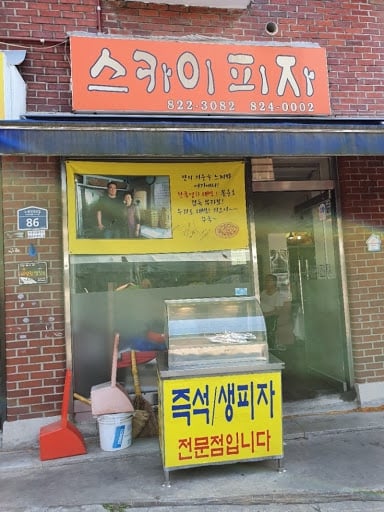 Address
: 86, Noryangjin-ro 6-gil, Dongjak-gu, Seoul
Hours of Operation
: 10:00~22:00, everyday (Remember to make a reservation)
Contact
: +82-2-822-3082
The last stop on your Parasite Seoul tour is Sky Pizza! They changed it to Pizza age in the movie but even the style is the same. This is a particularly cool place to visit whilst tracking the parasite set locations because you can actually try the real pizza here! It is a typical style Korean Pizza with toppings like sweet potato, corn or cheese. Make a reservation because this place has become very popular in recent days. Obviously.