Public Transportation
There are many means of transportation in Seoul other than walking. Seoul offers one of the most efficient and user-friendly subway systems in the world. Taxis are inexpensive and comfortable and Seoul has a comprehensive bus system, which will take you across town...sometimes faster than the subway depending on the time a day.
What is the best public transportation in Seoul?
Subway! If you don't want to get stuck in traffic, traveling underground in Seoul is inexpensive and easy. All directional signs in the subway are in English. There are roughly 2 minutes between every subway stop, so it is easy to calculate your traveling time. However, If you don't want to feel like a human sardine, make sure you don't take the subway at the same time when most Seoulites go to and from work. That means you would want to avoid the the subway between 7-8 AM and 6-7 PM.
The subway is clean, safe and worth a try at least once while you are here. Some subway stations also function as underground shopping malls and many of them are uniquely designed because of their affinity with the area.
Seoul subway has nine routes from Line 1 to line 9. Each line has its own designated color, which is used on subway maps and signs in subway stations.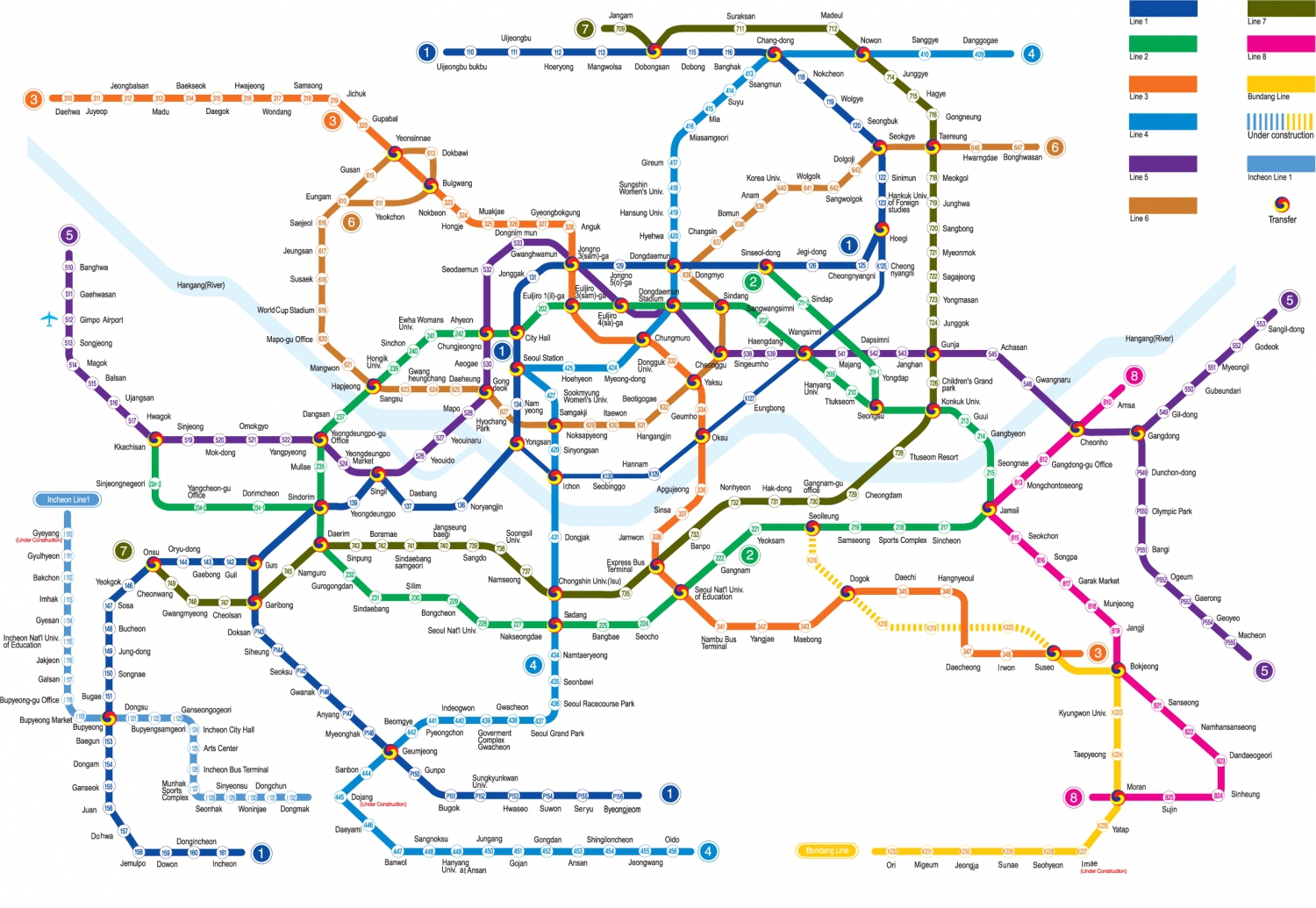 Are taxis expensive in Seoul?
Taking a taxi in Seoul is very affordable compared to most other big cities, say for example London and Tokyo, they are plentiful, clean and safe. There are two types of taxis in Seoul. Black limousine taxis which cost a little more and the rest (orange, silver, white), which operate under standard rates. The going rate is about KRW1000 per kilometer for normal taxis and double for black limousine taxis.
If you're not sure where exactly you're going or if you're lost using google maps, don't be afraid to take a taxi. You can show the taxi driver a specific address and he will be able to plot it into the GPS. If you can't be bothered taking the subway take a taxi instead. Sometimes it is faster and easier depending on how far it is to the nearest subway station. If you get stuck in a traffic jam, you can always ask the driver to take you to the nearest subway station headed towards your destination.

An available taxi will have a red light with a sign that looks like this (빈차)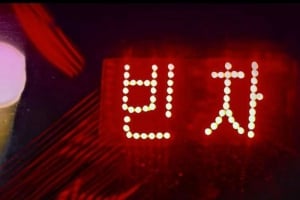 If you see a sign that reads a sign that reads (예약)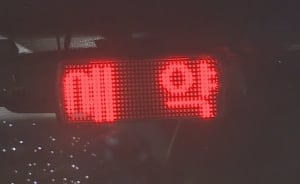 And if there is no sign it means the cab is occupied.
What is a T-Money Card and how can I get one?
Think of the T-money card as your all in one transportation card. It is a rechargeable card you can use for paying for transportation fares in and around Seoul. It is very easy to use. All you have to do is buy a card and charge it. This can be done in all convenience stores and subway stations. The price for the card is KRW2,500 and a typical fare will set you back KRW1200. The T-money card can be used to pay for buses, subway and most taxifares. Uncomplicated and easy.
Is it possible to buy a city tour pass when visiting Seoul?
Besides the T-Money card, there are two other types of transportation cards available in Seoul.
1. Seoul Citypass: This pass allows visitors to use the metropolitan subway lines and seoul city buses up to 20 times per day. In addition, visitors may also use the Seoul City Tour Bus, which runs through the downtown area without any restriction.

Where to buy: Family Mart and Ministop convenience store in the arrival area of Incheon Int'l Airport and tourist informations centers in: Dongdaemun / Gwanhwamun / Itaewon / Gimpo Int'l Airport / Samilgy / Namdaemun / Jamsil. Fare: 1-day pass KRW 15,000, 2-day pass KRW 25,000, 3 day pass KRW 35,000

2. Seoul Citypass Plus: This card combines T-Money and a discount service for designated performances, exhibitions, tourist attractions and restaurants. You get a 5% discount when you use get on the Seoul City Tour bus using this card.
Where to buy: GS25 Convenience stores, tourist information centers and train stations. Fare: KRW 3,000 for the purchase of the card.
Are buses convenient in Seoul and do they have signs in English?
Sometimes, buses can be a good option if you're going across town and your route would include many stops and/or changes on the subway. If you don't speak Korean however, knowing what bus number to take, which direction and where to get off is essential. Most buses don't have signs in English, however, some major busstops show the main stops in English (usually a subway station) If you insist on trying out the bus while in Seoul, you may want to use google maps, this will give you a number of transit directions, incuding buses.
Seoul city buses are divided by colors.
Blue buses cover long-distance routes within Seoul
Green buses run short-distance routes also within Seoul
Yellow buses run circular routes in central Seoul
Red buses run express routes between the city and Seoul metropolitan area