YMAS
Cafés Western Seoul By Night Bars and Lounges Neighborhoods
Y MÁS is a Spanish cafe with Spanish foods, drinks, and dessert. It has great lighting with wood furniture and comfortable music. It is one of the coziest cafes I've ever visited during my time in Seoul!
📍 Location
Y MÁS is located within 5 minutes of the nearest subway, the Brown line (line 6, Mangwon station), via exit 1.

You can get directions using your favorite map app below:

Google: https://goo.gl/maps/9GSaxFcHt6HwKR358
Kakao: http://kko.to/QqZyj3qfj
Naver: http://naver.me/FijzxAb5

🕙 Open Hours
Monday: closed
Tue - Sat: 12pm to 9:00pm
Sun: 12pm to 7:30pm


🛎 Menu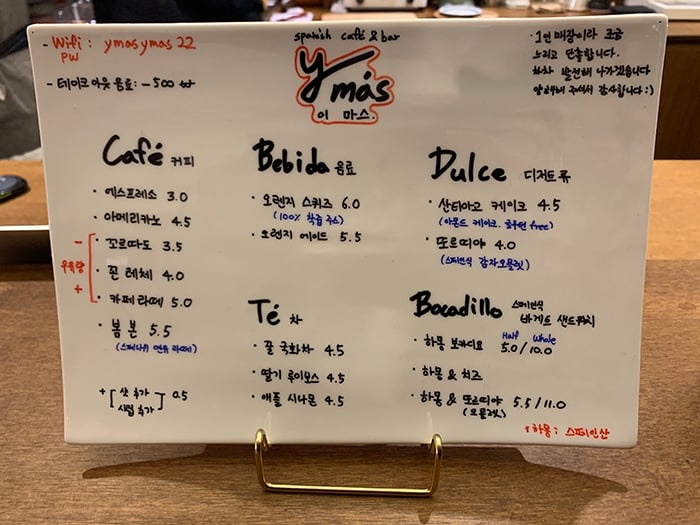 As of February 2022:
Café

Espresso (KRW 3,000)
Americano (KRW 4,500)
Cortado / Con Leche / Cafe Latte (All are cafe latte, but the amount of milk is different) (KRW 3,500~ 5,000)
Bombon (Spanish condensed milk latte) (KRW 5,500)
Shot/Syrup (KRW 500)

Bebida

Fresh Orange Juice (KRW 6,500)
Orange Ade (KRW 5,500)

Té (Tea)

Honey Chrysanthemum Tea (KRW 4,500)
Strawberry Rooibos Tea (KRW 4,500)
Apple Cinnamon Tea (KRW 4,500)

Dulce (Dessert)

Santiago Cake (Almond Cake, gluten free) (KRW 4,500)
Tortilla (Spanish Omelette) (KRW 4,000)

Bocadillo (Spanish Baguette Sandwich)

Jamón (Half : KRW 5,000/ Whole : KRW 10,000)
Jamón & Cheese (Half : KRW 5,000/ Whole : KRW 10,000)
Jamón & Tortilla (Half : KRW 5,500/ Whole : KRW 11,000)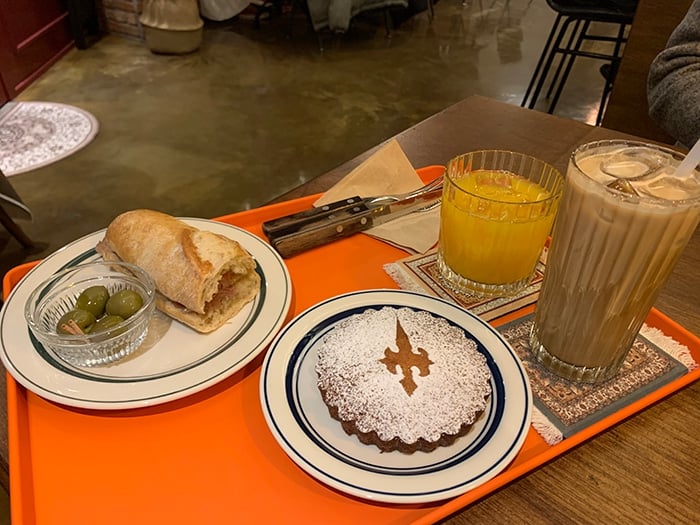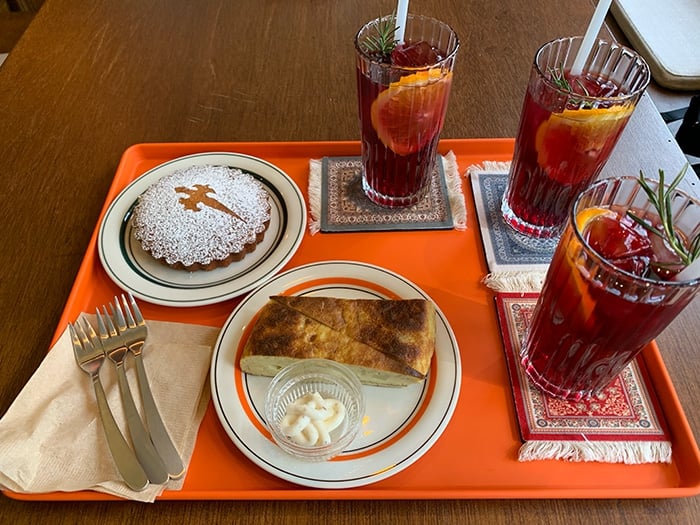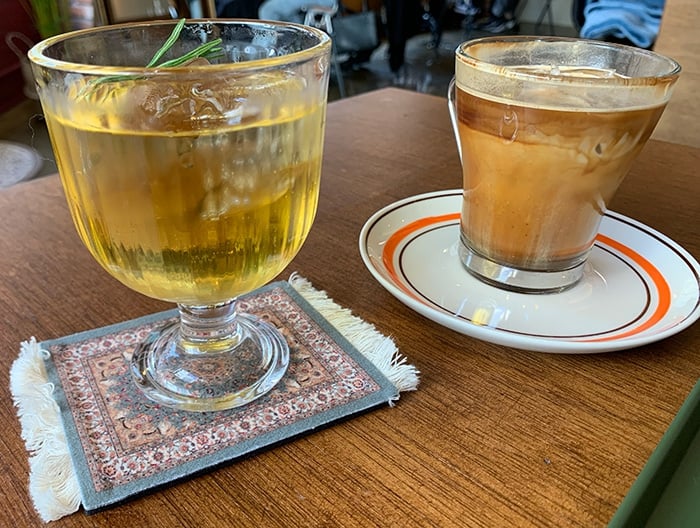 👆 I had Bombon, fresh orange juice, Jamón & Cheese bocadillo, Sangria, Con leche, tortilla, black tea ade, and Santiago cake.


💁‍♀️ Extra Information
You can order any of the menu items to-go
You can also get a KRW500 discount if you take the drinks to-go


☕️ Interior
Pictured below is the inside of the cafe: