Vivaldi Park - DAEMYUNG RESORT
Outdoor and Adventure Entertainment Tours
Super trendy resort and endless activities.
Vivaldi's state of the art facilities and ease of access makes it understandable why it is the most visited resort in Korea, 8 years in a row! Daemyung Resort Vivaldi Park is located in neighboring Gangwon-do province, right across the border line so do not fret, still only a 60 minute trip. Vivaldi can host up to 20,000 visitors so you know they run a smooth operation.

Vivaldi boasts one of the trendiest resorts in Korea and that makes it quite the hotspot amongst the younger crowds, that and its close proximity to Seoul. Vivaldi is equipped with the biggest resort in the country making it an easy choice destination for many tourists.

As mentioned earlier, Vivaldi is high-tech, it has the first express 8-seater chair lift in Asia and what makes it even better is that is open until 5am. So for those hip night owls who love to shred the night time gnar, you know where to go.
Vivaldi offers 12 slopes with 10 lifts at varying times and prices. So it's pretty simple to select something that suits your needs. Free shuttle buses that are specifically arranged for tourists go straight to the resort. These buses depart from various locations in Seoul and they also return to the same places they departed from.
Vivaldi offers all varieties of slopes, from beginner to advanced, making it a good destination for groups with mixed levels.

Due to the high volume capacity, this place can get packed so it's better to go on the weekdays or at night. Otherwise be prepared to wait in 30min -1hour lines.
Slope MAP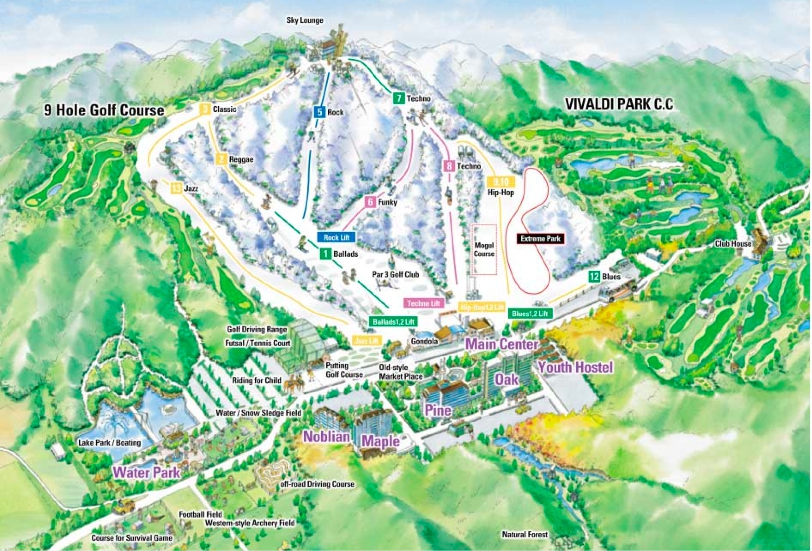 Budget
Best For Whom
Families With Teenagers
Families With Children
Couples
Groups
All Levels of Skier & Rider
First-Timers
Best For What
Resort
Ski In/Out
Adrenaline
Adventure
Outdoor Area