Breast Augmentation in Korea
Seoul
Breast Augmentation Procedure, Recovery, Price In Korea
There are plenty of women that see Breast Augmentation as a great solution to enhancing their visual appeal. Therefore, it is very important to understand all the different factors regarding Breast Augmentation, ie. What the procedure entails, the price and the best clinics in Seoul 2023 for Breast Augmentation.



What is the cost of Breast Augmentation in Seoul?


That depends on a variety of factors, as you will see below.
Type - The type of implant brand used also makes a big difference, because higher quality breast implant products such as MOTIVA, will be more expensive than other brands.

Previous revision surgeries - Another important factor that affects price, is the number of revision surgeries that a patient might have had before. A primary breast augmentation patient will pay less than a revision patient, as revision surgeries are more complex.

Doctor experience - Other factors such as doctor experience also plays an important role in determining the price, as extremely experienced doctors will cost slightly more.

Clinic reputation - Even the clinic where you have the surgery done is an important consideration when trying to establish the price. Most of the time clinics will have special arrangements with agencies which are how patients can take advantage of discount deals or complimentary services.

Average cost for breast augmentation is usually around $2500 for an entry level patient, but it can also go up to $15000.
*As a note, aftercare is almost always provided when getting a breast augmentation done in Seoul. Some clinics also offer a 1 year warranty, and in some cases that time might also be extended.


Is hospitalization needed?
That depends on each individual case but most of the time, yes. If the procedure is simple, then the hospitalization time is minimal. That being said, you will likely end up staying in the hospital for a little bit of time immediately after your procedure, most clinics will offer a complimentary evening in their in house accommodation.

Operation length
Of course all procedures will vary on certain factors such as size, age, skill level and desired look. But in general the procedure is not super long. It usually takes around 1.5 to 2 hours, depending on how everything comes together.

Of course, there are situations when the Breast Augmentation surgery will take a bit longer if the doctor sees the need for that. As safety is always the primary concern in some cases the operation might end up taking a bit more time, but it will always be in order to keep you safe. But don't worry you will be sedated and before you know it you will be awake with your desired breasts.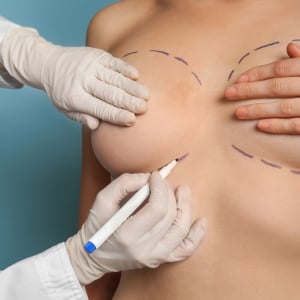 When can you remove stitches?
Those stitches need to stay there for a little while. Most of the time that will be either 1 or 2 weeks after the surgery takes place. The healing process and where you had the incisions, or how many of them, will determine how long it takes to have the stitches removed. When it comes to removing stitches the following the doctors' orders is of utmost importance.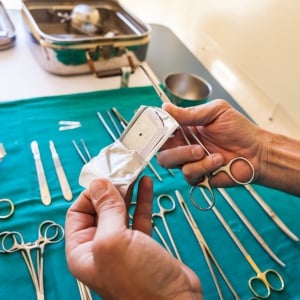 Breast Augmentation is very popular in Korea, and most females are eligible to do it. It is a safe procedure and is usually performed without any problems or hiccups.

For more information on pre surgery care and different types of breast procedures

Best Breast Augmentation Surgery Clinics In Korea
Below is a list of some clinics that are widely recognized for their Breast Augmentation capabilities
WOOA Plastic Surgery & Dermatology has gained a reputation for reliability and excellence in breast augmentation, focusing on safe and accurate diagnosis and care. They differentiate themselves by making four promises to their customers specifically in the realm of breast augmentation. Firstly, they prioritize the safety of breast augmentation surgeries, ensuring that only experienced plastic surgeons perform the procedures and using safety equipment such as cardiac defibrillators and emergency kits. Secondly, they provide smart care by utilizing cutting-edge machines and techniques, reducing unnecessary costs associated with breast augmentation procedures. Thirdly, they offer comprehensive 24-hour full-care services, closely monitoring patients to prevent complications and providing detailed post-operative instructions.
Banobagi Clinic understands the importance of maintaining harmony and proportion in breast augmentation, ensuring that the results seamlessly blend with each patient's overall physique. This emphasis on natural aesthetics sets them apart from clinics that may prioritize dramatic or unnatural transformations.
The Plus Plastic Surgery is a world-class clinic in Korea known for its expertise in various plastic surgery procedures, with a particular emphasis on breast surgery. They prioritize individualized design and strive for balanced elasticity and body lines to achieve optimal results. The clinic's team of skilled surgeons, including Dr. Teak Kyun Kim, Dr. Jae Yong Jeong, and Dr. Hoon Young Lee, have extensive experience and credentials in their respective specialties. They have gained recognition through their research, publications, and participation in international conferences, positioning them as leaders in the field of plastic surgery.​ As a result, patients can find comfort in choosing this clinic.
Stilla Plastic Surgery Clinic is a renowned clinic known for its expertise in water drop breast augmentation and skin lifting procedures. The specialized technique of water drop breast augmentation, which creates a natural and aesthetically pleasing breast shape using teardrop-shaped implants, is one of their areas of expertise. Whether it's water drop breast augmentation or skin lifting procedures, patients can trust in the expertise and dedication of Stilla Plastic Surgery Clinic for exceptional results.
Specializing in breast augmentation, View Plastic Surgery offers various techniques and implant options to help individuals achieve their desired breast shape and size. They prioritize patient safety and satisfaction, ensuring natural-looking results that enhance the overall proportion and symmetry of the breasts. With a commitment to professionalism and excellence, View Plastic Surgery is a great choice for those seeking top-tier breast augmentation services.
As a leading cosmetic surgery clinic, ID Hospital offers a comprehensive range of surgical and non-surgical options to help individuals achieve their desired breast size and shape. They employ advanced techniques and cutting-edge technologies to deliver natural-looking and aesthetically pleasing results. Whether it's silicone or saline implants, breast lift, or fat transfer procedures, ID Hospital's focus on personalized care and attention to detail sets them apart. With their reputation for excellence in breast augmentation, ID Hospital remains a trusted destination for individuals seeking top-quality cosmetic surgery services in Korea.​
JW Plastic Surgery stands as the premier destination for breast augmentation in Seoul, renowned for its skilled surgeons and comprehensive range of techniques including silicone and saline implants. With a strong emphasis on achieving natural results and exceeding patient satisfaction, JW Plastic Surgery offers personalized treatments tailored to each individual's desires and anatomical considerations.