Seoul City Guide; North of the River
Arts & Culture
Hongdae is full of underground clubs and open spots, like the 'Hongdae Playground', famous amon
Insadong dates back to the Joseon Dynasty (1392-1910). Today, the maze-like Insadong streets are a fantastic hunting ground for first-time arrivals, where the shops and restaurant choices are typically traditional exerting a magnetic draw on visitors.
Traditional art products are sold in ancient buildings. Modern galleries and traditional Korean houses cover both sides of the street. The face of Insadong changes three times a day. In the early morning, it is a quiet and peaceful street, in the afternoon, it becomes busy with groups of overseas tourists and at night, you will find that Insadong is a place where people, Koreans and foreigners alike, enjoy taking a stroll and simply socializing in the tranquil surroundings. The main street is filled with shops selling antiques, old books, paintings, ceramics and hanbok, the traditional Korean costume.
Local Tip!
As soon as you reach the Insadong street you will be overwhelmed with shops selling traditional Korean souvenirs. We recommend holding onto to your wallet until you reach Ssamziegil and the National Souvenir Center, slightly further down the street, these are the best places to buy Korean souvenirs.
Image: Ssamziegil Outdoor Shopping Complex, Insadong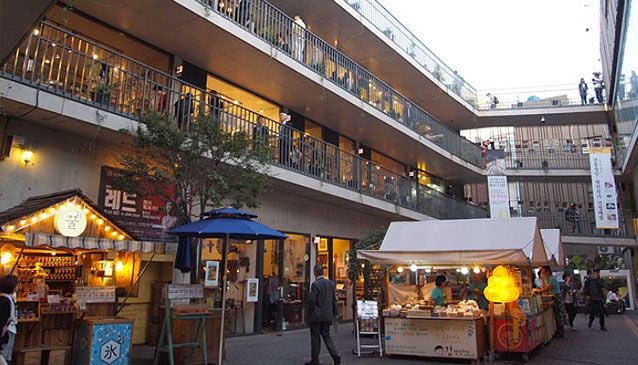 The nearly 3km long street between GyeongbokgungPalaceand Cheongwadae (Blue House) is a unique cultural area. Many exciting places such as traditional Korean house-style cafes, wine bars, art shops and designer showrooms line the street. Landmark: Seolseo Tea House.
This is far from your typical city street with stores selling in a mass-produced manner. Shops along Samcheongdong boast distinctive items by local artists and designers. This is an area flowing with tranquility and art galleries, each with its own unique architectural design. Boutique fronts look stylish and inviting as many of them are specialty shops selling quirky accessories and fashionable clothing, mostly womenswear. Enjoy art, architecture, shopping, dining,and traditional tea, all in this charming antique and traditional Korean neighborhood .
Local Tip!
Visit 5Ci Jung Café, it is the perfect place to take a break from your Samcheondong stroll and indulge in an afternoon snack. We recommend trying the freshly squeezed lemonade. It's refreshing and tasteful, served in a big jug with complimentary home baked scones and jam. Get a seat by the window and watch the world go by, while enjoying a delicious afternoon snack! Be sure to bring a camera.
Image: Samcheongdong Main Street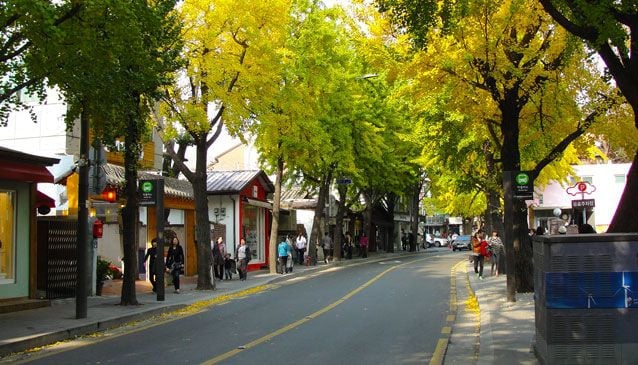 City Hall has been the center of Seoul for 600 years. Located in the main downtown area, across from the Plaza Hotel, it is considered to be the city center. In this area you can find the majority of landmarks that symbolize the past and present of Korea.
On either side of Sejong Street that cuts through the area rests City Hall, The U.S Embassy, Sejong Arts Center, Seoul Finance Center and at the end a landmark and symbol of Seoul's history as capital city during the Joseon Dynasty, Gwanghwamun Gate.
The downtown area is also home to many of Seoul's exclusive hotels, the newly restored Cheonggycheon Stream and ancient palaces are within walking distance. Also within close proximity are numerous department stores, arcades and boutiques.
Local Tip!
Visit Gwanghwamun Square just before sunrise or sunset and you will be able to capture some amazing photography, looking in one direction you will gaze into the mountains in the background, and in the opposite you can view a stunning glimpse of the downtown skyline. It all happens in the magical blue light hour, the first and last hour of sunlight during the day. Check our weather page to see what time the sun rises and sets in Seoul.
Image: Admiral Yi Sun-sin, Gwanghwamun Square.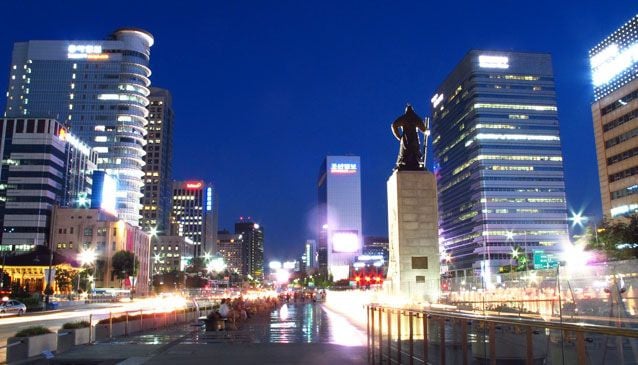 Myeongdong is the commercial heart of Seoul and it's electric...often compared to Tokyo's Shinjuku district, because of its many neon lights, high-end retail shopping, good food and lots of people.
On an average day a staggering 1.5 million people pass through, especially Japanese tourists who flock to Myeongdong to absorb the film set for many Korean dramas and movie scenes. The price range in terms of shopping offers both affordable and more exclusive expensive products. You will find most major local and international brands on the streets of Myeongdong along with an abundance of high-street fashion stores, restaurants and cafés all year round.
Local Tip!
When in Myeongdong, you must try the street food; especially the delicious dried squid and egg cakes. If you're into something a bit more substantial, why not head over to the Lotte Department Store food court, which boasts an amazing variety of authentic dishes. A sushi train runs through the food courts allowing customers to select their favorite plate, or order fresh sushi. It's usually around 1,000 KRW - 3,500 KRW per plate depending on the kind of fish. Try the seared beef nigiri, it's a must-try!
Image: Japanese tourists in front of the 'Forever 21' store, Myengdong.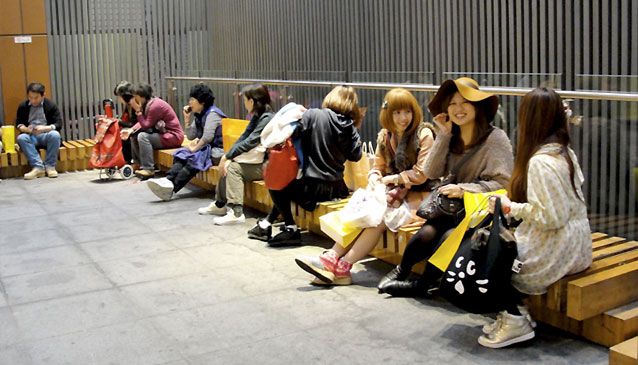 Dongdaemun is a head-spinning, eye-opening experience that should not be missed. Shopping here belongs to the night and once you enter you'll forget that time exists and instinctively shop till dawn.
Regarded as one of the largest fashion retail and wholesale areas in the world, this place is massive in terms of people, impressions, and turnover. Thousands of small shops set in modern facilities stay open until daybreak attracting many fashionable night shoppers. You will find anything from second-hand 'tat' to vintage Chanel.
Independent designers come here to buy fabrics and subsidiary materials for garments, giving it a similar importance to Manhatten's 'Meat Packing District'...so if you want to know what the upcoming trends are or simply need inspiration, surely Dongdaemun is as good a place as any to start. But keep the following in mind: Wear comfortable shoes and bring a reasonable amount of patience as this area becomes crowded, especially on weekends and around midnight.
Local Tip!
Something local Koreans love to do: Go midnight shopping, as peculiar and perhaps exhausting as it may sound, this is actually a lot of fun, all the major shopping malls and street vendors usually stay open until 5am, with plenty of replenishments to be found at the all night restaurants and street food stalls.
Image: Shop till you drop, Dongdaemun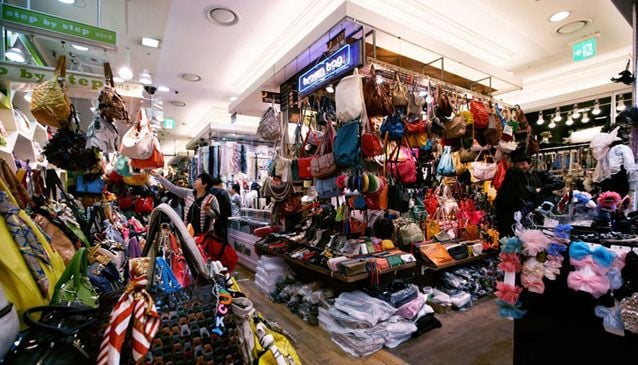 The Hongik University neighborhood is the center of Korea's indie culture. It is one of the only places in Seoul where you'll find street art. The artistic spirit can be found everywhere in Hongdae - in its unique specialty shops, affordable restaurants and cafés and street art.
Hongdae is also full of underground clubs and open spots, like the 'Hongdae Playground', famous among locals, international travelers and students. On the weekends, this place is full of young people looking to have a good time in its many clubs and bars, where you will see performances of local unsigned bands staged in playgrounds or vacant lots.
If you want an unusual and flamboyant shopping experience, Hongdae is the answer. Flooded with unique fashion accessories, Hongdae streets are dotted with shops bursting in character, offering eccentric fashion items.
Local Tip!
Hongdae is full of entertainment spots, but if you want to try something different, we suggest visiting the 'Prince Edward Noraebang', a popular karaoke place in the middle of Hongdae. Despite the somewhat tacky name, it's a really cool place, famous for its rooftop terrace and a giant patio area, where you can enjoy amazing views of the Hongik University area and its urban surroundings!
Image: Club Cocoon and Club Street, Hongdae.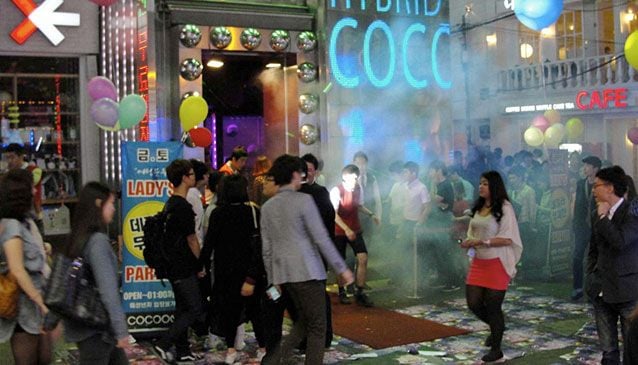 Shops and restaurants influenced by Europe, India, Pakistan, Egypt, Turkey, Malaysia, Thailand, and Mexico are widely available in Itaewon making the streets colorful and vibrant in terms of language and appearance. The restaurant scene in Itaewon may very well be the most progressive in Seoul, as Seoulites are beginning to discover the excellent culinary opportunities in and around the streets of Itaewon.
Many local residents and visitors of Itaewon tend to have American origins (both Military and civilian) but an increasing variation of language and culture is gradually establishing.
At night Itaewon really comes alive. The area is notorious for its nightlife. It has been labeled the nightlife and entertainment district for a substantial period of time, young seoulites today now recognize the growing fashion and dining scene in itaewon. Having said that nightlife is still what Itaewon is best known for. It is hard not to find a place to your liking. Itaewon has a reputation of being liberal and tolerant therefore you can also find gay/lesbian bars etc. In this colorful district the streets open up to; world class clubbing, numerous smaller clubs, bars and lounges, Irish pubs, craft beer tap houses, sports bars, upscale hotel bars, cigar lounges, martini bars, hostess bars and Russian karaoke bars. Itaewon offers an immense variety of nightlife, that caters for an array of people both tourists and locals.
Local Tip!
It's hard to come up with one local tip when visiting Itaewon, there are simply too many to choose from. If you're into shopping: Venture into the small alleyways and side streets off the main road behind McDonalds and you'll find an assortment of smaller, unique shops. If you're into western food, try the side street behind Hamilton Hotel, it's booming with restaurants from every corner of the world. Last but not least, if you're into partying...simply walk down Itaewon main road on a Friday or Saturday night and you will find an abundance of small mobile bars and soju tents ready to fulfill your appetite and party desires. 
Image: My Chelsea, Itaewon