Vive Le Français! Seoul's Own French Quarter
Food & Drink
Paris Croissant resembles the myriad of Korean bakeries masquerading a French influence
By Ryan Walters for My Guide Seoul
If food and drink comprises the most essential part of culture, then Paris Croissant, a true French bakery, is the Mecca for Seoulites looking to find a piece of France in Korea's capital city.
Upon walking in, Paris Croissant resembles the myriad of Korean bakeries masquerading a French influence (Paris Baguette and Tour Les Jours come to mind), but after just a few minutes inside, you realize that this place is much more special.

Three stories tall with a basement level, Paris Croissant has everything French you might want, and placed halfway up Seorae Village's main hill, it serves as the cultural anchor for the whole neighborhood. Here you will find (real!) bread, baguettes, danishes, sandwiches, tarts, quiche, and much, much more. On the basement floor, there is imported French cheese. Cakes. Wines. Madelines. Everything. Take it away with you or eat in, Paris Croissant has you covered; the second floor is a brunch cafe; the third floor is rooftop terrace.
For people looking for a piece of France in Seoul, Seorae Village - and Paris Crossaint is not to be missed.
How to get to Seorae Village? Take exit 5 out of Express Bus Terminal station. Walk straight out the exit, along a tree-covered path, until you get to a bridge that crosses the street., cross it, and turn right up the hill and walk about 5 minutes.
Address: 95-9 Banpo-dong, Seocho-gu
Telephone: +82-2-3478-9139
Hours: 7am - 11pm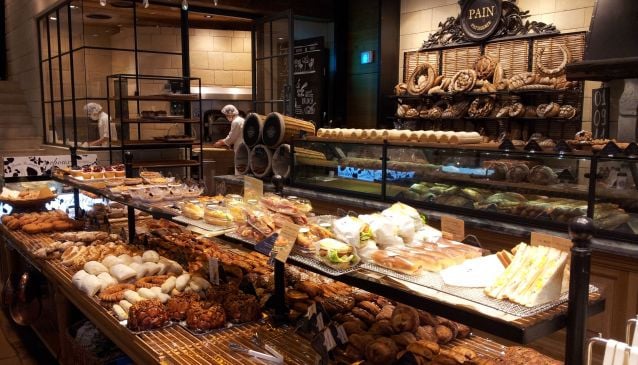 Directly across the street from Paris Croissant is O' Fête, a wonderful coffeeshop and bakery.

Although there are thousands of coffeeshops and cafes in Seoul, this one is set apart by its 10,000 won brunch menu. There are a variety of different brunches to choose from, including a bagel sandwich with salad and coffee, chicken sandwiches, and pastry sets. O' Fête has a normal set of coffees, teas, and juices running for about 4,000 won as well. There is also yogurt, something you rarely see coffeeshops in Seoul provide.
With indoor and outdoor seating available, O' Fête is an ideal place to get a meal, read a book, or meet with friends. There are also pastries available a-la-carte to share.
Oh, and one more thing - O' Fête has honest-to-god cinnamon rolls, something even Starbucks won't provide you!

To get here, cross the street from Paris Croissant. They are opposite each other.
Address: 91-7 Banpo 4-dong, Seocho-gu
Telephone: +82-2-532-7876
Hours: 8am - 12am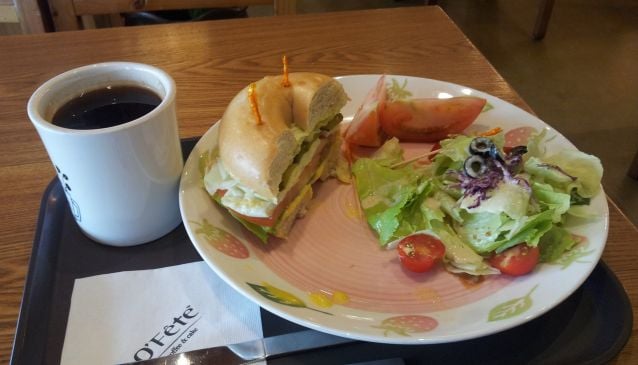 'Nara' is the Korean word for 'country' and Wine Nara is exactly that - Wine Country.  And every French quarter must have a reliable place to pick a good bottle of wine, non ?

Wine Nara is both a wineshop and a restaurant.  They have wines from every wine producing country in the world. You will find wines from France, Chile, Italy, Spain, the United States, and everywhere else that makes wine. 

They have it all - the wine list starts with bottles from 30,000 won and goes all the way up to nearly 450,000 won. They cater to every taste and every person. Whatever your vintage, taste, grape, or region, Wine Nara is the place for wine lovers. Whether you are looking to pick up a bottle to take home or have it opened for you alongside one of their delicious pizzas, Wine Nara is the place for true wine aficionados.
To get here, turn right after the overpass and enter Seorae Village. Wine Nara will be on the other side of the street, about a minute's walk from turning in to Seorae Village

Address: 92-12 Banpo-dong, Seocho-gu
Telephone: +82-2-592-9035
Hours: 10am - 2am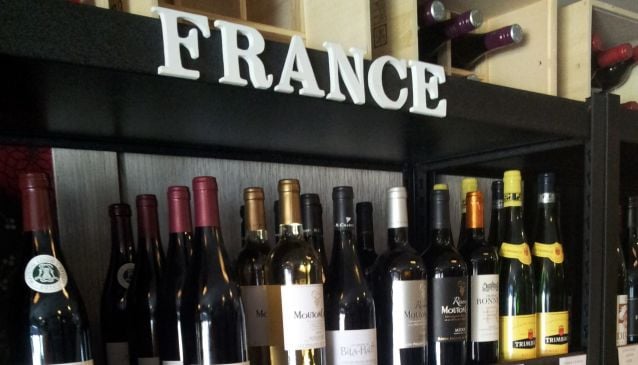 A small, cozy wine bar and restaurant in Seoul is the perfect place to enjoy a glass of French wine at candlelit table with a small group.
Their wine list is quite extensive, and is sure to please anyone who knows a thing or two about wine. Hailing wines from all over the world, you can get a tasty of the house red and white running for 7,000 won a glass. Their bottles are reasonably priced as well, with the majority of them between 30,000 – 80,000 won. Additionally, and despite their French themed name, they have a full menu of Italian style meals.
The manager, whose English name is Terry, is a class act. He's quite knowledgeble about wine, and his English is very good. He will make reservations for your party if you'd like to reserve a table or private room for your evening.
A key reason not to miss this place is their live music. On Friday and Saturday nights, Château & Relais turns into a live jazz bar in Seoul, with jazz of two different styles. On Friday nights, patrons are treated to Swing Jazz ; Saturdays entertained with Bossa Nova as well. The live jazz begins around 9:00 pm both nights, and continues on till around 11:30 pm.
Good wine and good music, what else could one ask for?

To get here, enter Seorae village by turning right after the overpass. Château & Relais will be on your side of the street and will appear before reaching Paris Croissant. You will see their sign, then go down a flight stairs to the basement level.

Address: 94-8 4-dong B1, Seocho-gu
Telephone: +82-2-3476-7617
Hours: 6pm - 3am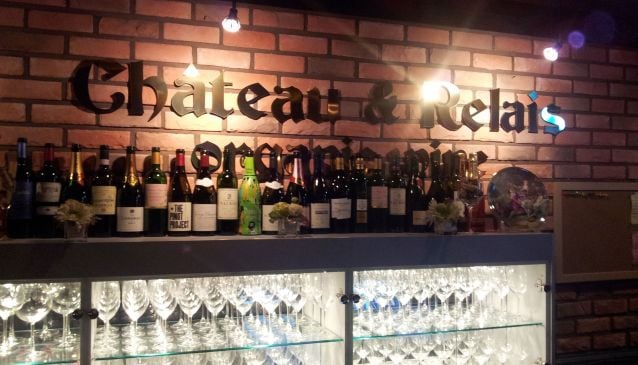 Pinot is the place where music and wine come together.
Although it is easy to find a glass of wine in Seorae Village, you'd be hard pressed to find any wine bar that takes its live music so seriously. The entire place is set up around a large stage, which is permanently setup for bands.
There are small candlelit tables directly in front of the stage so that you are just a few feet away from the performers themselves. There are also larger, comfortable couches and tables just to the right side of the stage with a perfect view of the music.

Pinot does music 7 days a week, with two performances each night. Monday to Friday, the 'Pinot Super Pop Band' performs but the weekend is where the magic is at, when the nightlife in Seoul comes alive.
Saturday night is Jazz Night, and Sunday is the Folk Concert. The first performance begins at 9pm and runs for about 45 minutes and the second begins at 10 pm and runs for about an hour. 
Because Pinot is all about wine and music, they will add a 5,000 won 'music charge' to all bills while performances are playing. This, however, is a small price to pay for a night of wine and live music in Seoul's French Seorae Village.
To get here, turn left at O' Fête. Walk down the street for about a block and you will see the sign for Pinot on your left.  You will walk down a flight of stairs, as it is on the basement level.
Address: 72-9 Banpo 4-dong B1, Seocho-gu
Telephone: +82-2-3477-7622
Hours: 5pm - 2am