10 Festive Christmas Activities to Enjoy in Seoul
Family Fun
People find ways to celebrate the holiday season all over the world, and Seoul is no different!
By Anthony Baber for My Guide Seoul
Every time Decembers rolls around, things just start to feel different. Christmas trees start popping up everywhere with magnificent decorations. Radio stations start playing every version of every Christmas song every day. Everything on TV, from commercials to shows, finds a way to include Santa Claus and his reindeer. And your friends keep trying to make you watch "Love Actually", when you'd rather watch "The Santa Claus". As the song goes, it's the most wonderful time of the year.
Even if you don't partake in Christmas traditions yourself, people find ways to celebrate the holiday season all over the world, and Seoul is no different!
If you're looking for a way to share joy and sing carols, or just do some shopping, in and around the city, we've got a list of 10 things that you have to try before it's too late...
Most people will know that Sinchon has been going through some construction recently, but this month, from Sinchon subway station to Changcheon Church, everything will turn into a massive Christmas Market.
Though the happening area is mostly known for the surrounding universities, diverse restaurants and crowded bars, you'll also be able to find rampant creativity and thrifty shopping on the streets from Dec. 21st through 29th.
You'll get a chance to take in the vibrant Christmas trees, joyous caroling, free concerts going on for the duration. If that's not hands-on enough for you, there will also be flea market for vintage shopping and a tug-of-war.
If you want updates on the hot lineups of DJs, pictures of some awesome street art, and new information as it comes, make sure to follow their twitter account...and make sure you don't miss out on the FREE hugs!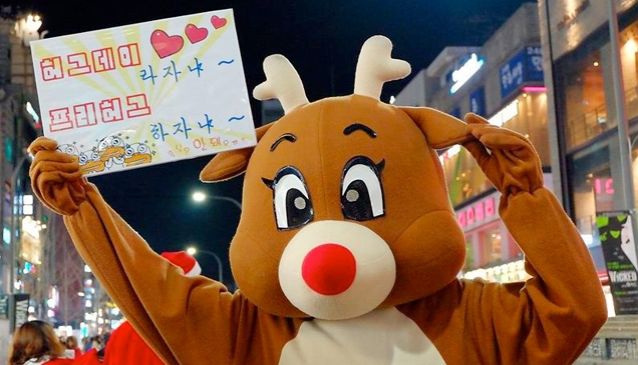 If the 10-meter, indoor Christmas tree doesn't impress you, how about double the size and double the lights?
Make your way over to Seoul Plaza Hotel, right out in front of City Hall, and check out the massive structure.
The whole area shines around the tree and visitors will revel in the magnificent decorations. Make sure to get a picture soon, since the lights will turn off on Jan. 4th, but good luck getting the whole tree in the shot.
Address: 23, Eulji-ro, Jung-gu, Seoul.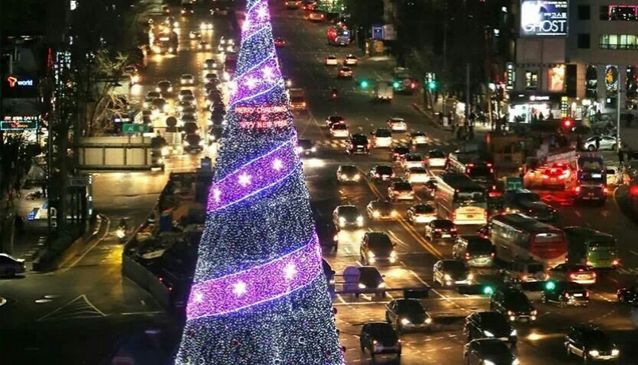 People all over the world will immediately think of Christmas when hearing "Dance of the Sugar Plum Fairy", along with each waltz and march composed by Tchaikovsky for The Nutcracker ballet. The wildly popular performance is done by companies everywhere and has become a staple of the season.
In Seoul, the Universal Ballet has been performing different versions of The Nutcracker since 1986, and incorporates the choreography of famed Russian dancer Vasili Vainonen. The show can be seen almost everyday until New Year's Eve and the theater seats up to 1,200 people, so you've still got a chance.
The ticket office also offers a 20% discount for expats and foreign tourists who attend, as well as Koreans friends who accompany.
Address: Universal Arts Center- 664, Cheonho-daero, Gwangjin-gu, Seoul
For more info, please visit out events page here.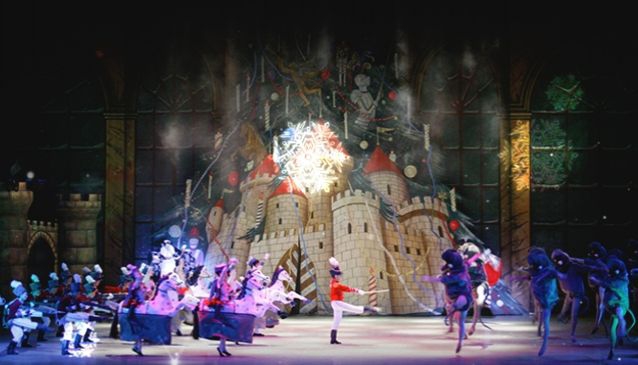 Another major Christmas event, that every member of the family can enjoy, is Lotte World's Christmas Festival.
The festival includes a Christmas Parade with Santa Claus, a collection of faeries and other Christmas characters, using song and dance to spread the cheer. There are also live shows featuring Cinderella's preparation for the ball and the Lotte World mascot, Lotty, as he and friends share in the spirit.
If you're interested in getting a look at everything the park has to offer, including the 20-meter-tall Christmas tree, hop on the Christmas Tram and let Lotty give you a tour around the park.
If music, parades and performances are what you're looking for, Lotte World will offer the Grand Christmas Festival until Dec. 31st and admission prices can be found on their website (in English).
Address: 40-1 Jamsil-dong, Songpa-gu, Seoul.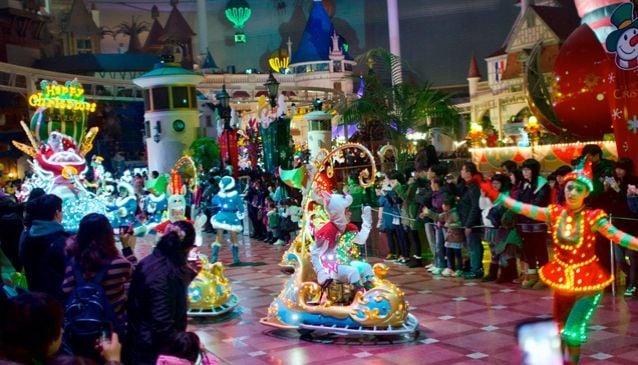 Lotte World isn't the only amusement park getting into the holiday spirit, as Seoul Land, right on the edge of the city, offers its own host of events for the season.
One of the main attractions is a performance where Ebenezer Scrooge and a pack of wolves try to ruin Christmas for Red Riding Hood and her friends of the Character Village. You'll also find an incredible light show, in Tomorrow Land, which includes festive carols sung by your favorite characters from fairy tale worlds.
Don't forget to enjoy the parade, rides and games that can be found around the park until Christmas Day. You can find English information about the event here.
Address: 181, Gwangmyeong-ro, Gwacheon-si, Gyeonggi-do.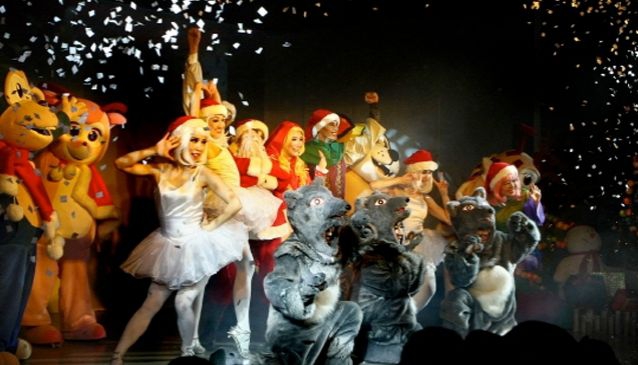 Sledding is a great activity for everyone, but especially fun for the kids. Those wishing to slide around on their bottoms need look no further than the Korean Children's Center in Gwangjin.
Just a short walk from Children's Grand Park station, families can also enjoy an outdoor game area, including traditional folk games and smelt fishing on a frozen pond.
The park is open from 9:30am until 5pm, and price of admission is 8,000 won during the week and 9,000 won on weekends, with sled rentals available by request.
Address: 18-11 Neung-dong, Gwangjin-gu, Seoul.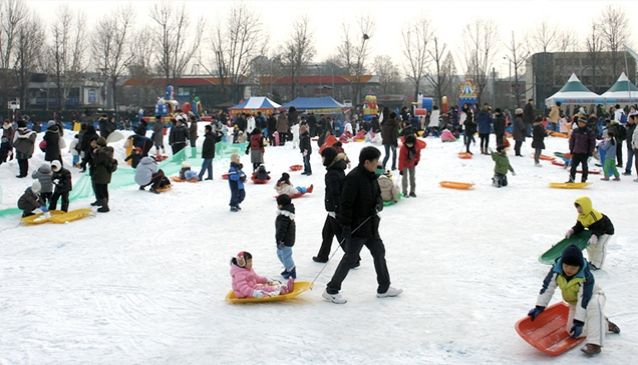 If sledding seems a bit too childish for you, there's a multitude of ski resorts around Seoul that will get you into the holiday and Olympic spirit.
Friends and family members can spend a weekend or take a day trip to any of these great venues and tear up the slopes. Though there are some spectacular spots throughout Korea, if you're looking to stay close to the city, one of the best choices to make is Konjiam Resort.
Boasting eleven double-width slopes, three ski lifts, and a maximum occupancy rule that keeps lines short, Konjiam is a major attraction for skiers and snowboarders. And after you've spent the day exerting all of your energy going down the 1.8km trails, use the evening to relax at the spa.
Address: 540 Doung-ri, Docheok-myeon, Gwangju-si, Gyeonggi-do.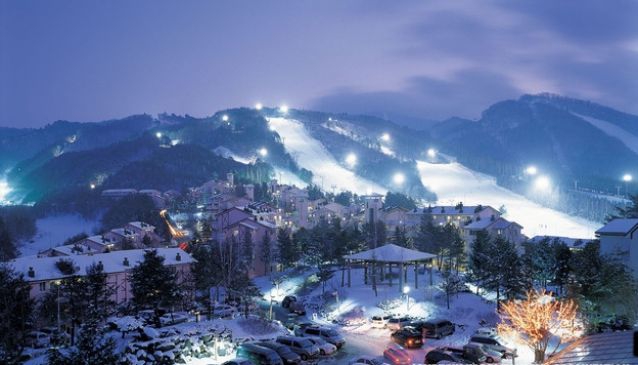 If you've ever indulged in stereotypical Christmas movies, there's always a moment where friends come together or lovers finally connect on a frozen pond, lake or rink. If your eyes water those scenes, you'll have a chance to reenact them in the venue of your choice.
First, the Grand Hyatt Seoul features ice skating year-round at their indoor rink. This location will be most memorable to fans of various Korean dramas and is a great idea for a date. Although there is a 19,800 won admission fee and 15,400 won rental fee on weekdays, there is a 50% off promotion for couples on Mondays and a completely free skate on Thursdays.
Address: Grand Hyatt Seoul- 747-7 Hannam-dong, Yongsan-gu, Seoul
Also, Seoul Plaza's outdoor ice skating rink opens for its tenth year, as another Christmas favorite in Seoul. If the giant Christmas tree isn't enough to keep you entertained, strap on some skates and get on the ice. The rink incorporates colorful lighting and a gorgeous view of the city for the whole family, including a smaller section specifically for children.
Admission is only 1,000 won per person and skate rental is completely free. The rink will be open Monday through Thursday until 9:30pm and Friday through Sunday until 11pm, but closes down on Feb. 28th.
Address: Seoul Plaza Hotel 23, Eulji-ro, Jung-gu, Seoul.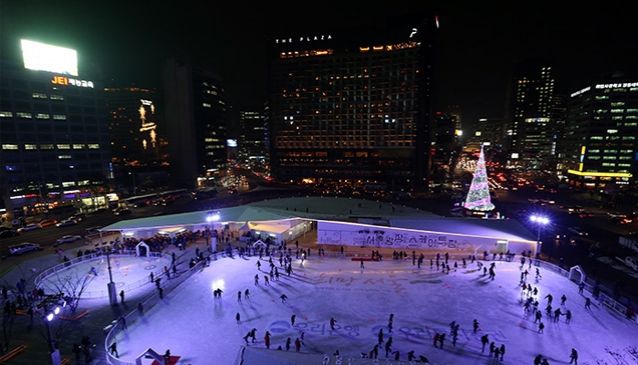 If homemade holiday meals are what make you the most homesick, there are numerous restaurants in Seoul and hotel buffet's that can fulfill your hunger.
Even though it's close to Christmas, there are still some restaurants that offer last minute options for a good price.
Yaletown Burgers & Bar, in Sinchon, is usually known for their All-You-Can-Eat fries and beer pong tables, but come Christmas, it's a different story.
From 5pm until midnight, you can get a simple meal of turkey, mashed potatoes and stuffing, for just 20,000 won. Seats are first come, first serve so it's a good idea to get there early.
Address: Yaletown- 33-5 Changcheon-dong, Seodaemun-gu, Seoul.
Dillingers Bar & Grill in Itaewon is also providing some good will and dishes on Christmas Day. Along with the traditional sides and mains, you can also sample the shrimp salad and pork ribs for some variety.
The meal includes a cheesecake for dessert and a free drink, which will only cost you 30,000 won. Tickets for the dinner should be purchased in advance and are available until Dec. 24th.
Address: Dillingers- 64-52 Itaewon 1(il)-dong, Yongsan-gu, Seoul.