Best Lasik Lasek Eye Surgery Clinics in Seoul Korea
Editorial
Laser eye surgery in Seoul South Korea
Seoul is well known for offering world class medical procedures, and especially plastic surgery procedures. Global media has labeled Seoul the capital of plastic surgery as there are more than 1500 clinics in the Gangnam area alone, most of them concentrated in a small district of Seoul called Apgujeong.
It is no secret that South Korea is the most cosmetically enhanced country in the world. Although it may or may not sound flattering, one can be sure to say that Korean plastic surgeons are some of the most experienced surgeons in the world. But it does not end there.
Medical Procedures Seoul
Medical procedures in general are of high standard in Seoul. Medical tourism is booming and thousands of customers every year confirm that South Korea is really the majority's first choice when it comes to getting medical procedures of any kind done in Asia. Customers especially appreciate the abundance of choices available, top-notch doctors, and yet being a less costly alternative compared to other developed countries. One such medical procedure that we believe is well worth a trip to Seoul is laser eye surgery or, vision correction.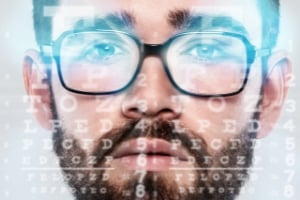 Every single person that has had laser eye surgery say it was the best decision they ever made. Here at My Guide Seoul one person has also undergone a vision correctio surgery. One of our writers had LASEK in Seoul. She originally wanted to do a LASIK procedure due to the fast recovery, but her cornea was too thin and her vision too bad, so she did the LASEK instead and hasn't regretted it since.
There is LASIK, LASEK and SMILE when talking about laser eye surgery. LASIK has faster recovery and LASEK takes longer for recovery but is cheaper. And then there is SMILE which is very new technology but is also praised as the best laser eye surgery option. This is what we have to say about LASEK laser eye surgery in Seoul.
LASEK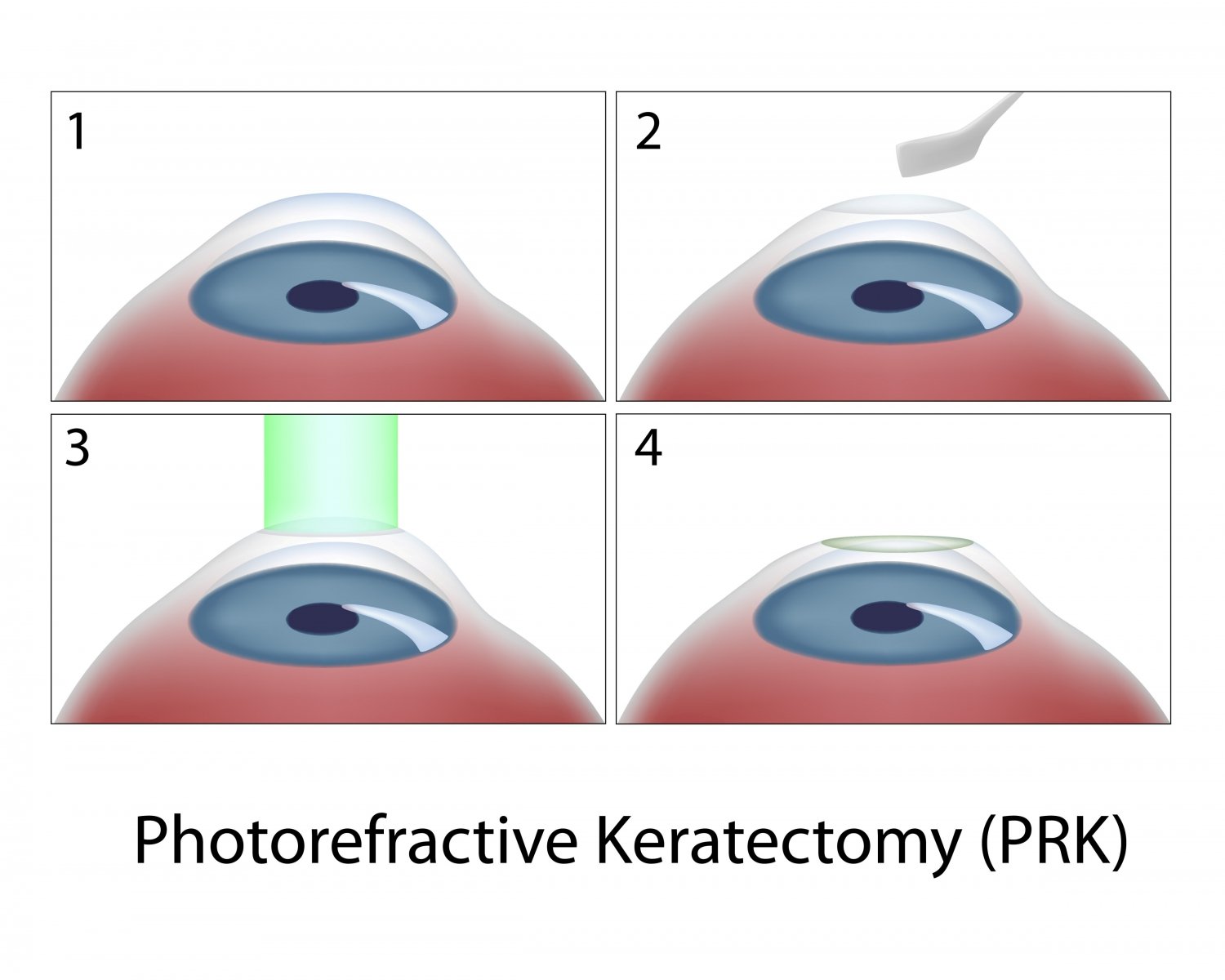 For those of you considering a LASEK procedure, it doesn't hurt, and risks are minimal, but be prepared, the consultants will tell you that your eyes will feel uncomfortable and that your vision will be blurry right after the surgery and they definitely will.
The first three days are pretty uncomfortable, right after the surgery; you will not be able to open your eyes very well. It's hard to open your eyes because they are so sensitive to light. The best way is to spend a day or two at your hotel or wear sunglasses for a few days. It doesn't hurt but it can be uncomfortable and a bit scary not being able to see much. You may even regret having done the surgery for the first few days, but on day 3 or 4, your eyes will get better and you can slowly open them again. We recommend that you stay with someone who can take care of you for the first three days. Having said this about the first three days, there is not a single moment of regret now and we would recommend it to anyone who are considering getting their vision corrected!
LASIK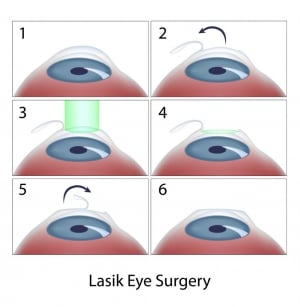 Regarding LASIK, thousands of businessmen, diplomats and foreign celebs have all had LASIK done in Seoul and they are all extremely happy with their results. LASIK is a little different than LASEK. It can be seen as the second generation of laser eye surgery.

LASIK is performed by cutting a flap in the eye and then using a femtosecond laser to correct the vision. The flap is then closed again after the procedure. LASIK is better in many ways because you can heal faster, which means less down time and patients experience almost no discomfort afterwards.
SMILE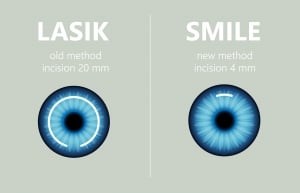 SMILE
surgery is one of the newest laser eye surgery methods in the world, third generation vision correction. It has only been around since 2017. Even though it is very new technology the procedure has already been performed tens of thousands of times in Korea alone.
The reason for SMILE's popularity is due to its minimally invasive nature. With Smile only a small 4mm incision is made in the cornea. As opposed to a bigger one for LASIK, or having the cornea completely removed, as is the case with LASEK. This means there is no discomfort when receiving SMILE and you can expect to be completely healed in 1-2 days. SMILE is the best laser eye surgery on the market at the moment, but that also means it is more expensive than the first and second generation. It is also not possible for everyone to get SMILE, having super thin or thick corneas will exclude you from being eligible. But those who can afford it, and are prime candidates, this is by far the best choice.
Clinics
Below we will feature those clinics and contact info. Most eye clinics have free eye examinations and consultations so it is perfectly fine to check out several places before you go ahead and get your vision corrected.


Bright Eye Clinic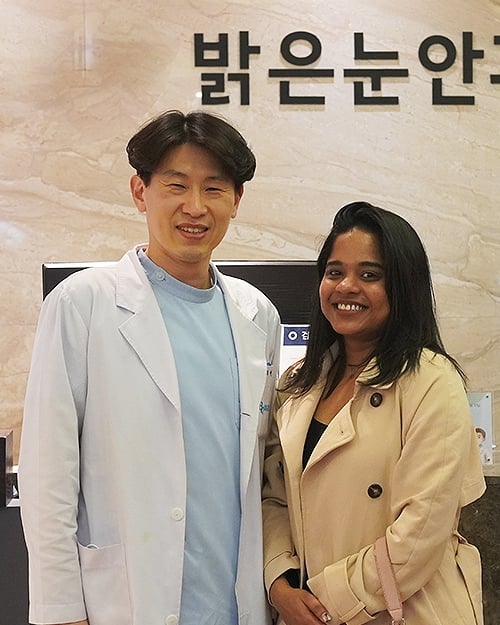 Bright Eye Clinic, which is located in Kyobo Tower, a landmark building in Gangnam, is equipped with the largest medical examination and surgical facilities in Korea. After introducing VisuMax in 2009, the first SMILE Lasik equipment in Asia, the clinic has achieved 100,000 Smile Lasik cases in 2022 and has been recognized for its leading technology and medical system in the world. Patients from 40 countries around the world are visiting Bright Eye Clinic to improve their eyesight.


B&VIIT Eye center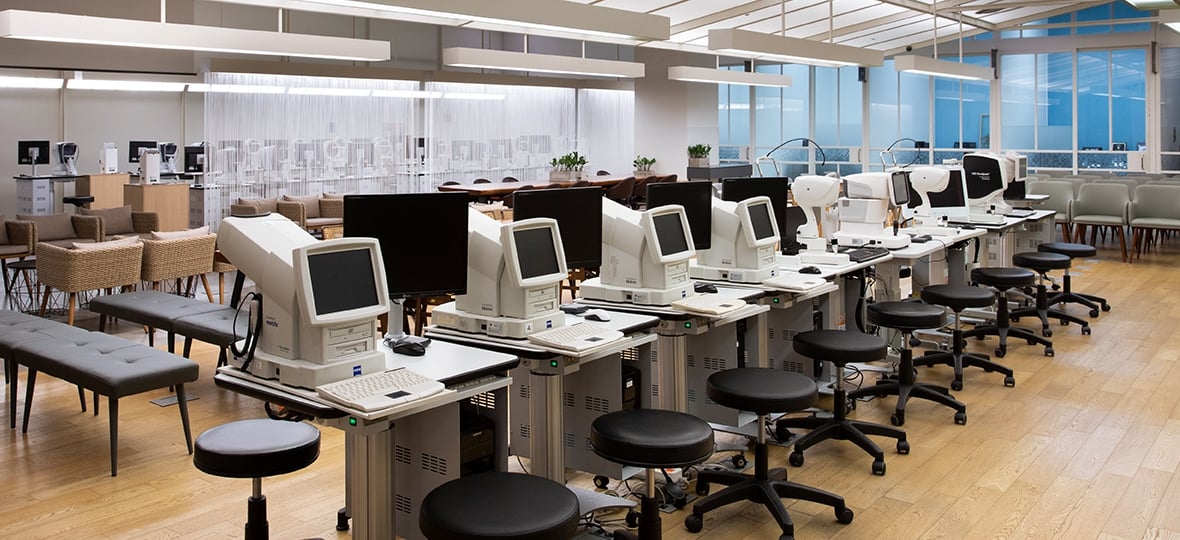 B&VIIT Eye Center is the premium eye clinic in Seoul. They boast with over 500,000 completed procedures and they have also recently incorporated state of the art AI technology that accurately makes assessments of the eye. B&VIIT has helped celebs, movie stars and singers to get their vision corrected. Our friend, Bastian, who was a German student visited B&VIIT and was amazed how simple and effective his SMILE surgery was.



Glory Seoul Eye Clinic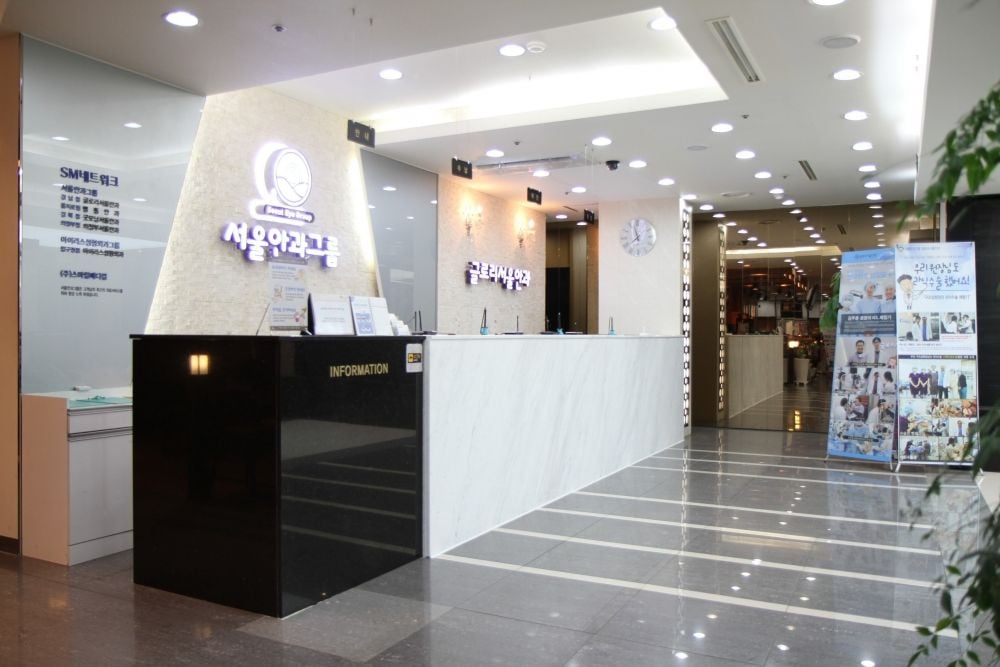 We had a friend here who went here for LASIK and he was very pleased with the clinic and procedure. Glory has treated thousands of foreigners and they are pretty much the choice of clinic in Seoul. Competitive prices, centrally located right by Gangnam Station and Doctor Kim speaks good English.