The Guide to Plastic Surgery in Seoul
Adventure Lifestyle Retreats & Relaxation
A guide for first timers coming to Seoul
South Korea is known for its unique culture, amazing food, and incredible technology, but it is also home to one of the largest plastic surgery industries in the world (TheNewYorker). With 1000s of clinics in Seoul, the capital city, South Korea hosts 100,000s of foreign visitors each year for cosmetic and other medical tourism. (PulseNews)

While many people visit South Korea for plastic surgery, figuring out which clinics to pick for a consultation, navigating language differences, and understanding the industry as a whole can be difficult. The best way to figure out what to do is to become informed. Here are some common topics about plastic surgery in Seoul, South Korea.

Best Ways to Figure Everything Out

Shin Medical is one of the top medical tourism concierge providers in South Korea. They specialize in helping patients with their entire medical journey, including: connecting with plastic surgeons through online consultations, planning their trips to South Korea, on-the-ground transportation, payment solutions, pre and post procedure care, and longterm communication with their doctors.
You can get started with a consultation:
Shin Medical
Real Self
Real Self is an online healthcare marketplace for beauty treatments. They help potential patients connect with physicians, mostly in western countries, and they are a great place to read reviews about different doctors. In the past few years, Real Self has become popular with US residents.
Real Self

This web forum is primarily about handbags, but a sub-thread has become a flourishing community for plastic surgery discussions. Patients, clinics, and everyone else have been reading and reviewing on Purse forum for over a decade. It is not uncommon to have learned about a clinic or a doctor from someone's experience on the forum.
Purse Forum
Where is Everything Located?
In Seoul, almost all plastic surgery clinics are located in Gangnam, like the song. It is easy to visit a clinic from any major hotel or AirBnb in the area. If you want to take Seoul's amazing public transportation, you will find most clinics at one of four subway stations: Apgujeong, Sinsa, Sinnonhyeon, and Gangnam. The cost of a subway trip, from start to finish is about $1. You can also use a concierge service to handle all of your transportation to and from your consultations and procedures.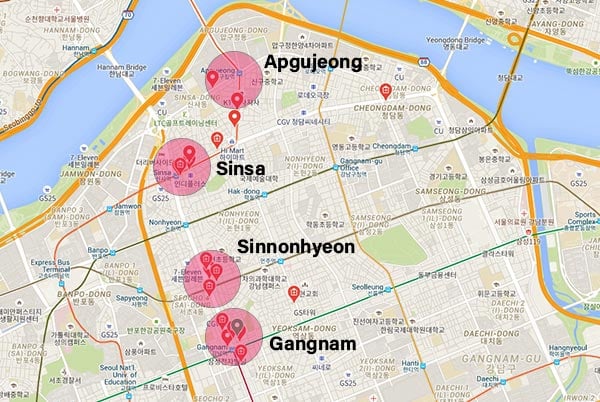 Picking a Clinic
If you want to do the research, picking a clinic for your procedure takes time and consideration. RealSelf and Purse forum have plenty of reviews to help get a sense of which clinics are preferred by patients. Also, as new clinics are created yearly, it can be helpful to see which clinics are up and coming. Many clinics have Instagram accounts and they tend to post before and after photos of their surgeries, so this can be a good way to find out if you like their style.
South Korea is a global country and they support all major credit cards for almost all transactions
South Korea is a global country and they support all major credit cards for almost all transactions (except for adding money to your public transit card in a subway station). Almost all clinics accept credit cards for their procedures. You may want to check with your credit card company in advance so they can remove any international or limit holds on your card.
Prices range from clinic to clinic, but here are some rough prices for different procedures:
Average prices for common surgeries in Seoul
Treatment Name
Avg. Price
(in 1000 krw)
Double eyelid (Non-incisional)
1400
Double eyelid (Incisional)
2000
Droopy eyelid (Upper Blepharoplasty)
2500
Ptosis
2750
Lower Blepharoplasty
1500
Rhinoplasty
3750
Alar Reduction
1500
Deviated nose
7000
Nose reduction
6500
Hair transplant
8000
Facelift
12000
Jaw surgery
7000
Chin surgery
4500
Breast augmentation
11000
Breast reduction
12000
Nipple reduction
2000
Breast reconstruction
18000
Fat grafting (depending on location)
2000~15000
Vaginoplasty
5000
Botox
200~800
Laser
500~1500

Language and Translations
South Korean's speak Korean and most clinics only have Korean speaking staff. This can make getting a consultation or procedure difficult but there are ways to solve this. We recommend either asking a Korean friend to help, hiring a translator, or working with a medical tourism agency. Translation services are provided in a variety of languages by the
Gangnam Medical Tour Center
.

Preparing for Your Trip
Before purchasing your plane ticket, it is a good idea to make sure you know how long the recovery time is for your procedures. We also recommend scheduling your consultations and procedures in-advance with the clinics you will visit. Clinics differ on availability and peek-times, so it's best to get everything set up before booking a flight. Some clinics require a deposit to reserve your date and price.
Seoul has many
restaurants
, convenience stores, and shopping centers, so it won't be hard to find something you need, at almost any time of the day and at a good price. If you bring the common items you need, you should be fine to pick up any other things when you arrive in Seoul.
Lately, due to COVID-19, the South Korean government is requiring some amount of time quarantined before you can travel around the country. We recommend you research online prior to booking your trip.
No matter what you decide to do, you're sure to find the plastic surgery you are looking for in Seoul
Seoul is the world's plastic surgery capital of the world. With it's many doctors, affordable procedures, conveniently located clinics, universally accepted credit cards, and tons of amazing things to do, Seoul is an attractive place to go for plastic surgery. You can use the many online services to research clinics and doctors, or you can use a concierge service like
Shin Medical
to handle everything for you. No matter what you decide to do, you're sure to find the plastic surgery you are looking for in Seoul.
*NOTE: The information in this article is meant for informational purposes only and is not a substitute for professional medical advice. Please consult your doctor before making any medical decisions.