Top Five Date Spots in Seoul
Inspiration
Street musicians come down from the upper levels of the city to serenade the night...
By Ryan Walters for My Guide Seoul
Seoul is a city of lovers. Go into any busy, public area and you're likely to find couples on dates, they're easy to spot.
In Korea couples often wear 'couple outfits' which can range from sporting the same t-shirt to having complete matching outfits, right down to the color of the shoelaces. Whether you're into that kind of thing or not, Seoul offers everything you need to go on the perfect date, from scenic parks and intimate bars to cityscape views from mountain tops.
Here are five recommendations for Seoul's best date spots...
N Seoul Tower
We would be completely remiss if we did not mention going on a date to N Seoul Tower, Seoul's signature building.
Located at the top of Mt. Namsan, N Seoul Tower is the most traditional place to take somebody special to see the entire Seoul skyline; it's simply a must do and best done at night.
The cable car fee to get to the top of the mountain is only 9,000 won per person. The cable car ride is a lot of fun in itself as you can start to see the city become smaller and smaller. Once at the top of the mountain, you have to take a ticket and wait for your number to be called to ride up the elevator to the top. From the top of the tower you can see all of Seoul's most famous places; Myeongdong, City Hall, 63 Building and Gangnam are all visible and neatly surrounding the Han River.
The room at the top of the tower is shaped as a circle offering you a complete 360 degree view. For hungry souls, there are two restaurants at the top; Hancook (Korean) and N.GRILL (French).
If you don't mind a bit of a walk, once you come back down off the mountain in the cable car, Myeongdong is within reasonable walking distance - it only takes about 15 minutes to get there. Myeongdong -  the heart of Seoul has plenty of restaurants and shops to explore and definitely serves as a great evening out.
Tip for a great date: Seal your love with a love padlock at the top of N Seoul Tower. On the fence outside you can see thousands and thousands of padlocks attached to the chainlink fence. Bring a lock, write your names on it and lock it to the fence.
To get to N Seoul Tower, a taxi might be the easiest option although there are Shuttle Buses at various locations. Shuttle Bus #3 picks up at Seoul Station every 20 minutes. You can also walk from Myeongdong Station by coming out of exit #3 and walking uphill following the right side of the Pacific Hotel. 
Telephone +82-2-3455-9277
Address: 105, Namsangongwon-gil, Yongsan-gu
Hours: 10am - 11pm.
Image by Nicole from bittenbythetravelbug - you can follow her awesome travelblog here: bittenbythetravelbug.com.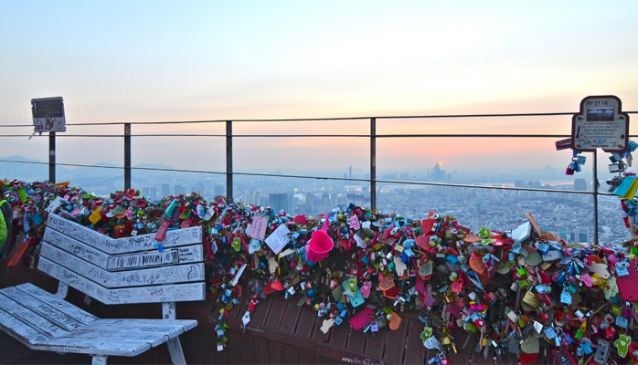 If you're really looking to impress, bring your date to what might possibly be a one-of-kind garden in the world: atop a skyscraper in the
heart of Seoul
.
Positioned on the 8th floor of the Daehan Cinema in Chungmuro, Sky Garden is a rose garden unlike any other.
The garden itself is small and well kept. There are many different varieties of roses and other flowers - all with small name plates identifying each one. Off to the side there is a small patio with tables and chairs. To the other side of the garden is a small coffee shop.
While it doesn't take very long to view the entire garden, viewed at either day or night, this is a beautiful and intimate place. The flowers themselves are captivating but with the outline of Mt. Namsan in the backdrop, with
N Seoul Tower
 lit up at night so close that you can see the cable cars ferrying people to the top, this Sky Garden is a place you simply can't afford to avoid on your next  date.
Tip for a great date: Go see a movie at Daehan Cinema and then use this garden as a surprise ending. To access this garden you'll need to use the elevator. Since you will need to use the elevator to get to your theater anyway, after the movie ends and you're about to exit the theater instead of pressing down to B1, press 8 to go straight to the top. The garden is immediately outside the elevator doors.
To get to Daehan Cinema and the Sky Garden go to Chungmuro Station on Line 3 and use exit #2. This will take you directly into the cinema and the elevator to the garden is on your right as you walk in.
Garden Hours: 9am - 8:30pm.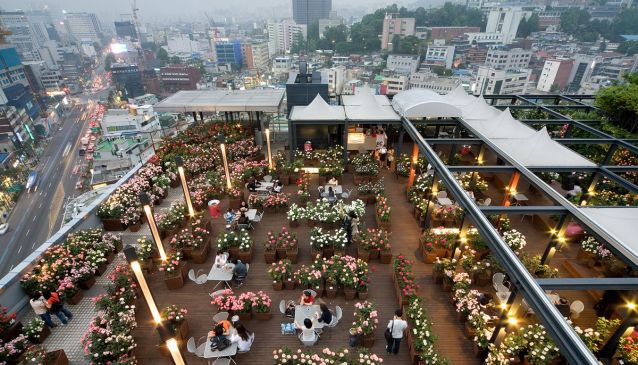 The perfection of Samcheongdong as a date destination cannot be overstated. It's a district that appears to be custom-tailored for couples with its seemingly endless cafes and coffee shops, wine bars, restaurants and art galleries, Samcheongdong might just be one of the best places to go on a date in Seoul.
Located on the right hand side of Gyeongbokgung Palace, Samcheongdong has a very sophisticated and artsy feel. Along both sides of the street are numerous places to dine; traditional Korean restaurants and modern Korean as well as foreign food establishments - serving Western food (especially Italian) restaurants. It's almost impossible to go wrong here.
In between all the restaurants, you will find tiny art galleries where you can stop in for a moment while looking for a place to eat or drink and next to these are small independent coffee shops.
There are so many excellent places here, it is impossible to recommend just one, however, we at My Guide Seoul are personally big fans of 5 Cijung Cafe located at the beginning of the Samcheongdong main street, this place serves up the best homemade scones in all of Seoul!
Tip for a great date: Get lost. Although a good date is typically well thought out and planned beforehand, take the opportunity to be spontaneous by getting yourself lost in Samcheongdong's sidestreets.
Samcheongdong has many great places to eat and drink on the main street but for the best experience turn into the alley on the right hand side at the beginning of Samcheongdong and start exploring! 
Inside the side streets, there are limitless things to do. Many of the buildings are constructed in a traditional Korean style, adding to the ambiance of the evening. Just strolling around and enjoying the scenery at night makes a perfect date and do include the street performers who come out at night.
The endless choices here makes Samcheondong a must do for your next date.
To get to Samcheongdong, take bus #11 from Seoul Station. It will take you past Gyeongbokgung Palace and travel along its right side, the bus will turn right up a hill after a few minutes, get out right at the bottom of the hill.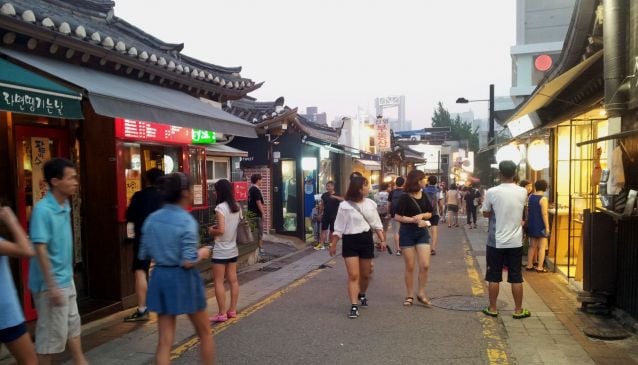 One of the perks of living in Seoul is the fact that the city is awash with riverside parks alongside the Han River. Seoul is dotted with city parks on the Han, stretching along nearly the entire length of the river. The most well-known and famous of these is Yeouido Hangang Park.
Here you can be out in the sun walking along the river with the green park on your left and views of the city across the river on your right. People can be seen here flying kites, riding bicycles or spread out on blankets having a picnic. It's a wonderful place to see and be seen and it is a definite hotspot for Seoul's couples.
If the weather holds, you could spend an entire afternoon here. There are convenience stores and coffee shops selling snacks, chicken, and beer nearby and unless it gets a bit chilly, there's no reason to leave.
Tip for a great date: Rent bicycles! Just behind Yeouido Hangang Park is Yeouido Park, an urban park with basketball courts and a small tree-covered nature walk. You can rent all variety of bikes there by the hour for very cheap, including tandem bikes. Get on a bike and enjoy Hangang Park's bike paths that run across the entire river.
To get to Yeouido Hangang Park, take line 5 (purple) and get off at Yeouinaru Station and exit either out of #2 or #3.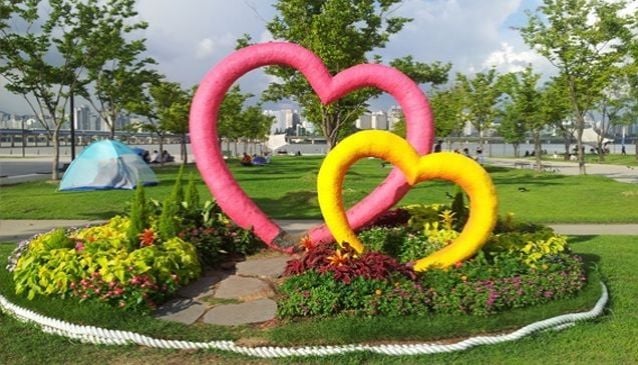 Cheonggyecheon is a man-made stream built underneath the street level, beginning at Seoul City Hall. Don't let the fact that it was made-made turn you off, because it works wonderfully as a blend of nature and city, fusing the two into a surprisingly intimate setting. Multitudes of couples can be seen strolling down the stream, hand in hand.
After about ten minutes from entering from City Hall, Cheonggyecheon becomes covered with trees and bushes. As you continue down the stream the city gives way to the quiet sound of water running through the stream and although the street is just overheard, the stream seems soundproof to the city noise. Unbelievable - but true!
Despite being right in the heart of downtown Seoul amongst towering skyscrapers, Cheonggyecheon gives the illusion of a natural rivulet where people take quiet walks together.
Although Cheonggyecheon is beautiful any time of the day, it's definitely advisable to come here at night. Around 8pm street musicians come down from the upper levels of the city to the stream level to serenade the night with guitar and voice. The stream lights up just enough to set a relaxed nighttime atmosphere. There are plenty of secluded places to stop along the stream as well.
When you're ready to continue your evening - you can exit the stream by staircase from almost anywhere. When you get to the top you'll find yourself right in the middle of Jongno's busy nightlife district filled with bars, restaurants and all the rest of the wonders Seoul is famous for!
Tip for a great date: Make a wish - at the City Hall entrance, there is a specially lit pond where you can throw in a coin to make a wish. If you don't have any spare change with you, don't worry - there's a change machine set up that exchanges bills for coins...and if you really want your wish to come true, make sure you step on the stones in the stream to get a better throw!
Because Cheonggyecheon is such a large stream, you can access it from many different points but we recommend starting from City Hall. Walk out exit #4 and go straight for about five minutes and Cheonggyecheon will begin on your right hand side.