Itaewon in a Day
Inspiration
This is the kind of place that you discover by mistake
Once seen by many Koreans as a place reserved for foreigners, Itaewon has grown up in recent years. Transforming from a foreigner-friendly shopping area with a somewhat seedy nightlife, into a cosmopolitan district of diversity, Itaewon has put on a new face and is now packed with plenty of fun things to do, and lined with some of the best restaurants in Seoul; Italian to Indian, Greek to German, Persian to Pakistani, French to Thai… choices abound.
Here's My Guides Seoul's guide to how you can spend a day in Itaewon.
10 am
Believe it or not, we suggest hitting the gym! What better way to start the day after a hearty breakfast than burning some extra calories to make room for all the eating you'll be doing along the way? Visit Kim's Gym; it's not upmarket, but it's convenient and clean. The walk-in fee is only 7,000 KRW. The owner Mr. Kim speaks English; he is very friendly and likes visitors.
In Seoul, you can walk in and work out coming straight from a business meeting in a suit. Most gyms provide shorts, t-shirts and towels. What else do you need? Oh, right, shoes…well if you forgot those, be happy you're in Korea; you can buy cheap sneakers on almost every street corner in Seoul, especially Itaewon.
12.00 noon
It's time to eat lunch and since you've just hit the gym, you might want to stay on the healthier side (at least for this meal, indulge later)! Why not go for Japanese? One of the great things about being in Seoul is the close proximity to Japan and the vast amount of Japanese restaurants around. We at My Guide Seoul love Japanese for its clean taste and natural ingredients. Located a 10 minute walk towards Noksapyeong Station, a bit tricky to find, but worth the search is Kokoro Bento, a Japanese bento lunch restaurant. Bento boxes typically consist of rice, vegetables and different meats, fish or tofu and soup. It's healthy and delicious.
If you're into something non-asian, but still healthy, we recommend Santorini. Here you can munch on moussaka, greek salad and souvlaki chicken skewers…and by the way, their tzatiki is amazing. A healthy option, and definitely worth trying if you're in the Mediterranean mood.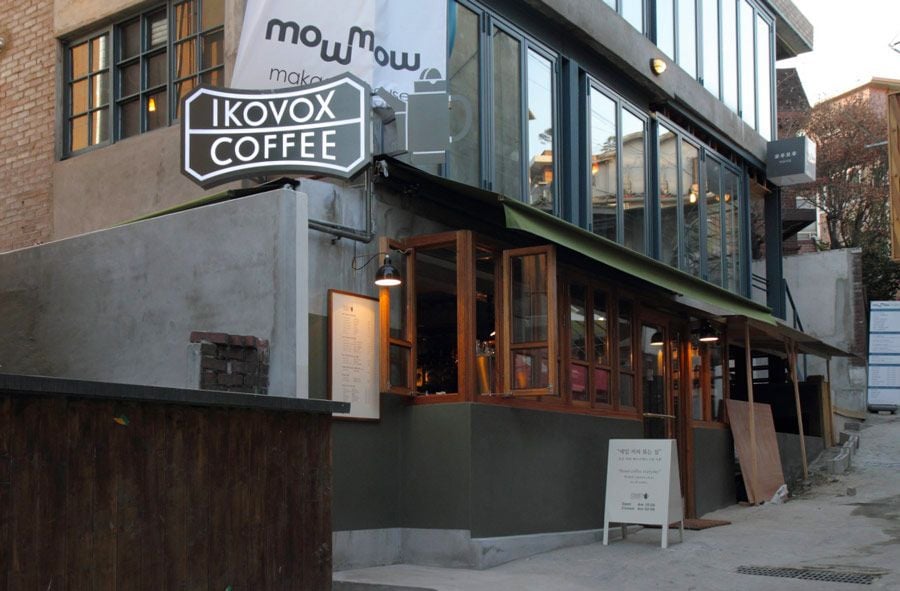 1.30pm
Now you've just had lunch, and are hopefully full of energy. Visit the Leeum Samsung Museum of Art, located in Hannam-dong, a convenient 10-15 minute walk from your current location. Its architectural space and views are amazing and the museum itself is a must-see when in the area, not only if you're into art or architecture, but also for the great views of the city offered here. Leeum portrays Korean as well as foreign artists and is a great place to explore the artistic scene in Seoul.
4pm
After visiting Leeum, you might need a moment to relax and, even more so…rest your feet. Looking for a coffee shop? Don't forget, you're in Korea and the number of coffee shops here is impressive. Stroll back down Itaewon main street towards Noksapyeong. We suggest getting your coffee fix at Ikovox Coffee, located in the alley behind Hamilton Hotel, just up the road on the right, after My Thai China. It has a trendy outdoor space, small but cozy and if you're lucky, you might even catch a crew of Korean girls preparing a photo-shoot or modeling for their online shopping mall. What can we say…this place is cool, the smell of roasted beans is heavenly and the coffee likewise.
5.30pm
It's time to get back on your feet. Head back to the area where you had lunch; it's worth it. This is the best shopping area in Itaewon. You'll be surprised to find so many small shops with hand-made and unique items, such as bags and small artifacts. A great place if you're gift shopping or looking for something unique to take home, or expanding your wardrobe. This small maze of shops, cafés and restaurants is a true hidden gem in Itaewon. This is the kind of place that you discover by mistake, because you're lost or because you decided to take another route home (or even better, because someone secretly showed you).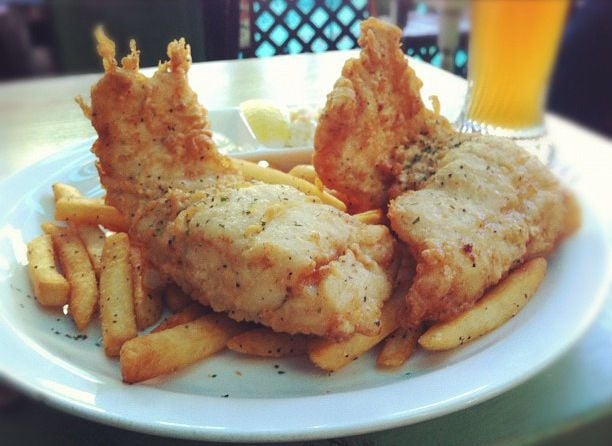 7.30pm
It's time to eat dinner and finally indulge a bit; we suggest paying a visit to Braai Republic, just before McDonald's on the main street. This is the best South African food in Seoul, by all means! Here the keyword is homemade - they even make their own sausages and homemade coleslaw. You might need a South African to help you translate the menu…yes we mean the English menu! A My Guide Seoul favorite is the 'Pop and Wors' which is literally a sausage and corn polenta with homemade tomato sauce, coleslaw and cream spinach. Delicious when you're in Korea and missing homemade, Western food.
Other favorites are the lamb chops, biltong, bobotie and drinks, such as the ciders; Hunters and Savannah. And last but not least, do not miss out on the Amarula Cheesecake, home-baked by a South African local living in Itaewon. She only uses pure butter and natural ingredients. It's a big hit among customers and if you don't know what amarula means, well, it's a popular cream liqueur in South Africa… So yummy you can hear you're craving more even before the last bite. Amarulaaazing.
Another option, if you walk back to the alley behind Hamilton Hotel is Baby Guinness Irish Pub, located next to Santorini, across from Sam Ryans. Here's a local tip; get a seat by the window in the non-smoking section; it's really cozy and almost feels like an outdoor patio. You can do lots of people-watching here since it's on the second floor. The Blackened Chicken Burger is amazing, juicy and spicy, and make sure you ask for their special lemon-aioli. They also serve a large portion of fish'n'chips, but these are not your usual fish'n'chips -these are Irish, beer battered in Guinness - dark and crunchy, probably the biggest plate of fish'n'chips you've ever seen in Korea! Hungry yet?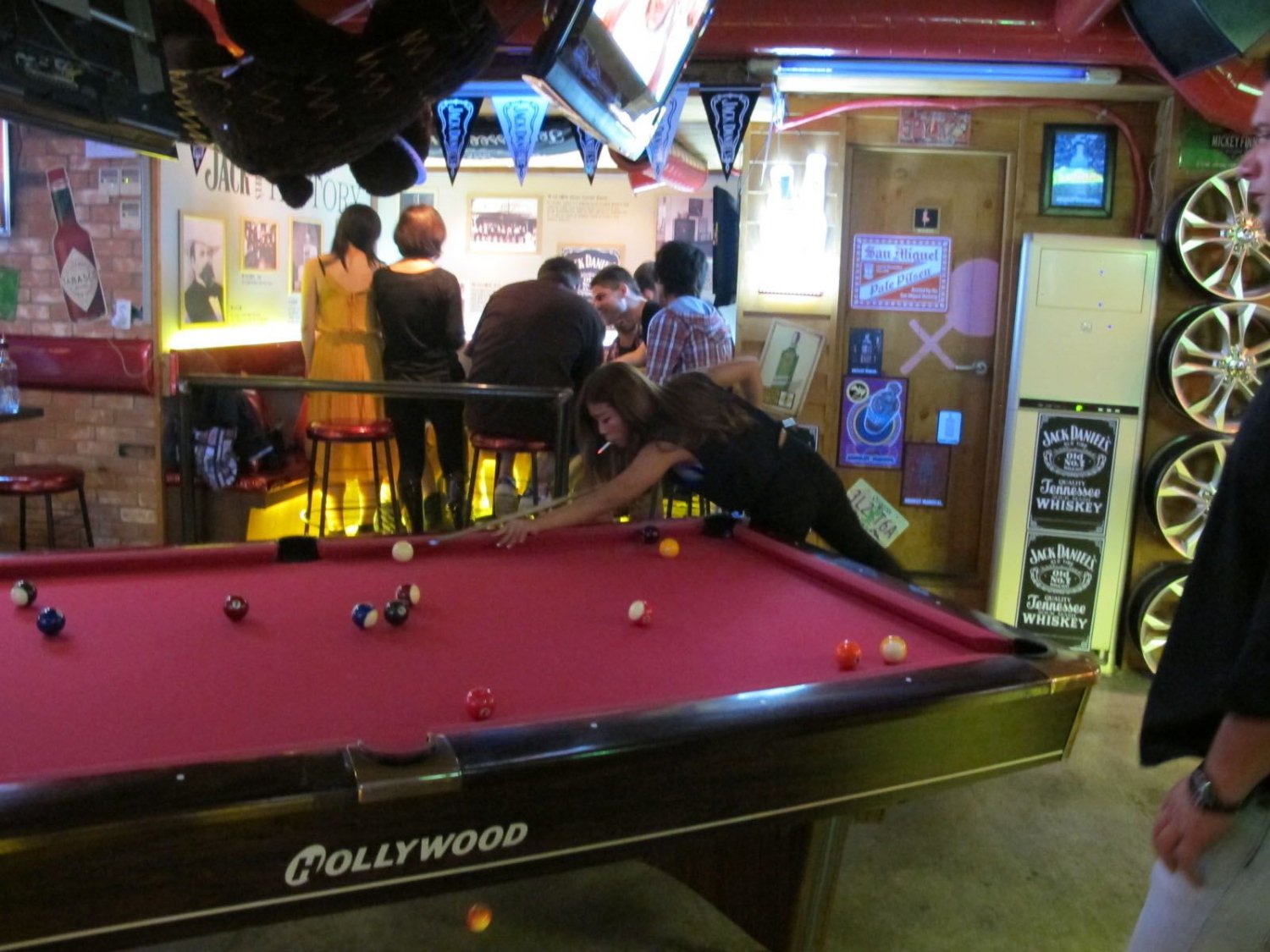 9pm You're probably feeling a little bit weary from all the shopping, walking and the excessive amount of good food. To get you back on your feet, we recommend taking a taxi (less than 2,400 KRW from Hamilton Hotel) to Pier 8, just to keep your taste buds busy. Pier 8 is a Japanese sushi lounge, but it's also a great place for pre- or after dinner cocktails. The bartenders are some of the best in town and the interior setting is delightfully different, just what you need to wake you up. Order a dry martini or premium sake and relax to the sounds of the Saturday DJ. Observe the trendy clientele or munch on yummy sashimi to cleanse your palate.
12 midnight You're either ready to hit the sack or hit the dance floor and luckily there are many ways to do so in Itaewon. Even just walking down the main road or Hamilton Hotel back alley is a party on its own. All along the street you will see lots of street food stalls, the usual ramyeon and soju tents or the kebab vans. Visit Luv Superlounge, Boom Bar or our own favorite; Gold Bar, next to Kraze Burgers, just after Itaewon subway station, exit 1.