Korean Food Beyond Kimchi and Bibimbap
Food & Drink
There's great food in every neighborhood in Seoul, but here are some of our favorites!
If you haven't tried so called modern korean dining this is the place to try it. Of all the nouvelle Korean cuisine restaurants in Seoul that have popped up in recent years, 'Min's Kitchen' is perhaps the best representation of what modern korean cuisine is all about - and at very affordable prices.
Chef Minji has her own cooking show on tv and her restaurant always participates in various high profile dining events in Seoul.
A great place for romantic dinners and a few friends gathering. Chef Minji owns two locations in Seoul; Min's Kitchen Apgjueong and Min's Kitchen Sinchon. Prices start at 29,000 KRW for a set dinner menu. A la carte menu items also available.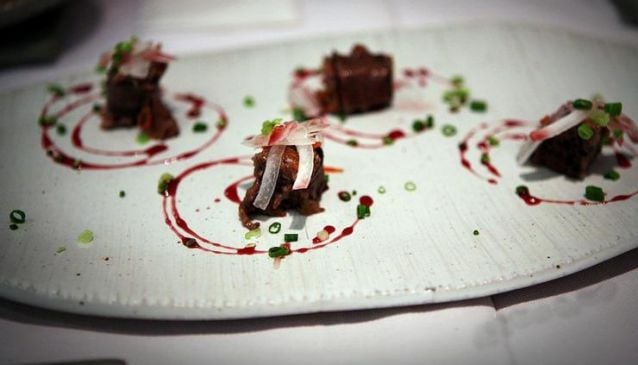 Culinary art and Imperial cuisine. No visit to Seoul is complete without a visit to Yongsusan. Eat like a Royal literally, as the Queen of Denmark has eaten here, as well as a string of other dignitaries and celebrities.
Try one of the middle priced set menus, still affordable compared to what you get, around 70,000-90,000 KRW, and sit back and enjoy. Remeber to show up with an empty stomach.There's even a mentioning of Yongsusan on the world's 50 best restaurants website.
Yongsusan is also in Zagat's food guide over Seoul and partnering with KLM Royal Dutch Airlines in promoting Korean Cuisine. 'Yongsusan' is a giant not to be missed.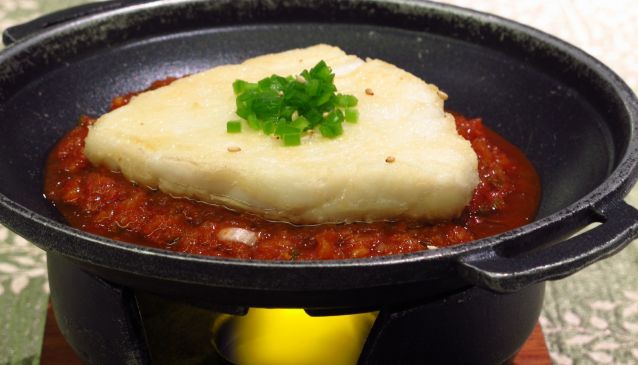 At 'Hadongkwan' they only make one dish - 'Gomtang' and it is legendary.
What is 'Gomtang'? It's simply a traditional Korean beef soup with rice and the way to eat this is simple...just add minced green onion and salt for seasoning. You may use Kimchi gravy instead. Simple and delicious.
The fact that this restaurant is ranked 7 of all restaurants listed in Zagat's Seoul Restaurant Guide should tell you something about how good this soup is. The lunch line up is all the way from the 2nd floor and through the 1st floor and out to the street.
Hadongkwan opens at 7 am and closes early at 4.30 pm. We recommend visiting before 11.30 am and after 1.30 pm. A must-try on any foodie's list when in Seoul.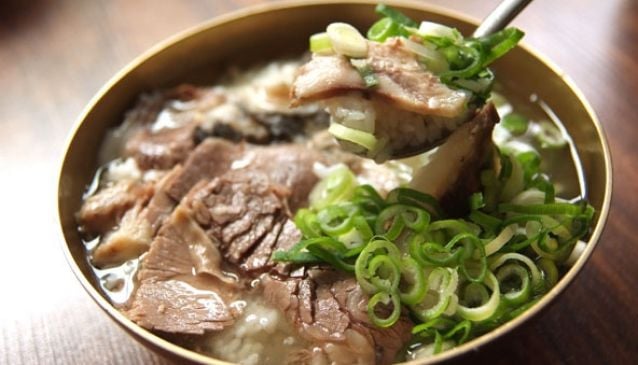 'Sundaeguk' is another traditional Korean soup you have to try. It's hearty and delicious just like the gomtang but spicier and with the noodle sausage in it.
At 'Seulleung Sundaeguk' located in Gangnam, they do it better than most places. You control the spiciness yourself as you are being presented with a variety of options in front of you. Salty shrimps and regular ground pepper to add basic flavor and shredded chili peppers and pepper paste to add a kick of chili. Much recommended.
This place has been in operation since 1991 and haven't had anything else on the menu. The three ladies working there know how to make a good soup. We promise!
Closest Station, Seulleung Station line 2. Address: Yeoksam-dong 700-35. Phone: 02-569-1517.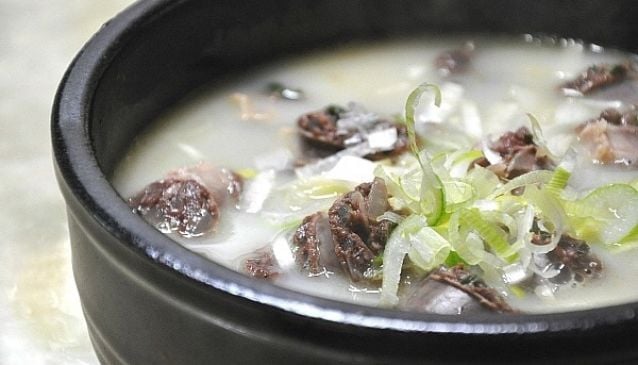 In it's simple form, with maybe three to four savory small side dishes (including some form of kimchi of course), a bowl of rice, and soup for each person, this is the quintessential traditional Korean meal eaten everyday for breakfast, lunch and  dinner. The more lavish the array of savory side dishes, the more social status it would represent.
Go to 'Sandelhae' for an excellent taste of Korea's most representative meal, the hanjeongsik. It's fun and delicious.
The restaurant is inside the Raemian Apartment Complex, B1, near Express Bus Terminal. Address: Banpo-dong 18-3. Phone: 02-537-0113.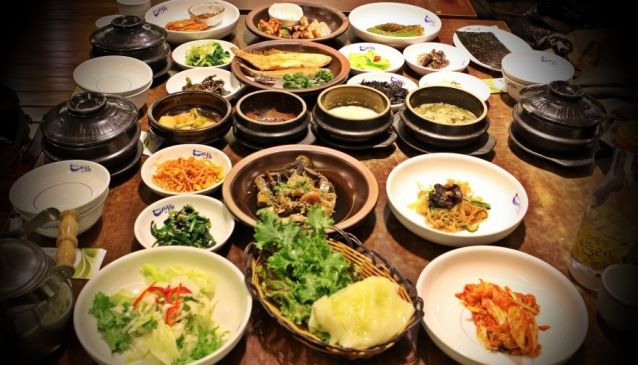 At the chicken restaurant 'Memory of a drink' (literal translation), right off trendy Garosu-gil Street, you can order great fried chicken and cold draft beer.
The CASS draft beer is actually so good that the restaurant has a golden placque from the CASS brewery saying the beeer here is excellent. Not many places have those placques. So far we've only seen two, and this is one of them. But enough of the beer.
Although it's known to be a fried 'chicken and beer place', the only menu item you should try here really, are the 'Meat stuffed fried chili peppers'. It's so good you'll come back for more and with a cold draft beer approved by the brewery itself how can you not ?!
Address: Sinsa-dong 549-9. Phone: 02-541-0969. From Sinsa Station walk down Garosu-gil Street until you are almost at the end. Turn right into the side street.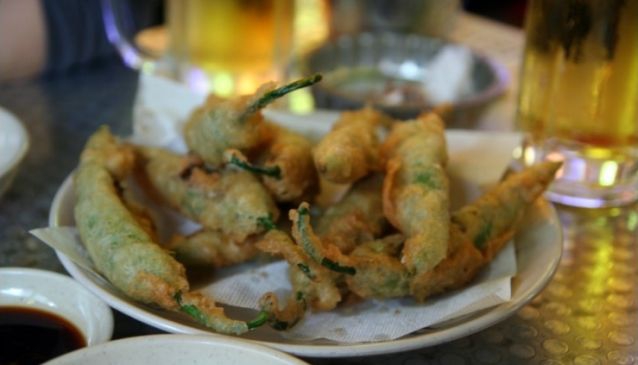 At Chi-Mc (pronounced chi-maek), they serve a whole chicken sitting on top of a... beer can. Sounds a bit odd, but it certainly brings theater to the diners and its a playful way of incoporating the restaurant name 'Chimaek', which actually stands for 'chicken' and 'beer' in one word in Korean.
People use this expression with their friends when they simply want to go have chicken and beer! Simple. So the restaurant name is chicken and beer and this dish is literally chicken and beer. Weird? We like the place, and the food is playful and tastes great. Also, the restaurant location is right in the heart of affluent Southern Seoul aka. Gangnam where there's plenty of places to go afterwards if you want to explore the nightlife in Seoul!
'Soy marinated crab' is a favorite among Koreans, but the lesser known dish, 'Soy marinated shrimps' is just as good, if not better. The closest thing it reminds you of is 'Sea urchin' and 'Salmon roe', which in our opinion is a pretty darn good association.
There is always a line of people waiting outside this restaurant "Pro Kanjang Saewoo' literally 'Pro Soy Marinated Shrimp'. You have to walk in, write your phone number on the board and they will call you when a table is available.
If you're into this kind of rich flavored seafood the reward is immense. Make sure to eat this with white rice. The combination is heavenly and the best part, as it usually is with shrimps, are the heads. Feel like a real local foodie here in the middle of Seoul's bustling dining and nightlife district, Gangnam.
Address: Shinnonhyeon-1-dong 166-1. Phone: 02-547-4924.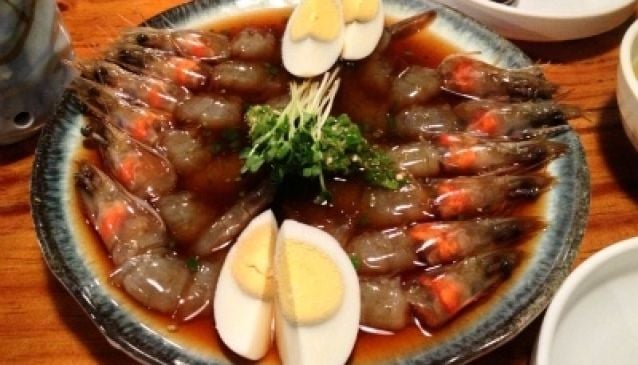 Norangjin Fish Market, located near Yeuoido, Southwest of the Han River, is the largest fish market in Seoul.
Go and take a look at all the wonderful sea creatures, but more importantly bring three of your friends, preferably one of them speaking Korean, but not absolutely necessary and pay about 130,000KRW for a large 'King Crab' at one of the stalls and take it to the upstairs restaurant where they will prepare it for you.
A visit to 'Norangjin Fish Market' is sightseeing and dinner all in one and it tastes amazing. Absolutely recommended.