Seoul City Guide; South of the River
Arts & Culture
If you want to see what the future looks like, visit Gangnam
Thanks to densely planted ginkgo trees, this 700m-long street, Garosu-gil is the "It street" in Seoul. People call it 'Little Europe in Seoul',here you can find a variety of vintage items as well as unique places that are as modern as New York's Soho district. Luxurious stores and restaurants line both sides of the street, with an abundance of designer showrooms, antique stores, furniture and interior shops, this place is popular among trendsetters.
Garuso gil is notorious for its beautiful people, trendy shopping, new cafés, cool wine bars and up-market restaurants. Landmark: Coffee Smith.
The area began to blossom in 2006, and it is now a must see district if you want to explore a trendier side of Seoul. Garosu-gil Street is only 5 minutes walk from Sinsa Subway Station, and it is near Gangnam Station, Cheongdam  and Apgujeong.
Local Tip!
Garuso-gil is packed with upscale restaurants. Try Spain Club a concept originally hailing from Japan, but the food of course is Spanish. The restaurant is pricey but is deemed to be the best authentic Spanish restaurant in Seoul, serving tapas, jamon serrano, cheese platters and a killer paella. The shrimp squid ink paella is a must-try and of course their homemade sangria!
Image: Garuso-gil Street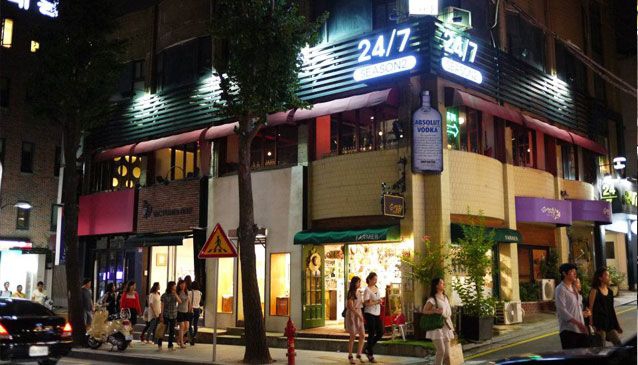 Compare this area to Tokyo's Ginza or L.A's Beverly Hills; Fine dining, plastic surgery and luxury shopping flourish here. Landmark: The Galleria Department Store.
Cheongdam is the modern and trendy face of Seoul south of the Han River, walking down Apgujeong's 'Rodeo Street ' or Cheongdam Fashion Street, makes you pinch your skin and question if you're really in Korea. However, when in Cheongdam, there's no doubt that Seoul stands shoulder to shoulder with the world's greatest cities like Tokyo, New York and Shanghai. This is where all the latest fashion trends take form and as a trendsetting hub of Korea, Cheongdam has taken the lead in almost all aspects.
Local Tip!
If you are in Cheongdam try walking East from Galleria up the road where all the major global fashion brands are located and venture into the side streets, you will find many cool and stylish shops. We recommend visiting: 'Addicted', a small multi brand designer shop specializing in quality menswear and shoes.
image: Apgujeong in Cheongdam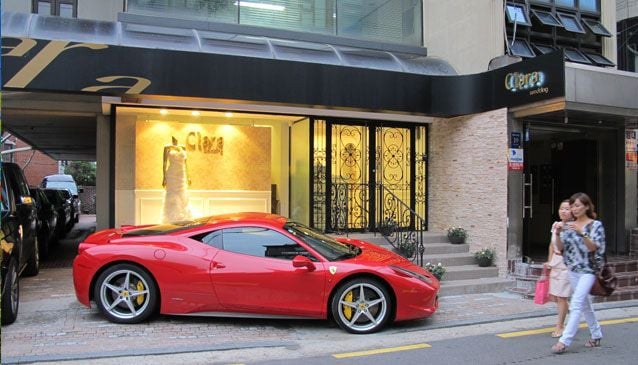 If you want to see what the future looks like, be sure to experience the area surrounding Gangnam Station. This is Seoul's busiest area and the best place to experience the modern and futuristic side of Seoul. A combination of education, business and technology all melts together in Gangnam, with a futuristic demeanor and exclusive shopping spots. Department stores showcase luxurious designer brands, while shop-lined streets inclusive of flagship stores and selected boutiques are filled with imported items, allows for trendsetters to indulge in fashion. In addition, the Grand Table, which is an association of premium restaurants and clubs popular with many Korean celebrities, is also located here.
For those of you wanting to experience the chic and stylish side of Seoul, be sure to visit Gangnam.
Local Tip!
One of the best seafood barbecue restaurants is located in Gangnam, near exit 11 and Kyobo Bookstore. The best way to find it is to take a taxi to: Nonhyeon-dong, Hansin Pocha, a famous soju tent bar serving chicken feet. Go down the left alleyway and the restaurant is on the corner, first street to the right. It has a big blue sign in Korean and a small terrace outside. Call: +82-2-544-8892, if you have trouble finding it.
Image: Best Seafood Barbecue Restaurant in Seoul, Gangnam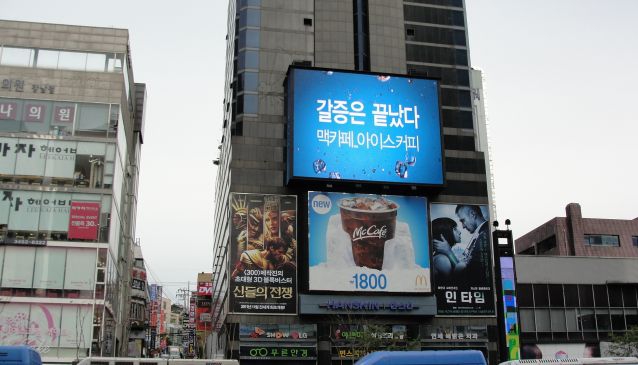 The Samseong Area is most known for being home to COEX Convention & Exhibition Center & COEX Mall. Several luxury international hotels are ready to welcome visitors and if you are feeling lucky why not try 7 Luck Casino where food and drinks are on the house. Connected to Samseong Subway Station, the Samseong area is easily accessible and there is even a city air terminal, with direct buses to and from both Gimpo and IncheonAirport.
The COEX Mall caters to everybody's taste and desires, being home to more than 260 shops, including a bookstore, aquarium and over 100 restaurants. This is an area that is child friendly with many activities to entertain your young ones. Right across from COEX Mall is BongeunsaTemple, a tranquil mountain temple in the heart of busy Seoul.
Local Tip!
You might also want to visit SamneungPark, located close to Seoullung station; it is home to the UNESCO Royal Tombs and is a perfect place for relaxation and rejuvenation in a hectic city such as Seoul
Image: View from Samneung Park, Samseongdong