Seoul for the Budget Traveler
Food & Drink
Instead of shopping on the main strip in Gangnam, go underground!
By Ryan Walters for My Guide Seoul

Traveling to Seoul does not have to be expensive. Although from the outside Seoul may have the image of being a city of towering skyscrapers awash with mesmerizing neon billboards, that doesn't mean a trip to Seoul needs to break the bank.
There are plenty of ways to experience the city and get a heaping serving of Korean culture for less than the cost of a cocktail at a bar in your home country...so toss away your Lonely Planet and read on for these fun, affordable things to do in Seoul for the budget traveler…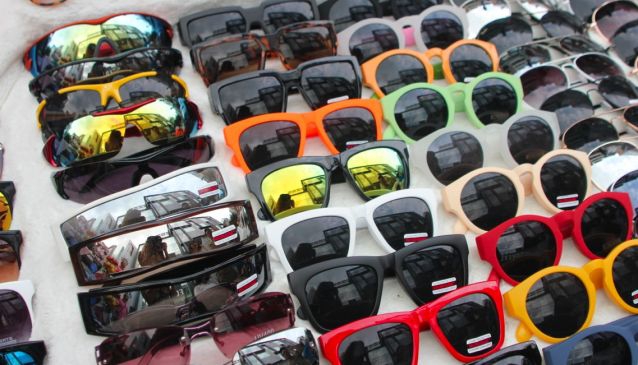 Naturally, once in Seoul, you're going to want to investigate just what all the fuss about Korean food is about.

Most people would run straight for Korean BBQ, which would be a completely fair choice given its worldwide popularity. But another option, quick, cheap, and easy, would be to check out one of the kimbap shops found just about everywhere in the city.

Kimbap shops serve what can be described as "standard" Korean food. It's where local people go for quick meals, so don't expect English menus or English-speaking staff. However, for the traveler looking for an entryway into Korean food, a kimbap shop is the best way to experience it all at once.
Popular kimbap chains include Kimbap Cheonguk, Kim Ga Ne, and Kimbap Nara, although any local one will do. Look for the letters "김밥" on store fronts.

Here's a brief rundown of some of the menu items at a kimbap shop, with the Hangul to help you navigate the menu:

Kimbap (김밥): a combination of the Korean words for "seaweed" and "rice," kimbap is to Koreans what a sandwich is to the west. It's made of rice and vegetables rolled up in seaweed and looks like a sushi roll. A kimbap shop will have many different varieties of kimbap including chamchi (tuna - 참치김밥), sogogi (beef - ì†Œê³ ê¸°ê¹€ë°¥), and kimchi kimbap (김치김밥). Cost: from 1000 won - 3000 won.

Kimchi jjigae (김치찌개): a major staple of Korean food is spicy soup, and kimchi jjigae is about as standard as it gets. Kimchi jjigae is a stew made by boiling kimchi in a pot and adding spices and other ingredients. There are multitudes of ways it can be prepared, but no matter how it's done, it's always hot, spicy, and savory. It's usually served with a bowl of rice that you should eat together with the soup. Cost: around 4000 won.

Deopbap (덮밥): a deopbap is a simple plate of rice and a meat side that you mix together and eat with a spoon.

There's several different varieties: sogogi (beef – ì†Œê³ ê¸°ë®ë°¥), japchae (pork mixed with noodles – 잡채덮밥), and jaeyook (spicy pork – 재육덮밥). Cost: from 4000 - 6000 won.

Mandu (만두): although not strictly Korean, mandu is the Korean take on steamed dumplings found in many countries in Far East Asia. You might know these as "dim sum." Korea has many delectable variants including kimchi (김치만두), meat (ê³ ê¸°ë§Œë'), and mul (tiny bite sized meat dumplings - 물만두). Cost: about 2000 won.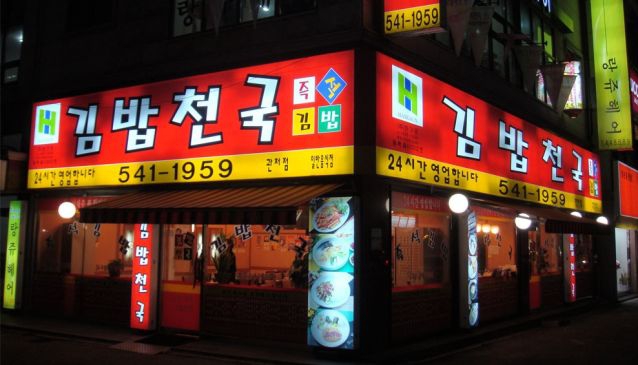 There has been a settlement on the Han River for over two thousand years. Although much of Seoul has given way to 21st century buildings and digital billboards, Seoul does retain relics of its ancient past.
A lot of these tourist attractions are Seoul landmarks like palaces and temples, which charge almost nothing for an entry fee.
Here are a few excellent options to take in Seoul's ancient history for less than the price of lunch.

Gyeongbokgung: Gyeongbokgung Palace is Seoul's main and largest palace. It was the seat of the Joseon Dynasty of Korean kings, who ruled the peninsula from 1392 - 1895. Today, it serves not only as a historical landmark, but also houses the modern seat of government, the Blue House, on the grounds. The palace you see today is sadly a reconstruction; the original Gyeongbok Palace was decimated during the Japanese invasion of Korea in 1592 – 1598, and it took Korea nearly 300 years to reconstruct the palace. Entry cost: 3,000 won.

Deoksugung: about a ten minute walk south of Gyeongbokgung is Deoksugung Palace, a smaller palace but arguably more beautiful than the former. It has a wonderful palace grounds complete with gardens and trees, and is especially gorgeous in spring and autumn.
One unique element of Deoksugung is that it contains western-style buildings amongst the traditional Korean ones. One of these, Seokjojeon, has become a museum for Japanese art. Entry cost: 1,000 won.

The War Memorial of Korea: The War Memorial of Korea is one of the most incredible museums in Seoul. It is absolutely a must visit for history buffs and anyone who is even remotely interested in understanding the Korean War and its impact on modern Korea.
The interior is divided largely into areas devoted to the Imjin War, the cataclysmic Japanese invasion that left Korea in ruins for hundreds of years and the "6.25 War," the Korean Term for the Korean War.
The outside grounds of the war museum contain tanks, bombers, fighters, rocket launchers, landing craft, battleships, and more. Entry cost: Free!

Insadong: Insadong is a traditional district containing numerous art galleries and shops containing traditional Korean paintings and artifacts.
It is admittedly a tourist trap, but for a trap, it's a great one. It's one of the few places you can see "Starbucks" written completely in Hangul, because by city law all stores in Insadong must display their names in Korean as well as English, including foreign ones.
Insadong also contains Jogyesa Temple, the main temple for Korean Zen Buddhism. Entry cost: Free!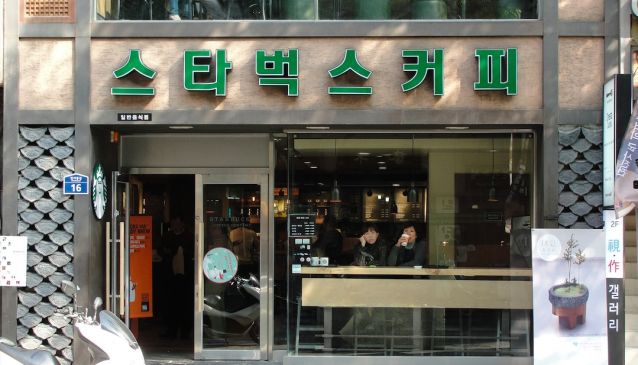 Public saunas, or jjimjilbang (찜질방), are very common in Korea. Koreans are very health conscious people, and it is believed that going to a jjimjilbang regularly can promote good health.
If you can throw your misgivings about being without clothes in the company of complete strangers, then a jjimjilbang is an excellent and relaxing way to spend an hour or two.

The proper way to do a jjimjilbang is to alternate pools. There are typically at least three different pools of varying temperatures. The largest pool will be about the temperature of a standard jacuzzi and be around 39 degrees Celcius. There will be a second pool that is significantly hotter with temperatures north of 40 degrees, and to top it off is a cold water swimming pool. The idea is to shock your system into promoting good circulation. Start in the comfortably heated pool, move on to the hotter one, shock the system by jumping in to the cold pool, and repeat.

Jjimjilbangs range widely in quality and offer a multitude of options. However you can rely on any jjimjilbang having three things to do: the above pools, a dry sauna, and a sleeping area. Yes, one of the benefits of a jjimjilbang is you can put on a uniform after spending time in the tubs and sleep on a mat in a large common room.

Most jjimjilbangs will let you sleep overnight, making it an extremely budget friendly place to sleep, providing you don't mind sleeping on a mat on the floor in the company of perfect strangers.

Jjimjilbangs can also offer a huge variety of other things to do including, a kimbap shop, a barber shop, massage parlor, PC rooms, and some even show movies. All of this, for an unlimited time, for the cost ranging from 6000 won to about 10,000 won at the upper end.

Our favorite Jjimjilbang is Itaewon Land located in Itaewon, which has almost everything described above and has the added bonus of individual sleeping cubbies upstairs if you don't feel like sleeping in a large public room. Itaewon Land's fee is about 8,000 won, but costs can increase depending on the time of day and on weekends.
Another famous Jjimjilbang and all-inclusive, traditional Korean Sauna, is the Dragon Hill Spa in Yongsan. It is one of Seoul's largest with seven floors, including a golf range, barbecue, gym and a rooftop garden. Best known for it's unique crystal salt room and features on CNNGo.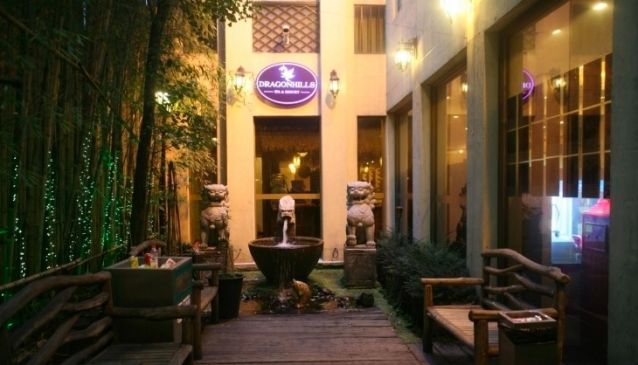 With the worldwide popularity of Gangnam Style, if people know anything about South Korea outside of kimchi, they know Gangnam. Gangnam is one of the richest and wealthiest areas in all of South Korea, famous for shopping, clubbing, and restaurants. Akin to something like California's Rodeo Drive (and not to be outdone, Seoul actually has its own Rodeo Drive in Apgujeong, Cheongdam, the shopping is upscale, the prices are hight and the people are beautiful!
Here's a real local tip: Instead of shopping on the main strip in Gangnam, go underground! If you want great clothes for a fraction of the price, head down into the underground shopping paradise found in Gangnam Subway station (Line 2: Gangnam). You won't find your major brands down here, but instead you find small independent clothing stalls selling clothes in the latest style for far cheaper than what you would pay upstairs.

Everything can be found in the Gangnam Station Underground Shopping Mall, especially for girls, although there are two stores for guys as well. There is no end to the incredible deals you can find on pants, shirts, scarves, sweaters, hats, jewelry, shoes, and bags. Many of the stores will sell shirts for 10,000 won, sometimes even as cheap as 5,000 won.

Don't think you're sacrificing quality for price either. You'll find the same people shopping at the name brand retails stores on the main street shopping down here too. The clothes are just as quality and stylish. These stores get away with being so cheap not because their products are any lesser than those above, it's because in image-conscious Seoul, brand names carry. The independent stores down in the subway station are unknown, and do not carry things in stock. Once the clothes are sold, they're gone. So, in order to remain competitive, they offer their clothes at lower prices in order to entice people to stay out of designer brand shops.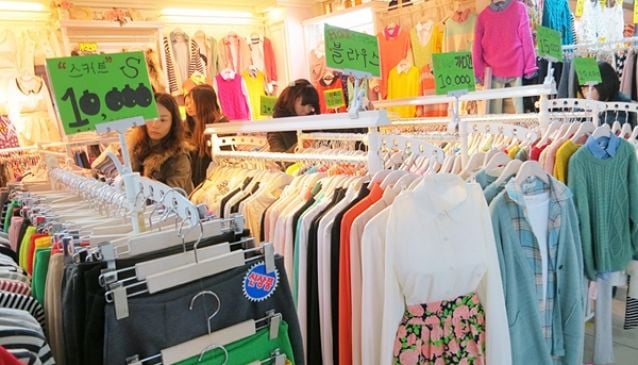 Korea, like most of Asia, does not have anything resembling open-container laws. You are free to drink outdoors, indoors, and everywhere doors. There's also no such thing as "last call," or a legal time when alcohol can't be sold.

That's why the cheapest and best bar can't be found in Hongdae, Gangnam, Itaewon; it's found on every street corner in Seoul!

The major convenience chains in Seoul are CU (formerly Family Mart), Buy the Way, GS 25, and 7-11 and they have everything to get a night started. While a standard can of beer costs less than 2,000 won, most people opt for the tall cans. For tall can beers, the domestic Korean beer normally costs around 2,500 won and there's usually several reliable imported beers including Hoegaarden, Budweiser, Asahi, Guinness, and Carlsberg. These go for anywhere from 3,000 to 5,000 won for a tall can.

If beer isn't your thing, your friendly convenience store also has the infamous soju stocked for less than 2,000 a bottle. There are typically other varieties of liquor as well such as maehwasu, a sweeter variant of soju, baeksaeju, traditional Korean liquor.
For those who love the vino, check out the Korean rice wine called makgeolli. It actually contains more calcium than milk does, although don't try substituting it for the milk in your breakfast cereal (unless alcoholic Cheerios are your thing).

If all of this sounds like a fantastic way to annoy the locals, think again. A lot of convenience stores are literally designed for this kind of behavior. Most convenience stores, even small ones, will have chairs and tables set up right outside the entrance. Some of them even have raised decks with umbrellas to keep you out of the monsoons during summer.
So before you spend a ton of money on drinks in Seoul's nightife craze, stop by your favorite convenience store for a drink or two...it's not an entirely bad way to meet new people either!